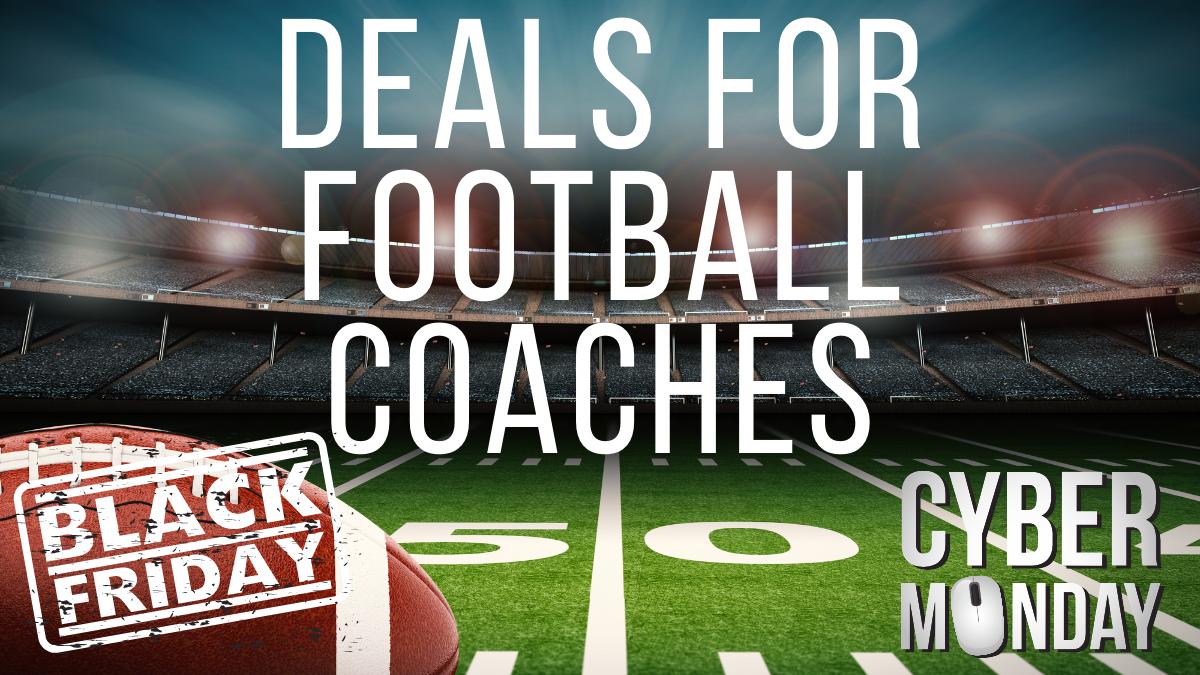 Black Friday Deals Portal – 96 Deals For Football Coaches
I've been searching the web and these are some of the best deals out there from and for football coaches.
2 Truths about Coaches, we love saving $, and getting any edge we can. Hope this helps!
Please reply back and other deals and I will add!
Coaching Course Bundles – Learn more and Save More
Run and Shoot Bundle – The secret vault is open as Mouse Davis and June Jones teach you the system that was locked up tight for decades. Light up the scoreboard with Run and shoot. 42% off
Spread n Shred Bundle – If you want to understand a wide array of offensive attacks, look no further. Incredible deals! Up to 75% off
Game Planning Bundle – Dan Gonzalez has hundreds of clients around the country and is back coaching high school ball in Texas himself. This is his latest set of courses on game planning. 40% off
Big O Strategy Bundle – Jeff Mullen was on the sidelines of FBS football for years, and he's put together his strategies for game planning situations. This bundle can be applied to any offense. 58% off
Smoke & Mirrors Gun RPO Wing T Complete System – Scott Meadows is lighting it up in Tennessee this season. Learn his complete system 71% off
The Best of Small College Coaching Bundle – 21 courses for $89. You don't see these guys on TV or read about them on Bleacher report, yet, they are some of the brightest minds in the game. This bundle puts together 21 courses from offensive, defensive and special teams coordinators from the Division 2 and Division 3 level, giving the details that help their teams excel. 79% off
MacAttack System Jason McManus system is based in the Air Raid and focuses on a strong RPO attack. He won 4 consecutive state championships with it. 82% Off
Mav43 Defense System 42-year veteran head coach Russ Martin shares everything in the MAV43D complete defensive system. 46%off
Eric Marty's Multiple Gun Offense – Coach Marty teaches every detail of this tight end based offense which is putting up a ton of points and wins. 69% off
Coaches Technology Deals
Go Rout: Save over $1000 on football's most efficient practice system.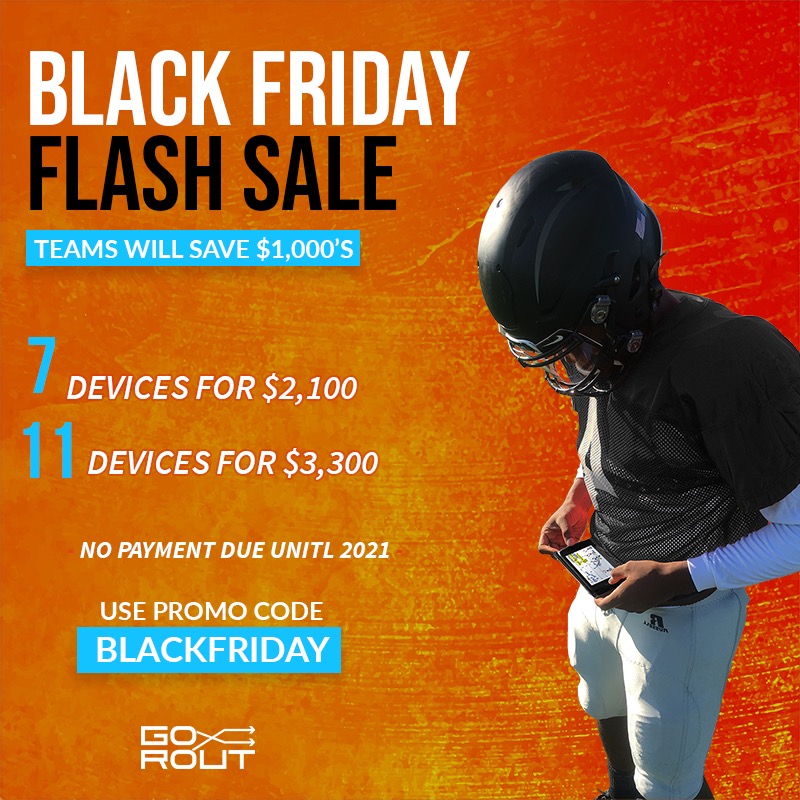 First Down Playbook Save 20% off your subscription with the code FRIDAY2020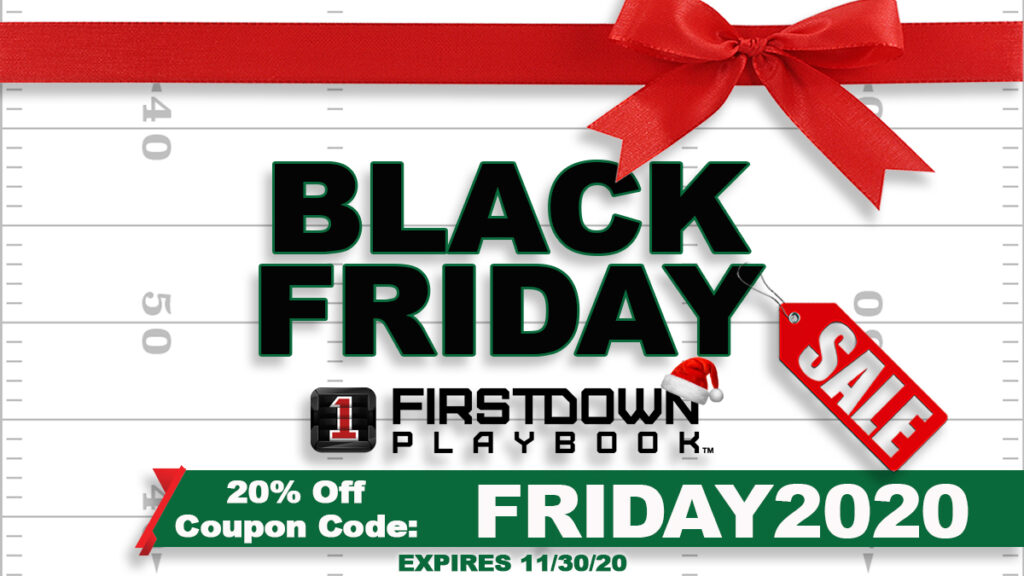 Tempo Video Save $60 off your own personal video system
GameStrat Save up to $275 with the most reliable and advanced sideline replay system on the market. Use code BF2020
CoachTube Football – Has put all of their Coaches Deals on one page. Over 200 Football Courses up to 90% off.
Just Play Solutions – a player learning system for your offense, defense, and special teams. 10% off for new subscribers. Mention "Coach and Coordinator"

Defense Gurus on Sale
Double Mug Pressures – Mike Pettine, Green Bay Packers. Pettine shows you how to pressure the QB and play coverage behind. 30% off
Oklahoma Defense – Why it Works, Alex Grinch, DC explains the keys to teaching the Sooner defense. 50% off
Defending a Key Receiver – with another Ohio state championship under his belt, Steve Specht's defense at St. X remains stout. Learn how to stop their dude with this course. 30% off
UTSA Defense – Ty Nix, DC. Swarm, Whack, Smack, Burp, Remember Me…Coach Nix shares the Road Runners Tackling System. 50% off
Defending the Spread Defense – Dave Aranda, Baylor. After winning it all at LSU, Aranda explains how to utilize different fronts, concepts, and adjustments to stop the spread. 50% off
3 down change-ups to your 4 down system – Jeff Dittman RPI. Dittman explains how to have the best of an odd front with your 4 down personnel. 30% off
Creepers and Sims – Adam Gaylor, DC has helped Jenks HS to the OK state championship and these concepts are part of the success. Learn how to get more pressure while playing sound coverage. 40% off
Chris Ash – Texas Tackling Situations Coach Ash believes that tackling can be broken down into a limited number of situations which should drive your teaching and practice of tackling. 50% off
Building a Defense – David Bailiff, Rice DC teaches how the Owls build their culture and the specific fundamentals of the defensive line and linebackers. 50% off
Split Field Man-Match Quarters Cal assistant Dante Bartee teaches the details necessary to play successful quarters coverage. 30% off
Using Hybrid LB at the 1st Level Chris Wolfe, multiple time state champ at Louisville Male HS shows you how to get your best 11 on the field. 50% off
Branding Your Defense/Culture Duke DC Matt Guerrieri explains how they build an brand that feeds their culture on defense. 50% off
Stopping the Pass in the 4-3 Eric Kasperowicz, HC Pine-Richland shares how they built a powerhouse defense in his courses. 25% off
Defensive Fits For Any Defense David Braun DC North Dakota State teaches run fits that helped them to a National Championship 50% off
Football Equipment Deals
The Difference USA Striking Machine – Used in the NFL, College Football and weight rooms across America, work your teams contact skills year round. Use code CCBLACKFRIDAY 10% off.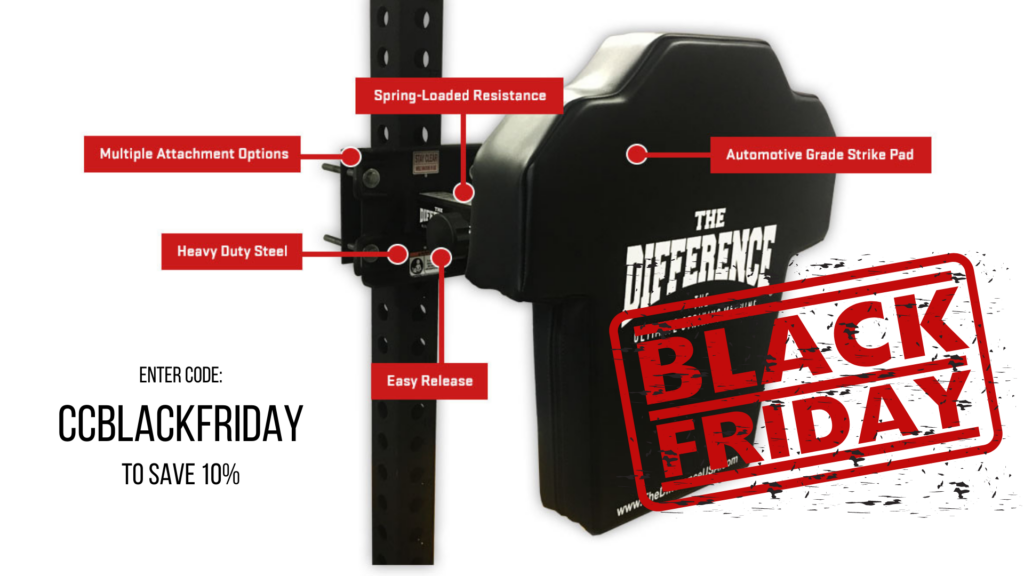 Launch Pad Kickoff Tee – The tee that is revolutionizing the kickoff. With a forward lean it's like nothing you've seen, but the science supports it and more touchbacks is the result. Save 33%
Run Game Instruction
The Wham Play – Cody Kennedy, OL Tulane teaches you how to separate the defense and open up big lanes with this play. 30% off
Six Keys to Beating the Defense with Fly Sweep – Mark Speckman, UC-Davis. He's the Godfather of the Fly (Jet) Sweep. He knows how to do it! 30% off
Teaching Pin and Pull, Mike Cummings Central Michigan teaches the keys to a successful pin and pull scheme. 50% off
Teaching the Wide Zone Play – Jason Houghtaling, OL Colgate teaches one of the most productive run plays in the game. 40% off
Power Read with and Without Motion – Tennessee Tech Head coach DeWayne Alexander explains his Jet Power Read play and how it deals with a problematic defensive end. 50% off
Reading Unblocked Defenders on Jet, Midline, Veer Rick Stewart teaches the details of his offense that has rushed for over 10,000 yards in two seasons. 75% off
Rules and Techniques for Inside Zone, Outside Zone, Wide Zone Jim McNally shares his knowledge on these plays. He knows it better than anyone! 60% off
Tex Bone Power Read – Joe Austin, HC Southwestern shares Power Read in his unique blend of flexbone and spread offense. 50% off
Counter Tre and Counter Read option – Kelley Lee, HC ENMU. A perennial leader in rushing offense nationally, Coach Lee shares how they get the most out of the counter scheme. 75% off
Recruiting – Promote your players
Virtual Recruiting Powered by Story of the Season. 33% off this new cutting edge tool to promote your players in an era of never ending dead period. Contact [email protected]
Air Raid Gurus on Sale
Austin Peay Mesh and Shallow Variations Scotty Walden, head coach -He's the youngest D1 head coach in America, and his offense and enthusiasm have propelled him up the ladder. Learn one of his favorite concepts. 40% off
Lincoln Riley, Oklahoma Offense – The Y-Cross, Trail & Qb Runs. Learn it from the coach who has been hot for a while now. 50% off
The Y Cross Concept from Multiple Spread – a signature Air Raid play, 6x state champ Jason Mohns teaches how its applied in his offense. 20% off
Creating and Offensive Culture with Air Raid – Jimmy Robertson is building a culture and moving the football at Fairleigh Dickinson. He breaks down his Fast Five Star System of Success and the Cross, Smash, and Mesh families.
Air Raid in Virtual Reality – XFL Coach Austin James Smith teaches the Air Raid with 360 video. No better way to implement it off the field than this! 40% off
2020 Air Raid Playbook – 92 Mesh Group are insiders when it comes to the Air Raid. Get this up-to-date Air Raid Playbook. 50% off
How to Put Together an Offense – Sonny Dykes shares his insight on how you go about putting together your offensive system. Though he is an Air Raid coach, this applies to any offense. 50% off
Special Teams
Onside Kicks – Kevin Kelley is known for it and coaches around the country at every level seek his advice. It's all right here for you to get some extra wins out of your next season.
Special Teams Organization – Justin Lustig, Syracuse. This Broyles nominee knows how to get it done on special teams and illustrates with practice and game film.
Complete 3rd Phase Kickoff Return Special teams expert Brian Cummings shares the details needed to get great starting field position. 50% off
RPO training
Identifying and attacking coverages with RPO – Brent Dearmon, Kansas. This course is a best seller. Dearmon knows his RPO and has offenses that have led the country prior to coming to Kansas. 30% off
Packaging RPO's with Inside Run – Matt Drinkall, TE Coach Army. Drinkall had one of the nation's top offenses before heading to Army and he shares the details of how the moved the ball with RPO.
New Age RPO – Bobby Acosta, IMG. Storm, Fungo, Nickel.Interesting names for interesting RPO. Acosta is a great teacher of offense and gives you the details.
Buck Sweep RPO Wing-T concepts are as popular as ever. Learn the Buck Sweep RPO from Kenny Simpson. 50% off
Designing and Implementing Post Snap RPO's into Your Offense – James Vint, Escatado HS OC teaches you how to implement RPO into your existing offense. 50% off
RPOs off Bucksweep, Trap and Truck – Scott Meadows. This wing-t guru teaches how to implement the RPO off of these runs. 50% off
Split Field Offense – Adam Mathieson and Kenny Simpson. These two wing-t experts explain how to set up a plan to run to the TE strength or pass to the twins. 75% off
Game Planning
Don't Outsmart Yourself ( The Beauty in Simplicity Game Planning in the Air Raid) Eric Mele, Mississippi State. He's spent 9 seasons with Mike Leach and gives insight into how they plan practice and game plans. 30% off
Matt Rhule – Winning in the Red Zone, Carolina Panthers head coach shares his approach to planning for the red zone.
Developing an Offensive Game Plan – Andy Kotelnicki, Buffalo. After winning a D3 National Championship, Kotelnicki has Buffalo at the top of the MAC. He shares one of the most comprehensive looks into the game planning thought process. 50% off
Coaches Edge Game Planning System – Never type up a script again. Keith Grabowski shares the process that developed the templates as well as 6 templates for offense and defense. 50% off
The Baylor Way of Building an Offensive Game Plan Larry Fedora, OC shares the details of what goes into their game plan and why. 50% off
Pass Game Clinics-
The Intermediate Passing Game – Mike Yurcich, Texas. Yurcich's stock has been on the rise and when you watch this course you will see why. 50% off
The Harrell Effect – Graham Harrell, OC, USC. Passing game, practice drills, and bonus content from head coach Clay Helton on program building. 50% off
Tempo Pass Game – Keith Barefield, Louisiana-Lafayette. Prior to becoming a Ragin' Cajun, Barefield was the OC at Quincy, who statistically had the fastest tempo offense in America in 2019. He explains how tempo and the pass game worked together. A must view to really get your tempo rolling.
Scorched Earth Passing Game – The Scorched Earth Offense is still putting up a ton of points. Mike Volarvich teaches the passing game from this high powered offense. 75% off
Unstoppable – Attacking Defenses with the Quads Package – Kevin Kelly, 8x state championship teaches this simple but highly effective quads passing package. 33% off
Attitude Passes – Shallow Screen, Smash Option, Multiple Vertical – Josh Herring is an incredible football mind flying under the radar. These are concepts you will want in your offense. 50% off
Boundary Passes – 13x state shampion OC Andrew Coverdale shows you how to attack and take advantage of defenses into the boundary. 50% off
No Huddle No Mercy – The Vault – Shawn Liotta shares the vault of this high powered, fast paced offense that he's become known for around the country. 72% off
Screen Game –
New Age Screen Pass Options – Put Your Players in space to WIn. Bobby Acosta just won his first National Championship at IMG. He's been successful with this offense on every level and he stays on the cutting edge.
RSO's and Game Planning – Arizona assistant John Marinelli teaches RSO's from the Wildcat offense.
Tunnel Screens – Danny Shaecter, OC Gonzaga shares how this top 25 program runs their tunnel screens. 50% off
Quarterback Development –
Quarterback Answers – Robert Weiner, University of Toledo. After a successful high school career and multiple state championships, Weiner is now at Toledo. He teaches fundamentals as well as training the quarterback to manipulate the defense. 50% off
QB Drills and Techniques in the Air Raid – Phil Longo, North Carolina 100% off
QB Drills to get QB To See Pre/Post Snap pictures – Josh Lindke, Toledo Central Catholic. OC at this Ohio powerhouse shares his training for QB for RPO and the passing game. 50% off
Position Fundamentals –
The Upfront Line System – Learn from Arizona State's Dave Christensen Save 65%
Advanced Blocking Techniques – Jim McNally, still the guru of offensive line play. He keeps you up to date with the latest techniques. 40% off
Offensive Line Seminar – Bob Wylie and Brian Baldinger. Not many know as much as Wylie, and he breaks down film of some of the best to illustrate key coaching points. 50% off
Creating a Run Stopping LB in the 4-2-5 Grant Caserta, Illinois Wesleyan. Caserta has produced defenses that are at the top of statistical categories in D3. A former LB he gives the details of training the linebackers.
TE and Fullbacks in the NDSU Offense – Tyler Roehl, OC of the National Champions details how they train their fullbacks and tight ends.
Coaching Receivers – Urban Meyer. Coach Meyer has done it all and it started with excelling as a receiver coach. Learn from one of the best ever in the game. 50% off
Offensive Line Fundamentals – retired FBS coach John Strollo knows the art and science of OL play and he shares that here. 50% off
Footloose WR Footwork & Releases – Back-to-back state champion WR coach John Weaver shares the secrets to developing top level receivers 20% off
Blocking Lessons from the Piano Bench – retired NFL OL Coach Paul Alexander. FREE
Build the Beast LB Training – Former All-Pro LB Patrick Willis teaches linebacker play. If you coach LB's this needs to be in your library! 30% off
Shoulder Block Skills – Roger Holmes, GA teaches this lost but necessary skill. 50% off
Program Development
Ed Orgeron – Building a Championship Program – fresh off a National Championship, Coach O explains how he does it.
PJ Fleck – Building an Elite Culture – Row the Boat! 50% off
How to Build Championship Football Program – Rick Jones and Kevin Kelley. With 17 state championships between them, these two national award winning coaches can tech you what you need to take your program to the next level. 33% off
Begin with the End in Mind – Jeff Traylor HC, UTSA details his plan for building a winner. 50% off
Building a Winning Culture – James Franklin Penn State. Coach Franklin is known for the details and how they go into building a program. 50% off
Friday Night Lights – Practice, Preparation and Planning for a Successful Year Round Program – Jeff Steinberg, Beaumont HS(CA) teaches what he's done to succeed in all of the programs he's run. 40% off
Speed and Strength
SPRINT BASED FOOTBALL and SPRINT-BASED FOOTBALL II Tony Holler – He knows how to develop football speed! A must for your team's improvement. 30% off
The Feet Chris Korfist, speed expert. In this course, Coach Chris Korfist explains everything you need to know about the feet, and how crucially you need to pay attention to them in order to become faster. 50% off
Transferring Weight Room to the Field NFL S&C coach Monty Gibson delivers a plan with different objectives to get the most out of the weight room and onto the field. This course is a must if you really want to see the results from workouts to the gameplay. 50% off