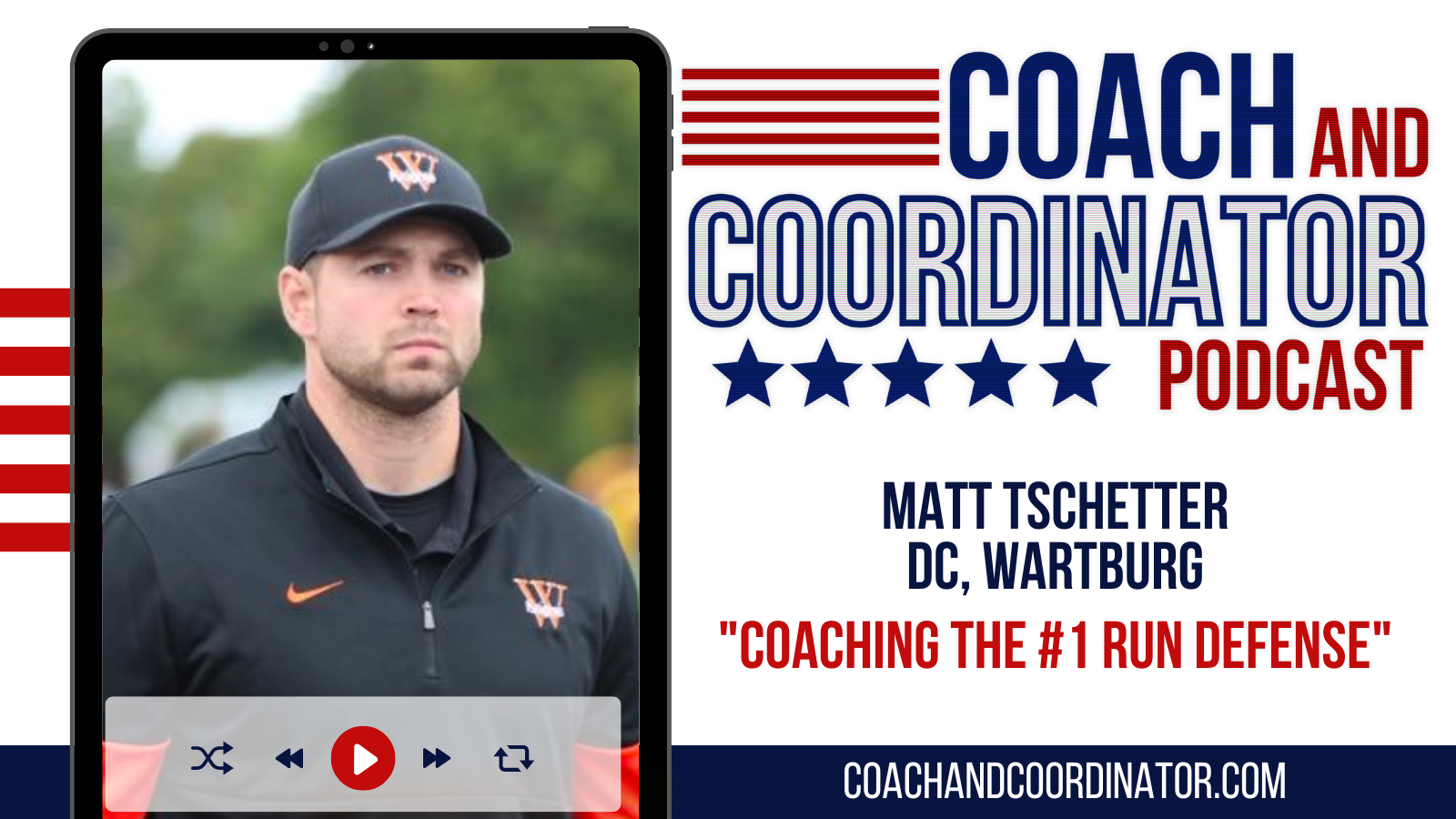 In this episode, Matt Tschetter reveals the mentality he instilled in a defense that ranked #1 in rush defense and #1 in interceptions. He covers a wide range of coaching tips, including how he installed systems for tackling, defeating blocks, and creating turnovers.
Matt Tschetter is the defensive coordinator for the Wartburg College Knights, promoted to the position in 2021. During the 2022 season, the Wartburg defense ranked in the top-25 nationally in most statistical categories, including #1 in rush defense, #1 in interceptions, and #11 in sacks.
Prior to joining the coaching profession, Tschetter was a standout defensive lineman at Wartburg College. He was twice selected as a First-Team Iowa Conference performer and was a Third-Team All-American in his senior season.
After his decorated playing career was over, Tschetter joined the Wartburg coaching staff as defensive line coach during the 2014 season. Coach Tschetter then enjoyed two seasons at UW-Platteville and three campaigns at Randolph-Macon College before returning to Wartburg.
In this episode, Coach Tschetter details the three fundamental areas of his defense, his emphasis on technique, how he creates competition in practice, as well as the tactics and underlying philosophies that led to the #1 ranked defense in 2022.
Follow Matt Tschetter on Twitter @Coach_Tschetter.
Show Notes:
>Lighten the Mental Burden
>Assignment Sound: Do Your 1/11th of the Job
>Focus on Technique: Tackling, Block Defeat, and Creating Turnovers
>Teaching Tackling in Team Meetings, Plus Quizzing
>Be Multiple
>Stop the Run: Force Offenses to Be One-Dimensional
>Create Chaos
>Win the Situational Moments
>Don't Flinch and Turn the Page
>Base 4-3 Defense Learned from Northwest Missouri State
>Defensive Line Responsible for A and B Gaps
>Leverage-Based Run Fits
>Understanding Opponent and Situation
>Schematic Success on Run
>Vertical Movements Instead of Horizontal
>Benefits of Playing Zone Coverage
>Tracking INTs in Practice
>Preparing for What Attacks Cover Three
---
SUBSCRIBE: