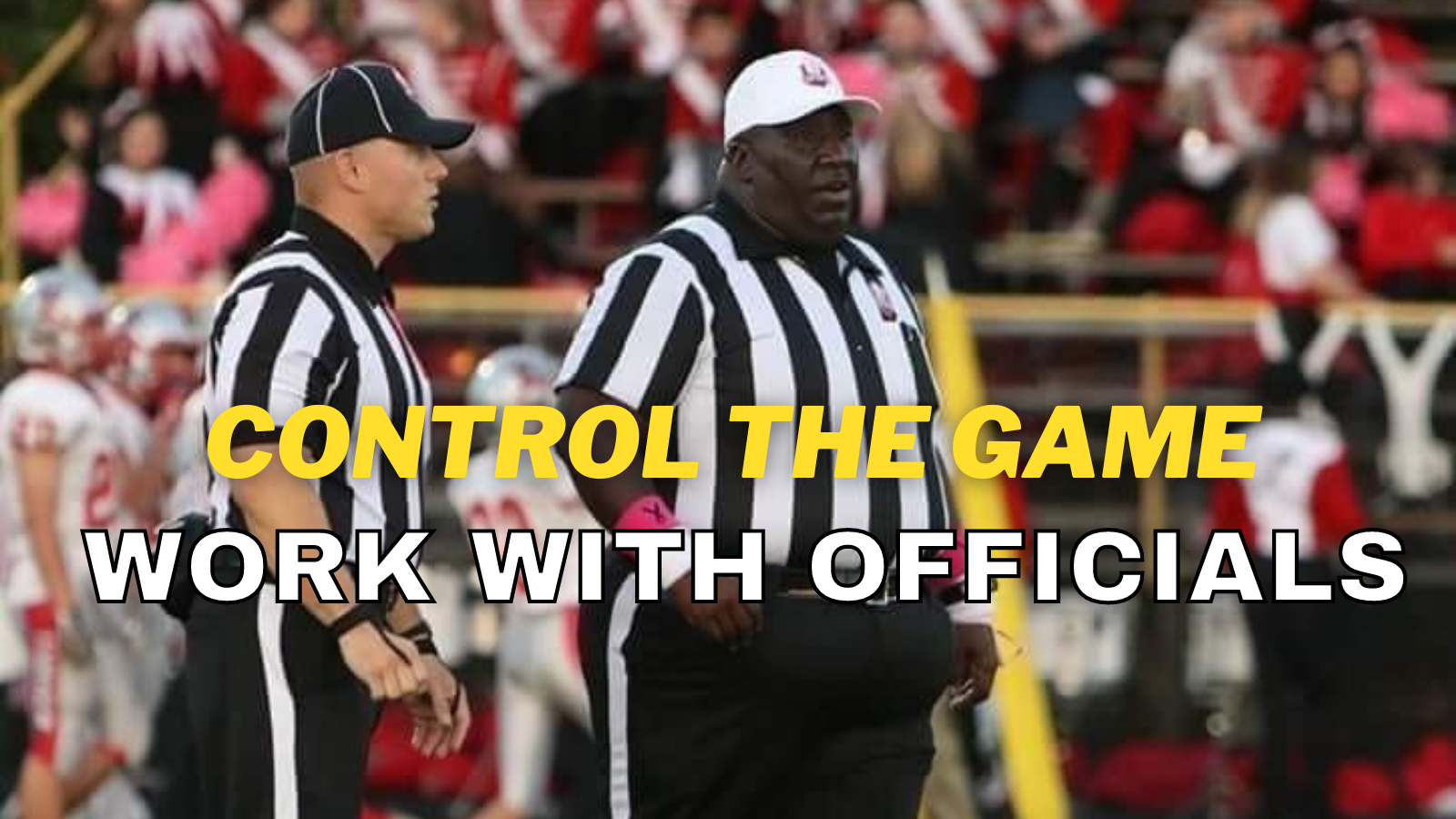 As coaches we work so hard to be sure we have taken care of every detail. It is critical for the success of our team. However, too many times I've seen a sideline that is in chaos with players and coaches yelling at officials. This is something that we need to eliminate in order to ensure the health of our game.
The NFHS website sites this statistic:
"According to the National Association of Sports Officials (NASO), registration of officials across the country is down about 30 percent this year. In Oregon, the number of football referees has dropped 34 percent compared to last year, and volleyball is down 45 percent. In a football officials association in California, nearly two-thirds of its members opted out of officiating this year."
The good news is that we have control of this and can be a positive influence on making the game day experience better for everyone, including the officials.
Understand the Officials' Responsibilities
This past season I worked the chains for our local high school on Friday nights. I was appalled by the behavior of many sidelines and noticed a common issues.
Most coaches don't know who to talk to or how to talk to them. The result is a cacophony of generally negative and useless comments coming from the sideline. The officials at best ignore it, and at worse let it have an effect on their objectiveness of the game.
To handle this, it starts by better understanding the responsibilities of the officiating crew. They work hard at learning these and each of them is only focused on a certain aspect of what is happening on the field. It is more effective to communicate to the exact official the issues that you are seeing.
Here is a one pager that you can download which gives you what each official is responsible for. I also included one from Vince DiGaetano, assistant at Fordham:
---
Have and Share the Plan
Start with the rules and procedures of how communication with the officials should be handled. There is absolutely no situation which warrants any player on the sideline making any comment about an official or call. The best practice is that only the head coach communicate with the officials. In other words, there should be only one voice coming from the sideline as it relates to officials. Make this clear with your coaches and players, support staff, administrators and anyone else who may be standing on your sideline. Anything your coaches are seeing should be funneled through you to the official.
Know who is responsible for watching certain things and through the head linesman or side judge (depending who is on their side) ask questions or request that certain things are watched. Having the official responsibility card and writing the name of each official on it can aid communication. It may be useful to have a JV coach assigned to the official responsibility card and tell you things like, "Coach, that's Bill the Referee's call."
General Statements like "they are holding every play" probably won't receive much attention, but the more specific you can be the more likely to get the attention of the official responsible for that. "Can you please ask "officials name" to please watch the holding by their right guard."
When a call goes against you, complaining or yelling about it do not help. It's better to remain calm and ask official on your sideline to ask who made the call, "Can you ask 'official's name' what he saw on that play?" You may disagree but it will get him thinking about it before he makes the next call. You can also address you player on the technique that will keep him from getting called again.
In addition, you should notify the official on your sideline before the game that you will be the only one communicating with him. You should also introduce him to your sideline management coach, aka the "get back coach," that, "This is Coach ____ he will be responsible for keeping the sideline clear for you." This will go a long way in establishing a positive working relationship with that official.
Be a Role Model
You cannot expect your sideline to stay calm and composed and business-like if you are not modeling that behavior. If your players and coaches see you ripping into an official, they will likely follow suit and start chirping as well. We expect our players to have standards in their performance and as the coach you need to as well.
Show the Officials that You Care about Details
Officials who knows a coach is on top of things will be more discerning in their calls. They will want to get it right because they know you are attentive to the details. One way to establish that is to present them with a "Captains Card" before the game. An example is below. In addition, you should notify the official of any opposing players who you have seen on film committing fouls consistently so that their eyes go to that. Talk to them about your tempo or procedures, trick plays that they should be aware of, and the details that are on the card.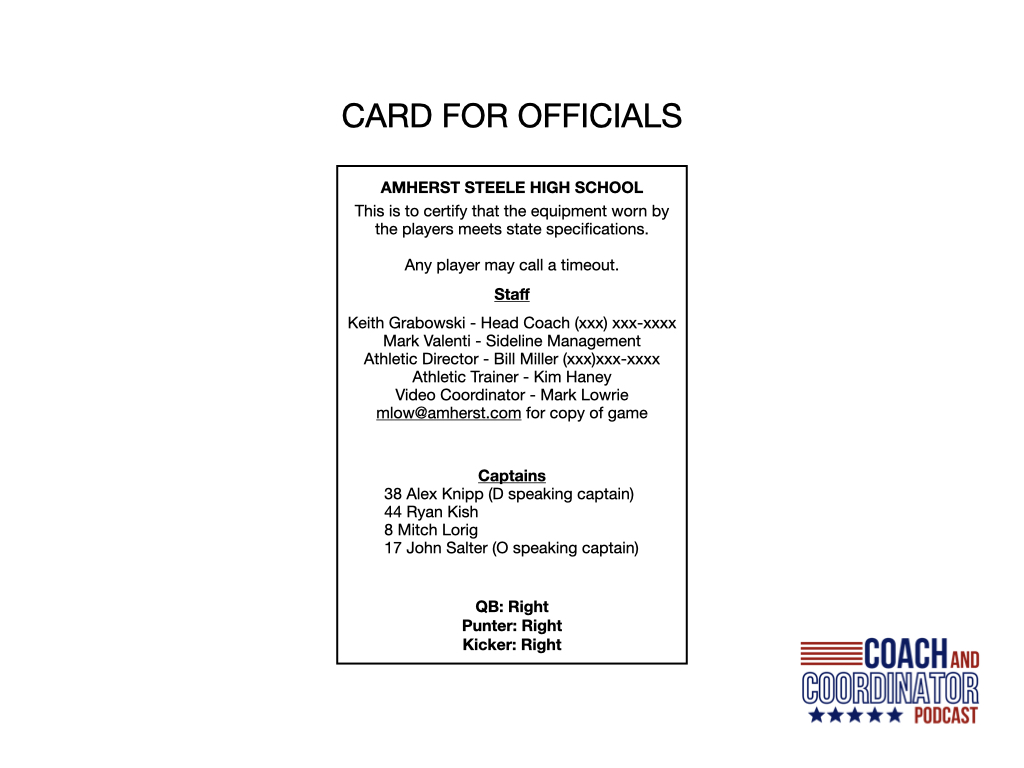 Also let them know that the video of the game will be available for them. The best officials get together as a crew weekly and review their last game and sometimes look at the upcoming game. They will appreciate this offer.
The little things add up quickly on game day and the last thing you want is to have to play against the opposing 11 on the field and the officials. Approaching them as described can keep them neutral or if the other team is behaving poorly, work in your favor.