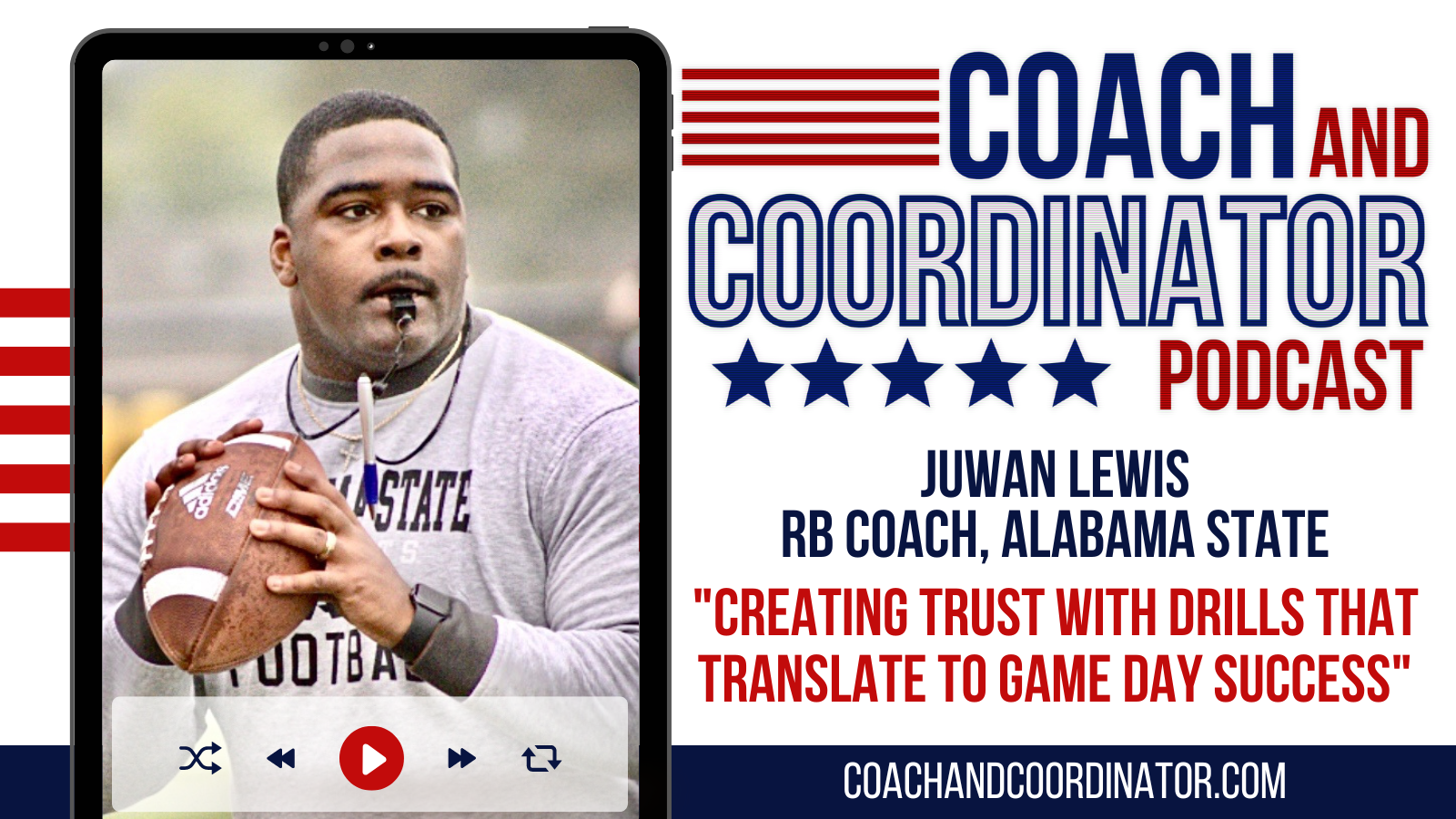 In this episode, Juwan Lewis focuses on putting together drills that translate to game day success as well as setting up a room built on trust and accountability to each other.
Juwan Lewis begins his first season at Alabama State after serving two seasons as the running backs coach and high school recruiting coordinator at Davenport University. Lewis came to DU after a stint at the University of Findlay. Prior to Findlay, Lewis mentored running backs, H-backs, and tight ends at the Division III level at Hiram College and D3 powerhouse Mount Union.
As a high school athlete, Lewis participated in the Army All-American Bowl before a college career at Eastern Michigan University, where he was mentored by Ron English and Chris Creighton, as well as Ferris State University. He earned workouts with NFL and CFL teams before landing a spot in the Arena Football League.
His experiences have led him to develop his coaching philosophy of the running back position that creates players who are prepared for the next level, while they serve each other as a group.
Follow Juwan Lewis on Twitter @Coach_Jlew.
Show Notes:
>Setting the Culture for Improvement
>Drills That Translate to Game Day
>Everyday and Prescriptive Drills
>Run Drills
>Hot Feet
>Training Vision
>Training Blocking Without Always Having Big Collisions
>Who Plays and How Much
>A Room That Helps Each Other Improve
>Handling Issues By Setting Things Up Correctly in the First Place
>Winning Edge Takeaways and Ideas for Implementation
Related Episodes:
Purposeful Networking, Plus Coaching RB Vision – Amanda Ruller, RB Coach, McMaster University
Player-Driven Culture – Mike Kuchar, X&O Labs
Coach Lewis Drills:
---
The Winning Edge – Takeaways and Ideas for Implementation:
1) Utilize Both an Everyday Drill and a Prescriptive Drill Approach
Coach Lewis has drills which he will work every day because they prepare the body for practice and are essential movements for his position. He then tailors the drills by week, paying specific attention to what he sees needs improvement from the past week, as well as what they will need to work and emphasize because of the game plan.
This approach provides some consistency and routine to get started, then provides both the mental and physical stimuli to get ready for game day. Take inventory of your drills and put together a roster of drills like Coach Lewis does. The list should include the purpose of the drill and what scheme or issue it trains. In this way, you have clarity in pulling drills from your roster that fit the game plan.
2) Build the Culture of the Room to Ignite Horizontal Coaching
Build the culture of the room so that it is preemptive in solving things that may become issues. Coach Lewis prioritizes being relatable which helps build trust with him and his players. He teaches them how to coach each other and be giving in the way that they point out where another player can improve before he does.
This horizontal coaching between players is much more effective than a room that is top down only. It truly creates an "iron sharpens iron" mentality where everyone is responsible for each other's performance and improvement. It creates a player-driven culture within your position group.
3) Promote Accountability Without a Negative Connotation
So many times, people cringe over the word accountability. It definitely has been abused so much over time that it does have a negative connotation. But when it becomes something tied directly to improvement and winning together, it becomes a positive. Think about how you can set it up within your own group or unit so that everyone is accountable to each other rather than just accountable to the coach.
---
SUBSCRIBE: