Developing the 10% Coach to Unlock Football's Full Potential
April 21, 2023
From the archives, Dan Gonzalez discusses protecting the passer. Every facet of the offensive plan, from protection principles, to route design, to formations should consider protection.
April 20, 2023
In this episode, the next installment in our "Teachable Moments" series, Bodie Reeder shares perspective on the importance of happiness while a coach pursues professional goals.
April 17, 2023
From Lauren's First and Goal Clinic, Dalton Hilliard shares how he implements a growth mindset, builds culture, and develops player leadership, communication, and football intelligence.
April 13, 2023
Juwan Lewis puts together drills that prep both the physical and mental body, as well as translate to game day success. He also discusses setting up a room built on trust and accountability.
April 12, 2023
In this episode, the first in our "Teachable Moments" series, Taylor Mouser recalls those early days of stuffing envelopes and the journey taken as a young coach to now leading his own room.
April 11, 2023
Scott Lemn discusses his process for evolving an offense with flexibility by design and an openness to creativity, as well as the teaching tools and workflows that are central to this process.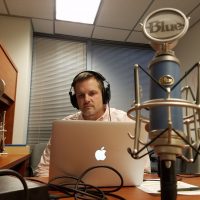 CEO, Coach and Coordinator
Coach Grabowski spent 27 years on the sidelines before entering coaching education as a writer, podcaster, and video producer. His work can be found at AFCA and American Football Monthly, in addition to his daily episodes of Coach and Coordinator Podcast.
Grabowski is the most prolific creator in the coaching industry, guided by a rare combination of servant leadership, emotional intelligence, and work ethic. He possesses a thirsty curiosity and the growth mindset required to always be learning and improving the game of football.
He is a true 10% Coach.
Subscribe to Our Weekly Tip Sheet
Join the 50,000 coaches receiving the Coach and Coordinator Podcast Weekly Tip Sheet email. Every Tuesday morning, catch up on the best ideas from recent Coach and Coordinator Podcast episodes and other resources and discuss the highlights in your staff meetings and with your fellow coaches in our community. The Weekly Tip Sheet will also include feature articles on strategies for all phases of the game, as well as actionable ideas from adjacent industries, such as leadership training, sports science and human performance, as well as cutting-edge technology, data, and analytics. All content and coaching methods are sourced for the 10% Coach to elevate your program to the top.
*By signing up for the Coach and Coordinator Weekly Tip Sheet, you agree to receive the latest news, updates, and episodes from Coach and Coordinator.
February 20, 2023
New Wisconsin Offensive Coordinator Phil Longo brings to the Big Ten his version of the Air Raid, a simple and efficient offensive philosophy built around personnel and balance.
February 14, 2023
Gap schemes found their way into the RPO world. But they require a different approach than the initial wave of inside zone. Learn how to stress the defense from four top offensive minds.
January 22, 2023
Time is a flat circle of running plays. In this era of inside zone schemes, the counter, a play popularized by Joe Gibbs in Washington in the 1980's, has returned as a staple in many offenses.