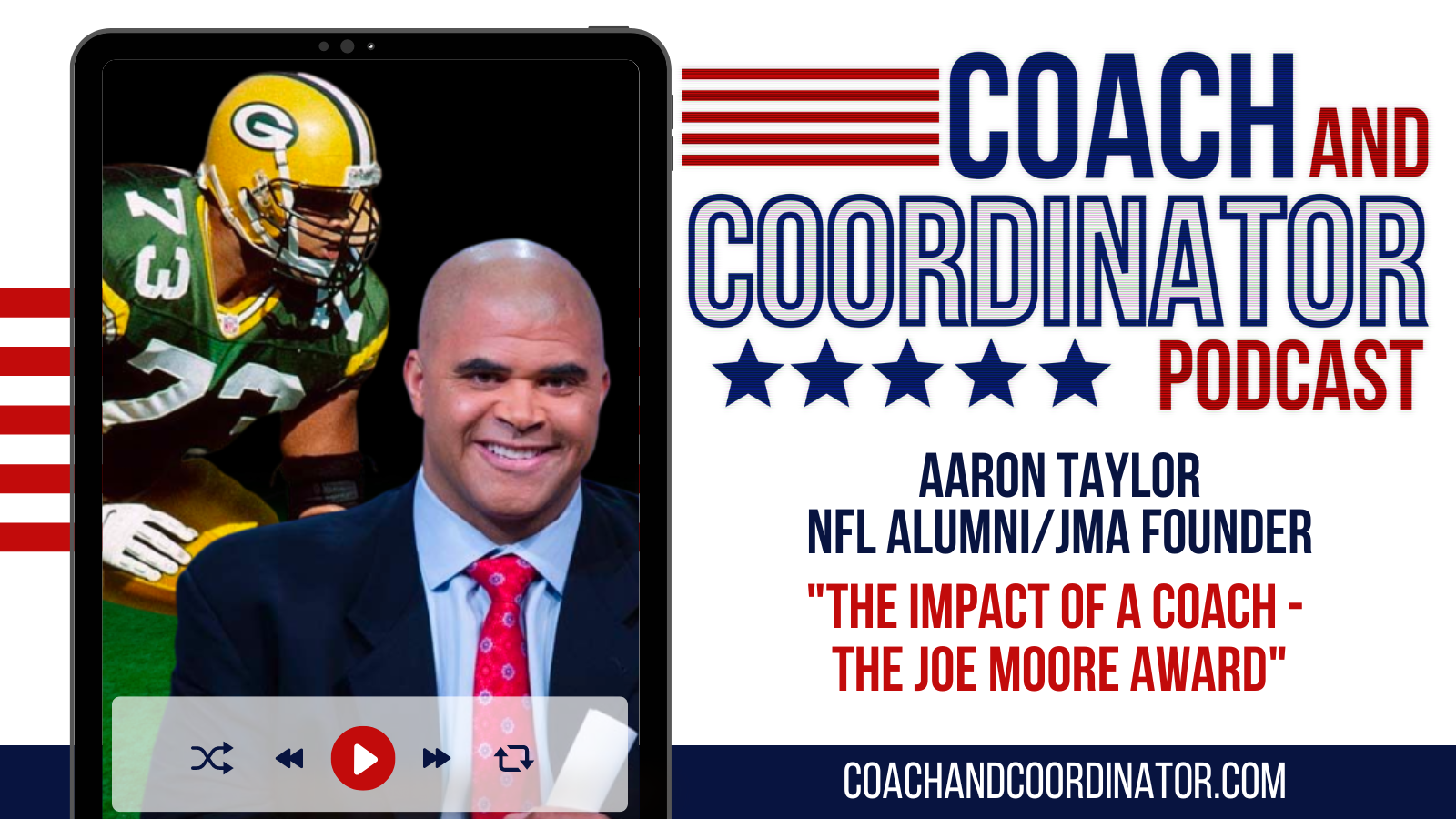 In this episode, Aaron Taylor passionately shares all the details that embody the Joe Moore Award, the only college football award that honors a group instead of an individual. Through the stories about Joe Moore and his methods, we learn of the importance of this award and the impact that elite coaching makes on the lives of young people.
Aaron Taylor is the founder of the Joe Moore Award, which celebrates the most outstanding offensive line unit in college football every year. The award's namesake is Joe Moore, who is widely regarded as the best offensive line coach in college football history.
The Joe Moore Award annually recognizes the college football offensive line that best displays toughness, effort, teamwork, consistency, technique, and "finishing". It is the only award in college football to honor a unit, and not an individual.
Aaron Taylor played for Coach Moore while at Notre Dame, where Taylor was a two-time All-American and first round pick in the 1994 NFL Draft. He played professionally for the Green Bay Packers and the San Diego Chargers.
In addition to his leadership for the Joe Moore Award, Taylor also currently works as a college football analyst and television sportscaster. In this episode, he shares the criteria and voting committee process behind the award, while illustrating the brilliance of Coach Joe Moore and the impact great coaching makes on and off the field.
Follow Aaron Taylor on Twitter @AaronTaylorCFB.
Show Notes:
>Who Was Joe Moore?
>The Joe Moore O-Line Camp
>Kirk Ferentz's First Attempt at the Award
>The Impact of a Coach
>It Starts with Belief and Strict Adherence to the Fundamentals
>The Detail that Goes into Finding the Best College OL by the Committee
>Toughness, Teamwork, Technique, Consistency, and Finishing
>The Watch List Starts with 131 Units
>Steed Lobotzke and Air Force as a Finalist
>How the Six Aspects Show Up on Film
>Lance Zierlein: Three Phases of a Block
>Accounting for Different Methodology and Technique
>There Is No QBR for Fat Guys
>Common Traits in the Coaches Leading These Top Units
>The Joe Moore Offensive Line Credo
>The "Toughness Drill": Base Blocks for Two Hours
>You Have Five More in You
>The Foundation for Teamwork
>The Creation of the Trophy
>The Moore Method: Offensive Line University Course
The Moore Method OL University:
CLICK HERE to take the entire course.
---
SUBSCRIBE: