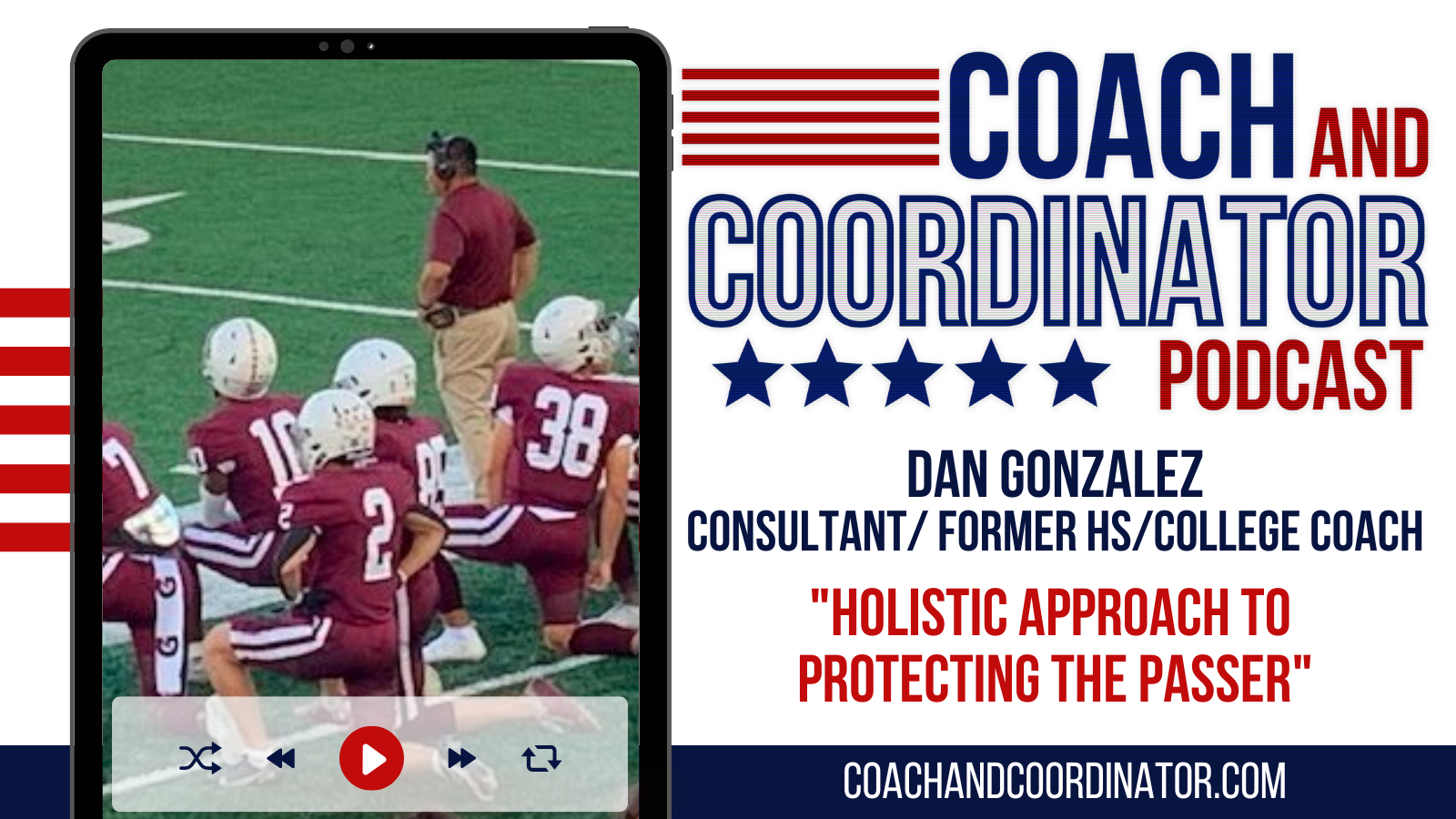 In this episode from our archives, Dan Gonzalez, long-time coach at both the high school and college levels as well as offense consultant, discusses taking a holistic approach to protecting the passer. Every facet of the offensive plan, from protection principles, to route design, to formations should have protection as a key consideration.
Dan Gonzalez began his coaching journey during his senior season as a player at the University of Texas. Gonzalez was given the responsibilities of passing game quality control for the Longhorns. After graduation, he served one season as an assistant at Ranger College, then moved on to serve as the quarterbacks coach at Abilene Christian University for two seasons. He returned to Ranger College as the offensive coordinator for another two seasons.
Coach Gonzalez then spent two seasons as the offensive coordinator at North Lamar High School in Paris, Texas. Under his tutelage, North Lamar High School enjoyed back-to-back winning seasons for the first time in 20 years. Gonzalez then joined the Lenoir-Rhyne University staff as the quarterbacks and wide receivers coach, as well as co-offensive coordinator.
During his first season at Lenoir-Rhyne University, the team's quarterback led the South Atlantic Conference in passing and set single-season school records for most yards, touchdowns, and completions. Three different quarterbacks in three seasons each netted top-ten passing seasons in the school's record books.
Gonzalez finished his coaching career with a second stint at Abilene Christian.
Follow Dan Gonzalez on Twitter at @Dan_Gonzalez16.
Show Notes:
>A.C.T.S.
>Applying the Progressive Passing System
>Scan Read with Quarterback
>A Holistic Approach to Pass Protection
>Assessing Collisions in Football
>Examples of Proper Protection Schemes
>Hot Routes and Simulated Pressures
>Protection Adjustments and Delays
>Systemizing Terminology
>Scripting for Protecting the Passer
>Game Planning in Practice
>Formation Disadvantages
>Preparing for Blitz Pickup
>Simplifying Terminology
>Dan's Progressive Passing System
Dan Gonzalez Video Courses:
---
The Winning Edge – Takeaways and Ideas for Implementation:
1) Ensure Everyone Knows Their Role
Ask yourself this question as a starting point: "Do all of my players and coaches understand how our protection works and their role in it?"
For most of us, we will find there is some work to do to get everyone on the same page. It starts with finding the gaps and filling them with the plan to teach all of our players and coaches their roles in protecting the passer, as well as how that will be accomplished in practice and carried over to game day.
2) Double the Practice Reps
Practice reps are the overriding factor for how much you can carry into a game. In preparing for pressure, Coach Gonzalez uses the formula of 2x the amount that will be seen on game day. He makes sure that they get double the reps, and they design periods to accomplish this end.
Here is a video of our host Keith Grabowski utilizing Go Army Edge to get his offensive line and running backs extra protection reps. He would get up to 65 reps in a 15-minute period. Coaches can also utilize this tool for walk-throughs with the quarterback, tight ends, and receivers.
3) Research and Install Tools for Protection Help
At the COOL Clinic last year, Jon Gruden spoke about what he looks for in hiring an offensive line coach. He said one thing he would want to know was the coach's system for help in protection. Whether that system is using chip protections and creating the terminology and methods for giving help, or adding screens and delays, there are plenty of ideas to have any position, receivers, backs, or tight ends, help in protection before getting into their routes.
4) Exploit Substitution Patterns with Your Play Call and Tempo
Coach Gonzalez brought up a discussion with an FBS coordinator. The idea shared was knowing when rushers are fresh, or when they will try to get fresh defensive linemen in the game, and then call passes and use tempo accordingly. This tactic might not apply to some teams or levels, but it certainly applies at the bigger high school and small college level. This information and a plan for it can definitely create an advantage on game day.
---
SUBSCRIBE: