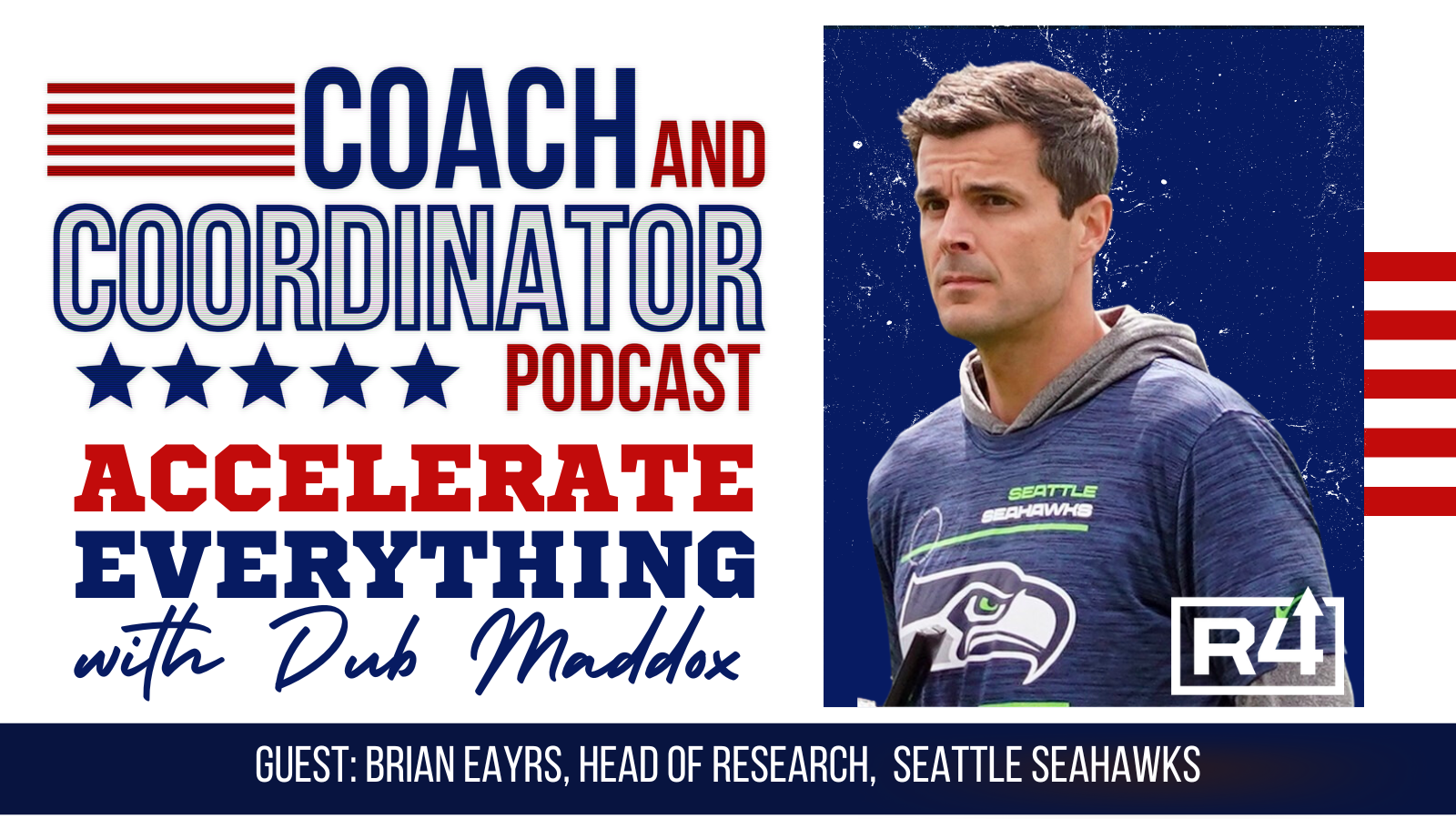 In this episode of our "Accelerate Everything" series, Brian Eayrs discusses the mindset of an analyst, how to find patterns that give a competitive advantage, translating data into the practice plan, as well as the trends he is following now, and much more.
Brian Eayrs is the head research analyst for the Seattle Seahawks. He is a second generation analyst in the NFL. His father, Mike Eayrs, was an analyst for the Green Bay Packers.
In this episode, Brian discusses what he learned from his father, the current trends he is following, and an approach to analytics that can be used at every level of play.
Follow Brian Eayrs on Twitter @BRIAN_EAYRS.
Follow guest host Dub Maddox on Twitter @CoachDubMaddox.
In our "Accelerate Everything" series, guest host Dub Maddox, offensive coordinator at Union High School (OK), talks with experts inside and outside of football to illuminate those things that put them at the top of their fields, while considering those lessons within a coaching framework.
Show Notes:
>Day in the Life of a Research Analyst
>What Brian Learned from His Father
>The Mindset of an Analyst
>Finding Patterns That Give a Competitive Advantage
>Marking Things That Happen During the Play
>Drew Brees Passing Efficiency
>Time to Pass
>Conversation with David Cutcliffe
>Improving Your Self-Scout
>A Good Cover Page Example to Model
>Translating Data into the Practice Plan
>After Action Review
>Chasing the Latest Trends
For more information on Dub Maddox's R4 System, visit R4FootballSystem.com.
Related Resources:
Brett Monson: Switch Man Coverage Course
Tyler Roehl Courses
More Accelerate Everything Episodes:
JT O'Sullivan, Former NFL QB, Creator of The QB School
Will Hewlett, Quarterback Trainer, High School QB Coach
---
SUBSCRIBE: