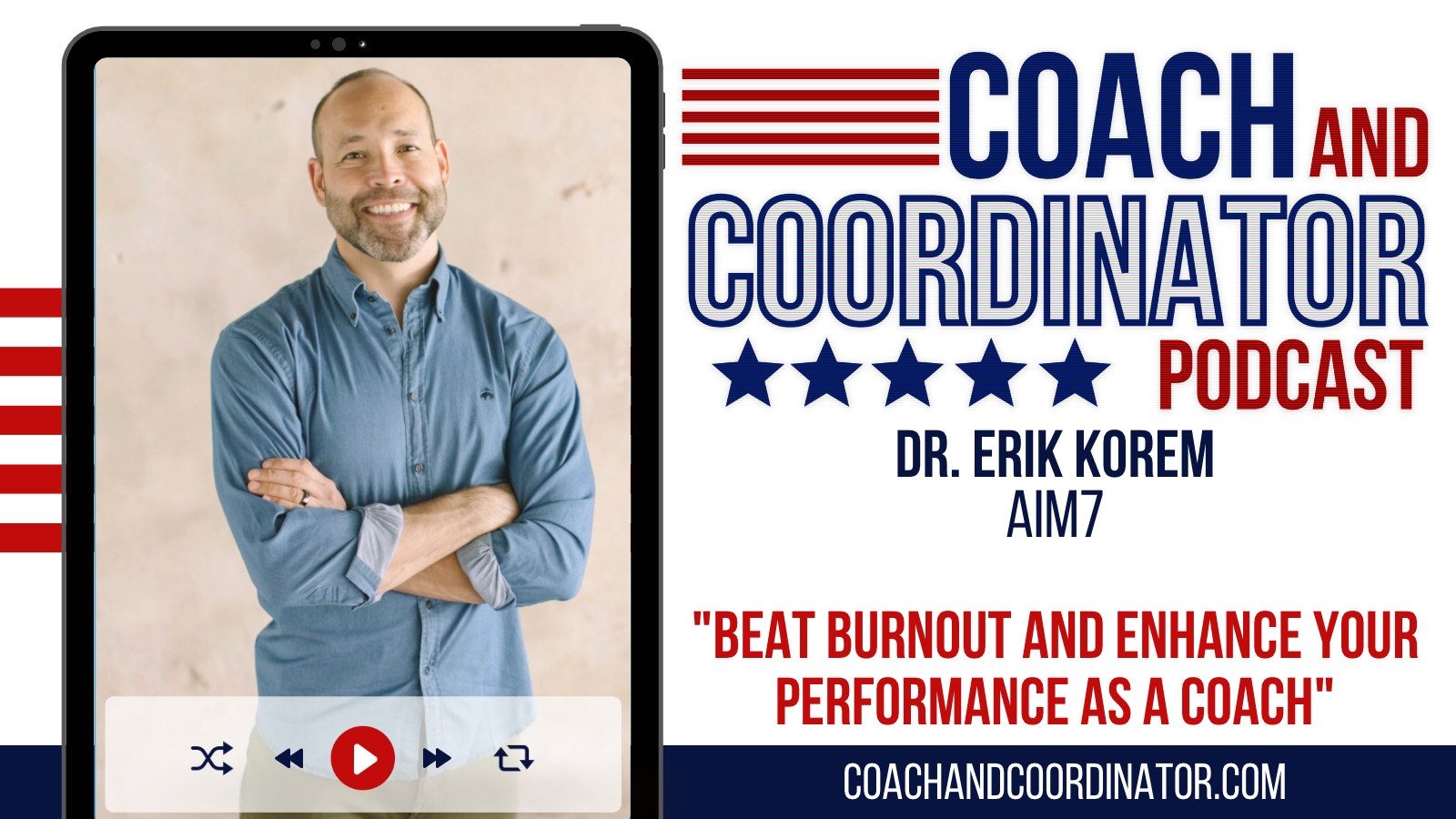 Dr. Erik Korem, Founder and CEO of AIM7, joins the podcast again with some eye-opening data as well as simple, practical ways coaches can enhance performance while remaining physically and mentally healthy in a demanding profession.
Dr. Erik Korem is the Founder and CEO of AIM7, a health and wellness app that leverages data from wearable technology, such as the Apple Watch, to increase energy, reduce stress, and improve performance. Prior to founding AIM7, Dr. Korem trained athletes across multiple high-performance levels, including the collegiate, professional, and Olympic levels. He served in athlete performance roles at the University of Kentucky, Florida State University, Mississippi State University, University of the Pacific, Fort Valley State University, and the University of Arkansas, as well as with the NFL's Houston Texans, where he served as Director of Sports Science and implemented the first sports science program in team history.
Follow Dr. Erik Korem on Twitter @ErikKorem.
Show Notes:
(3:16) Stress Fallacies
>Don't Manage Stress
>Build Capacity to Adapt to More Stress
>Stress Is the Gateway to Growth
>Mental and Physical Stress Is One Input
>The Price to Be Paid for Stress
>The Positive Impact of Starting Your Day with Sunlight
>Five Pillars to Build More Stress Capacity
(12:39) Sleep
>Restore and Regenerate
>The Brain's Detoxification System
>Get 7-9 Hours Every Night
>Three Key Behaviors: Duration, Timing, Consistency
>The Benefits of Moderate Caffeine Intake
(25:52) Mental Fitness
>Be Consciously Present and Process Information without Bias
>Attention Is the Currency of Performance
>The Myth that the Best in the World Do Not Feel Pressure
>How to Train Mindfulness
>Eight Weeks of Mindfulness Reduces Anxiety by 30%
(32:19) Exercise
>Exercise Training Improves General Stress Resilience
>Two Types of Exercise Everyone Needs: Aerobic and Resistance Training
>Even Moderate Aerobic Exercise (150-300 Minutes per Week) Reduces All Cause Mortality by 25%
>Walking Alone Won't Get It Done
>Aim for 45 Minutes of Resistance Training Twice per Week
(38:01) Nutrition
>Eat an Anti-Inflammatory Diet
>Repair Tissues and Lower Systemic Inflammation Which Causes Disease
>Significantly Impact Testosterone Levels
>Recommendations Include: High-Quality Fish Oil, Nuts and Seeds, Multi-Colored Fruits and Vegetables
>A Plant-Based Diet Is OK, But Supplement with Leucine
(47:21) Community
>Engage in Healthy Relationships
>Have a Community Outside of Work
>Life Is Not Meant to Be Lived Alone
Additional Dr. Erik Korem Episodes:
Avoid the First Game Conundrum
Practice Scripting to Get Ready for Week 1
---
SUBSCRIBE: