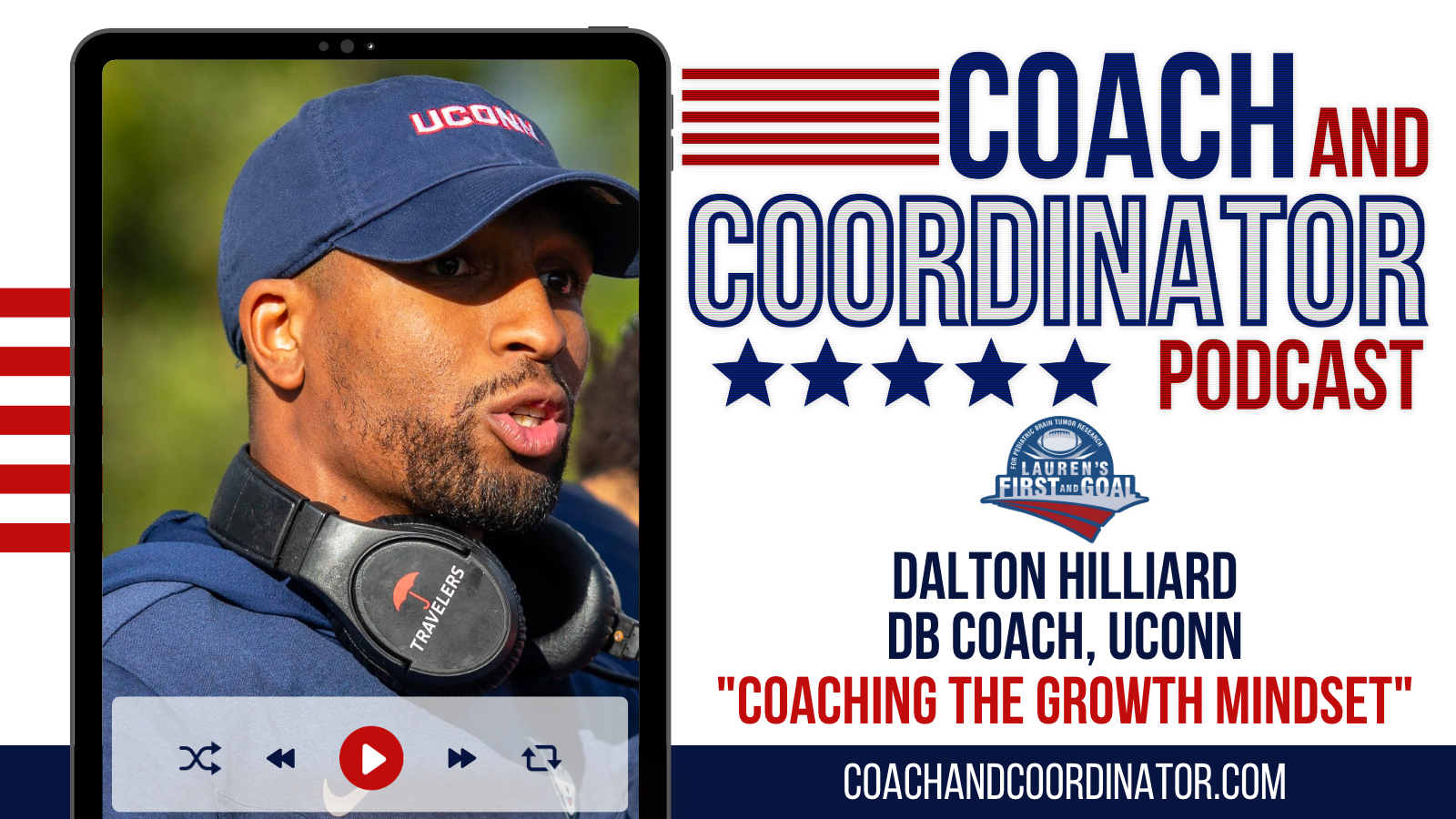 In this segment from the 3rd Annual Lauren's First and Goal Clinic, Dalton Hilliard shares how he implements a growth mindset and builds culture within his position. He also details how he utilizes the classroom, technology, and content to develop leadership, communication, and football intelligence for his players.
Dalton Hilliard is the defensive backs coach at the University of Connecticut. He joined the UConn staff after stints at Arkansas State, Tennessee-Martin, and UCLA.
At UCLA, Coach Hilliard worked under both Jim Mora and Chip Kelly. He started as a graduate assistant before serving as a defensive and special teams analyst.
Hilliard began his coaching journey at his high school alma mater, Punahou High School in Honolulu, Hawaii. In high school, Hilliard was a first-team All-State performer before enjoying a four-year career at UCLA as a safety. He signed with the Chicago Bears in 2013 and played professionally in Italy.
In this episode, a segment from the 3rd Annual Lauren's First and Goal Clinic, Coach Hilliard shares how when developing his players, he develops the whole person, and not just the player.
Follow Dalton Hilliard on Twitter @CoachDHilliard.
Show Notes:
>UConn Husky Filter
>Fight the Human Condition
>Building Culture
>DB Expectations
>Utilizing Technology for Interactive Meetings
>Mental Development and FBI
>Podcast as a Developmental Tool
>Winning Edge
Dalton Hilliard's Full Clinic Talk:
DB Culture/Classroom/Technique
---
The Winning Edge – Takeaways and Ideas for Implementation:
1) Implement a "Growth Mindset" into the Culture of Your Position Group
A growth mindset means believing that talents can be developed through hard work, good strategy, and feedback from others. Mistakes are looked at as opportunities to learn. Those competitors with a growth mindset achieve more than those with a fixed mindset who believe that talent is innate.
To learn more about growth mindset, I recommend Carol Dweck's book Mindset: The New Psychology of Success. To get you started on the idea of growth mindset, here is an article in the Harvard Business Review.
2) Make Leadership an "On the Job Training" Activity
Coach Hilliard appoints captains for each semester, and they hold their teammates accountable for not meeting the standards. If we want leaders in our programs, we should give them the opportunity to lead before the season.
Everyone can be given short segments of the offseason to lead. It could be a week, or a month, or a semester, but regardless, the leadership moves outside of teaching ideas to the players in the classroom to actually being given the opportunity to lead. You can provide the support and feedback to the players leading during that time.
3) Utilize Content and Technology
Use content across the internet, YouTube, podcasts, social media, etc. to teach both football intelligence and mindset for achieving success. Coach Hilliard has a curriculum, and he uses a podcast.
There are so many opportunities we have to share important ideas that can make a difference. I like to record an impactful idea I hear on a podcast by using the screen record feature on my phone, and then send it to my kids, family, friends, or coworkers. Both formally and informally, we can develop our players and fellow staff members by sharing simple tools at our fingertips, most of which are on our phones.
---
SUBSCRIBE: