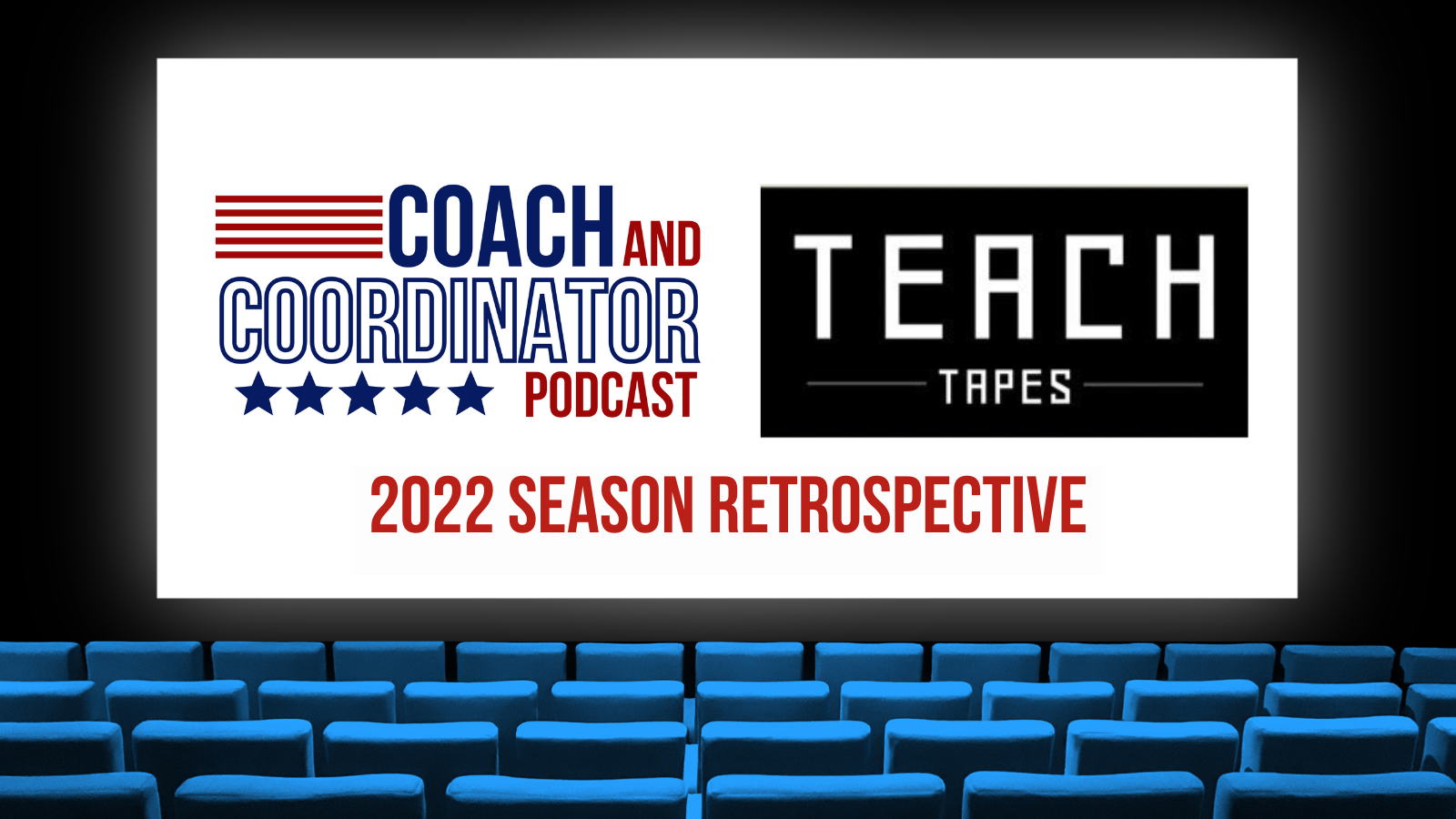 On this season wrap-up episode of Teach Tapes, Steve Hauser looks back at key moments and themes from the 2022 season, what we discovered along the way, and the trends that made a difference and will be important to the future success of our players and programs.
Listen On:
Steve Hauser brings a unique résumé to the Coach and Coordinator Podcast in-season lineup, most recently coaching special teams at Iowa State. Coach Hauser has enjoyed multiple coaching stops, including positions at Oklahoma State and the Cleveland Browns. He now manages the @TeachTapes Twitter account, highlighting the best of the best NFL drills and techniques. This week on our Teach Tapes series, Coach Hauser wraps up the 2022 season.
Follow Steve Hauser on Twitter @HauserFootball.
Show Notes:
(1:16) Season Retrospective
>Two Major Themes
>The Blueprint
>Situational Masters
>There Are Reasons Things Happen and Reasons to Learn from Them
(3:14) Explosives
>Be Ready for Your Moment
>"Love of the Game" Route
>Play Action Fakes – Show, Snap, Setup
>1 of 11 in All Aspects
(4:56) Operational Penalties
>Drills and Techniques
>Details That Impact the Start or Finish of a Game
(6:49) Ball Security + Takeaways
>Fight Through Contact the Right Way
>Wrist Above Elbow
>Eagle Claw
>The Ball Is the Most Important Thing in the Program
>Body, Ball, Boundary
(8:35) Walk the Field
>Understanding Strategy within Context
>Sequencing the Next Play
>Backed Up
>Open Field 1st and 10
>Winning 2nd Down
>Coaching 3rd Down
>The Scoring Zone
(10:18) The "Why"
>Retain from the Classroom to the Grass
>It All Comes Back to the "Why"
>All Things Matter
(13:07) Activity Versus Achievement
>How Does It Fit My Team?
>Experience Defines Your Future
>Professional Development
(14:53) What's Next for TeachTapes and Coach and Coordinator
>AFCA
>Spring Ball Series
>TeachTapes.org
Coaches Mentioned in This Episode:
John Harbaugh
Brandon Staley
Sean McVay
Eric Yarber
Mike McDaniel
Greg Knapp
Eddie Faulkner
Jemal Singleton
Scottie Montgomery
Ryan Walters
Mike Gundy
Tony Franklin
---
SUBSCRIBE: