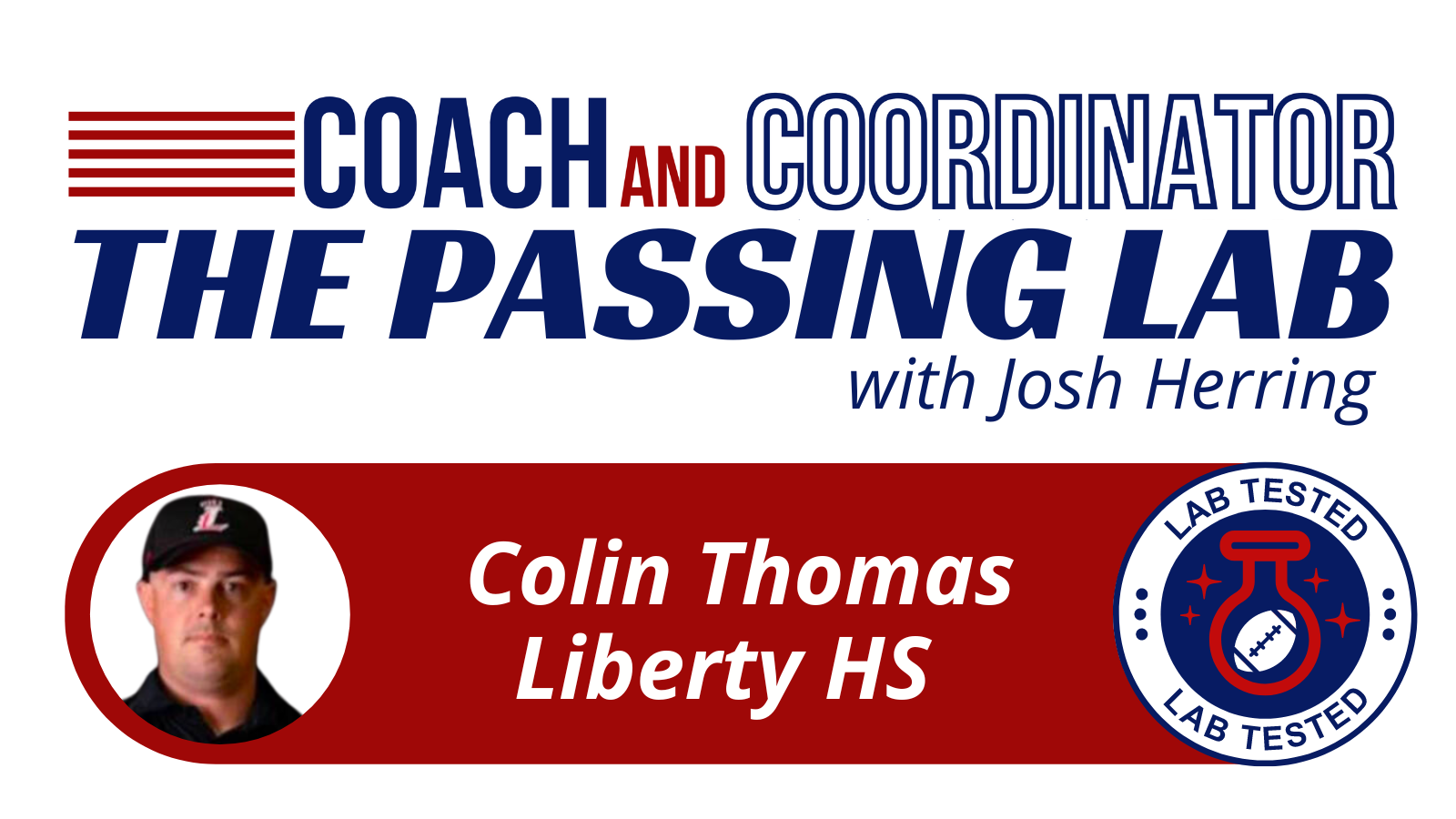 In this episode of our "Passing Lab" series, Colin Thomas discusses one-word calls, the "Naked Wheel" concept, ideas for empty, and researching the game.
Colin Thomas is the head coach, offensive coordinator, and QB coach at Liberty High School in Arizona. He won a state championship as the offensive coordinator prior to becoming the head coach of the program.
In this episode, Coach Thomas dives deep into one-word drop back calls, wheel route technique, mesh with dagger, empty, as well as his process for offseason research.
Follow Colin Thomas on Twitter @coachthomasfb.
Follow guest host Josh Herring on Twitter @joshherring1.
In our "Passing Lab" series, guest host Josh Herring, QB Coach at Lassiter High School (GA), sits down with passing game experts on the leading edge of offensive strategy.
Show Notes:
>Influences in the Passing Game
>One-Word Drop Back Calls
>Ease of Learning for Players
>Something to Call Late in the Game with Confidence
>Naked Wheel
>Wheel Route Technique
>Changing to a Post-Seam
>Mesh with Dagger
>Releases
>Settle in Voids
>Bunch Helping Releases
>Process for Using Empty
>Offseason Research Process
Related Episodes:
Adapt or Die – Dub Maddox, Offensive Coordinator, Union High School (OK)
The Passing Lab – Andrew Coverdale, Offensive Coordinator/QB Coach, St. Xavier High School (OH)
The Passing Lab – Bobby Peters, Offensive Coordinator/QB Coach, Providence Catholic High School (IL)
Josh Herring's Crossers Course:
Complete Crossing Routes – Low Crossers – Volume 1
---
SUBSCRIBE: