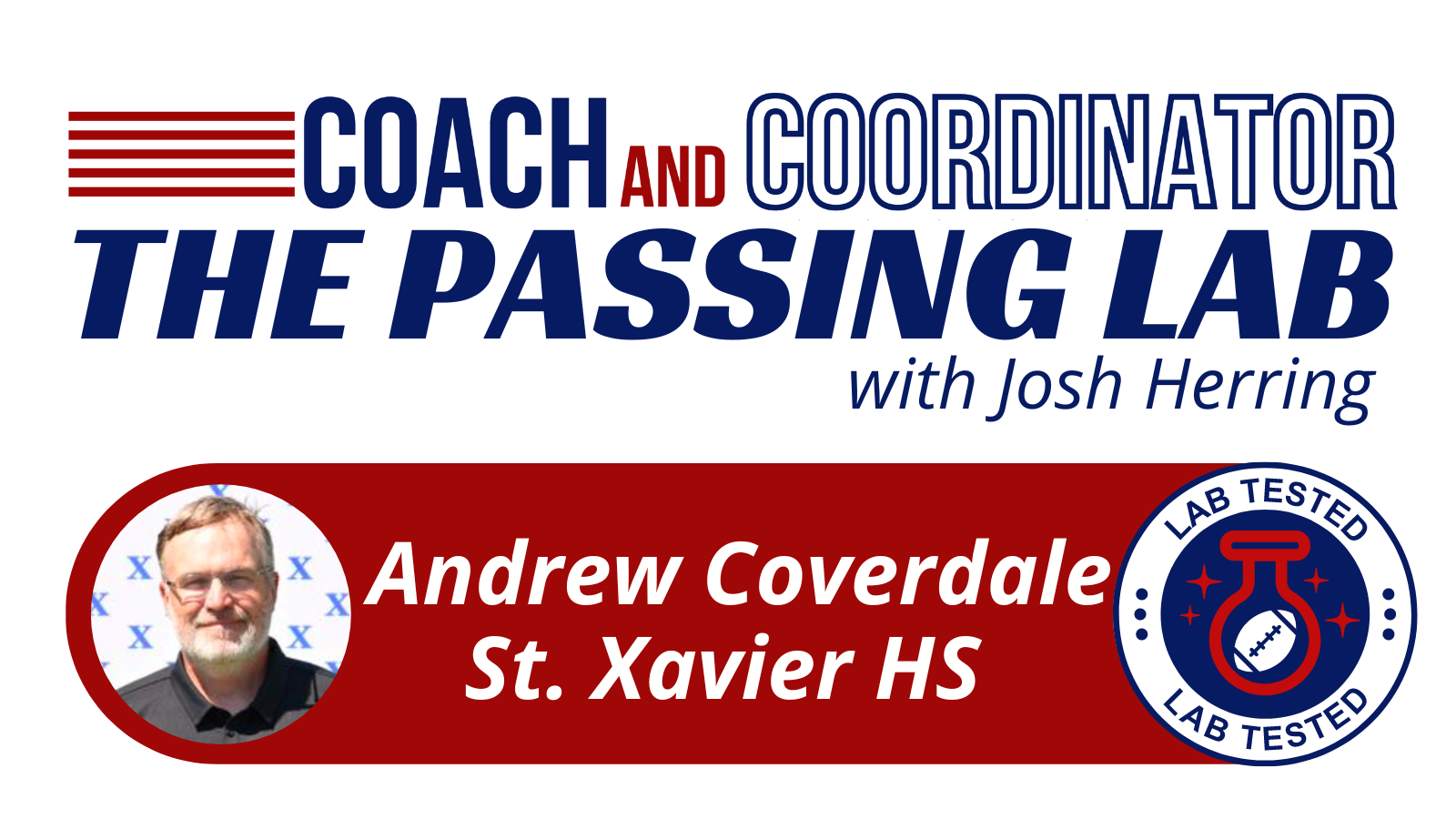 In part one of this two-part episode of our "Passing Lab" series, Andrew Coverdale covers a number of topics, including bunch, splits, ball-off-the-hash calls, spacing, hank, and more.
Andrew Coverdale is the offensive coordinator and quarterbacks coach at St. Xavier High School in Cincinnati, Ohio. Before joining the Bombers staff, Coach Coverdale had a successful run as offensive coordinator with Trinity High School in Louisville, Kentucky. He has also served as a head coach and anchored coaching staffs at multiple schools.
In sum, Coach Coverdale is a 12x state champion in his illustrious career. He is a true student of the game and a teacher of its nuances.
Follow Andrew Coverdale on Twitter @AndrewCoverdale.
Follow guest host Josh Herring on Twitter @joshherring1.
In our "Passing Lab" series, guest host Josh Herring, QB Coach at Lassiter High School (GA), sits down with passing game experts on the leading edge of offensive strategy.
Show Notes:
>The Reality Behind the Bunch Book
>The Impact of Splits at the High School Level
>Slant-Arrow Case Study
>The Issue with Explosive Plays
>Influence of Bob Beatty
>Hash Study: Ball Not on the Hash 31% of the Time
>Impact on Opening Thoughts
>Spacing and Hank
>Learning from Scott Loefler
>The Second Layer of Rhythm
>Shanahan Stucco
Keep Listening:
Part 2 with Andrew Coverdale in The Passing Lab
Related Episodes:
The Passing Lab, Featuring Dan Gonzalez, Consultant, Former High School/College Coach
Accelerate Everything, Featuring JT O'Sullivan, Former NFL QB, Creator of The QB School
Additional Resources:
Andrew Coverdale Video Course: Boundary Pass Concepts
Josh Herring Video Library
---
SUBSCRIBE: