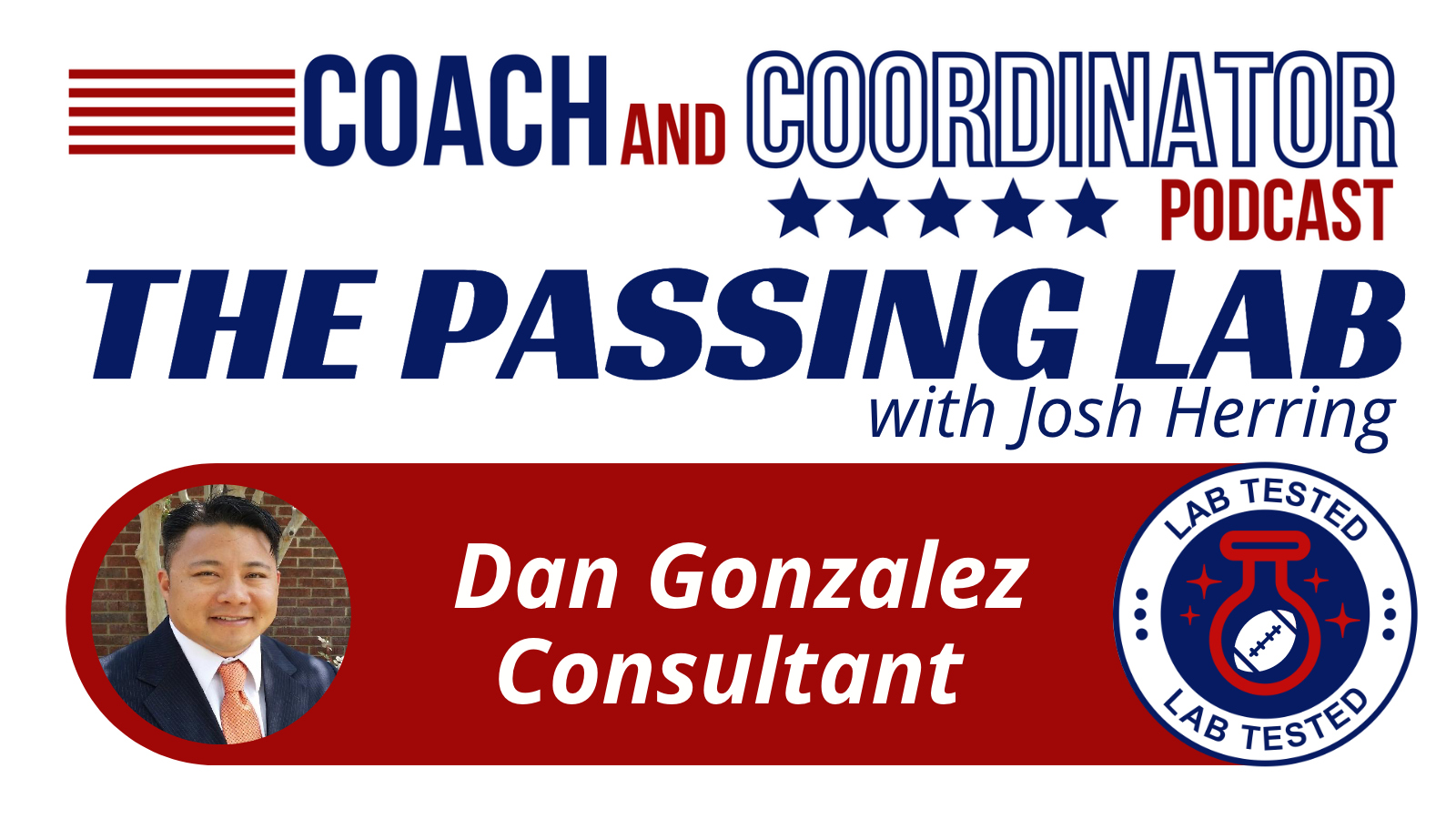 In this episode, the first in our "Passing Lab" series, Dan Gonzalez shares his wealth of knowledge on the development of the passing game and the challenges coaches face in teaching the game effectively.
Dan Gonzalez began his coaching journey during his senior season as a player at the University of Texas. Gonzalez was given the responsibilities of passing game quality control for the Longhorns. After graduation, he served one season as an assistant at Ranger College, then moved on to serve as the quarterbacks coach at Abilene Christian University for two seasons. He returned to Ranger College as the offensive coordinator for another two seasons.
Coach Gonzalez then spent two seasons as the offensive coordinator at North Lamar High School in Paris, Texas. Under his tutelage, North Lamar High School enjoyed back-to-back winning seasons for the first time in 20 years. Gonzalez then joined the Lenoir-Rhyne University staff as the quarterbacks and wide receivers coach, as well as co-offensive coordinator.
During his first season at Lenoir-Rhyne University, the team's quarterback led the South Atlantic Conference in passing and set single-season school records for most yards, touchdowns, and completions. Three different quarterbacks in three seasons each netted top-ten passing seasons in the school's record books.
Gonzalez finished his coaching career with a second stint at Abilene Christian.
Follow Dan Gonzalez on Twitter @Dan_Gonzalez16.
Follow guest host Josh Herring on Twitter @joshherring1.
In our "Passing Lab" series, guest host Josh Herring, QB Coach at Lassiter High School (GA), sits down with passing game experts on the leading edge of offensive strategy.
Show Notes:
>Passing Game Evolution and Teaching Challenges
>Defense Evolution in High School
>Strategy and Visionary Coaches
>Passing Game Evolution and Coaching Impact
>Coach Gonzalez's Verticals
Related Episodes:
Into the Passing Lab – Josh Herring, Offensive Coordinator, Jones County High School (GA)
A Holistic Approach to Protecting the Passer – Dan Gonzalez, Football Consultant, Former HS/College Coach
Additional Resources:
Josh Herring Video Courses
Dan Gonzalez Video Courses
---
SUBSCRIBE: