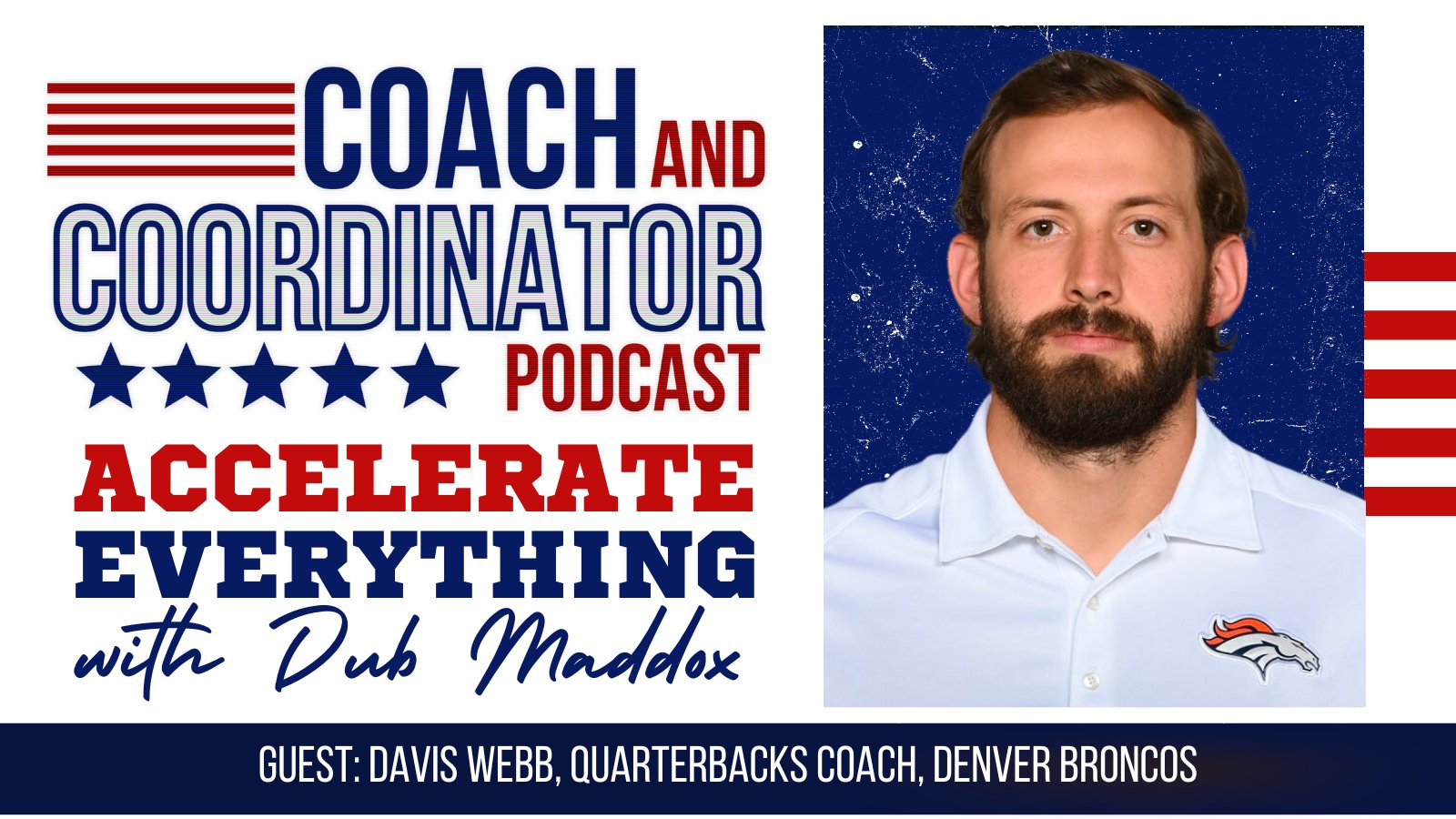 In this "Accelerate Everything" episode, Davis Webb shares his influences as a player in both college and the NFL, as well as how he learned the game and what he will apply moving forward now as a coach.
Listen On:
Davis Webb is the quarterbacks coach for the Denver Broncos. Before joining the coaching profession, Webb played in the NFL for the Buffalo Bills, New York Jets, and New York Giants, who drafted him in the third round of the 2017 NFL Draft.
Webb played college football at Texas Tech and California, under Kliff Kingsbury and Jake Spavital respectively.
In this episode, Coach Webb shares his favorite coaching methods and influences, favorite Air Raid concepts, the things that generate the most interceptions, and what makes a good play caller.
Follow Davis Webb on Twitter @Davis_Webb5.
Follow guest host Dub Maddox on Twitter @CoachDubMaddox.
In our "Accelerate Everything" series, guest host Dub Maddox, offensive coordinator at Union High School (OK), talks with experts inside and outside of football to illuminate those things that put them at the top of their fields, while considering those lessons within a coaching framework.
Show Notes:
>Favorite Coaching Methods Learned from His Coaches
>Kliff Kingsbury
>Jake Spavital
>Kingsbury's Menu of Plays
>Freedom to Check at the Line
>Favorite Air Raid Concept – 95
>Four Verticals – Air Raid "6"
>Learning the Option Route
>The Mesh Concept
>Impact of Eli Manning
>Process for Watching Film
>Keys to Game Plan Install for Knowledge Transfer
>Things That Generate More Interceptions
>Two-Minute/Last-Drive Situations
>Takeaways from Working with Brian Daboll
>What Makes a Good Play Caller
>Two Calls from His Last Game as a QB
>QB Improvisation
>The Interview for the Job with Sean Payton
>Learning Curve
Check Out Dub Maddox's VR Training for Quarterbacks
Related Video Course:
Jake Spavital: Utilizing Storm Concept, QK Motions, and Six Route
---
SUBSCRIBE: