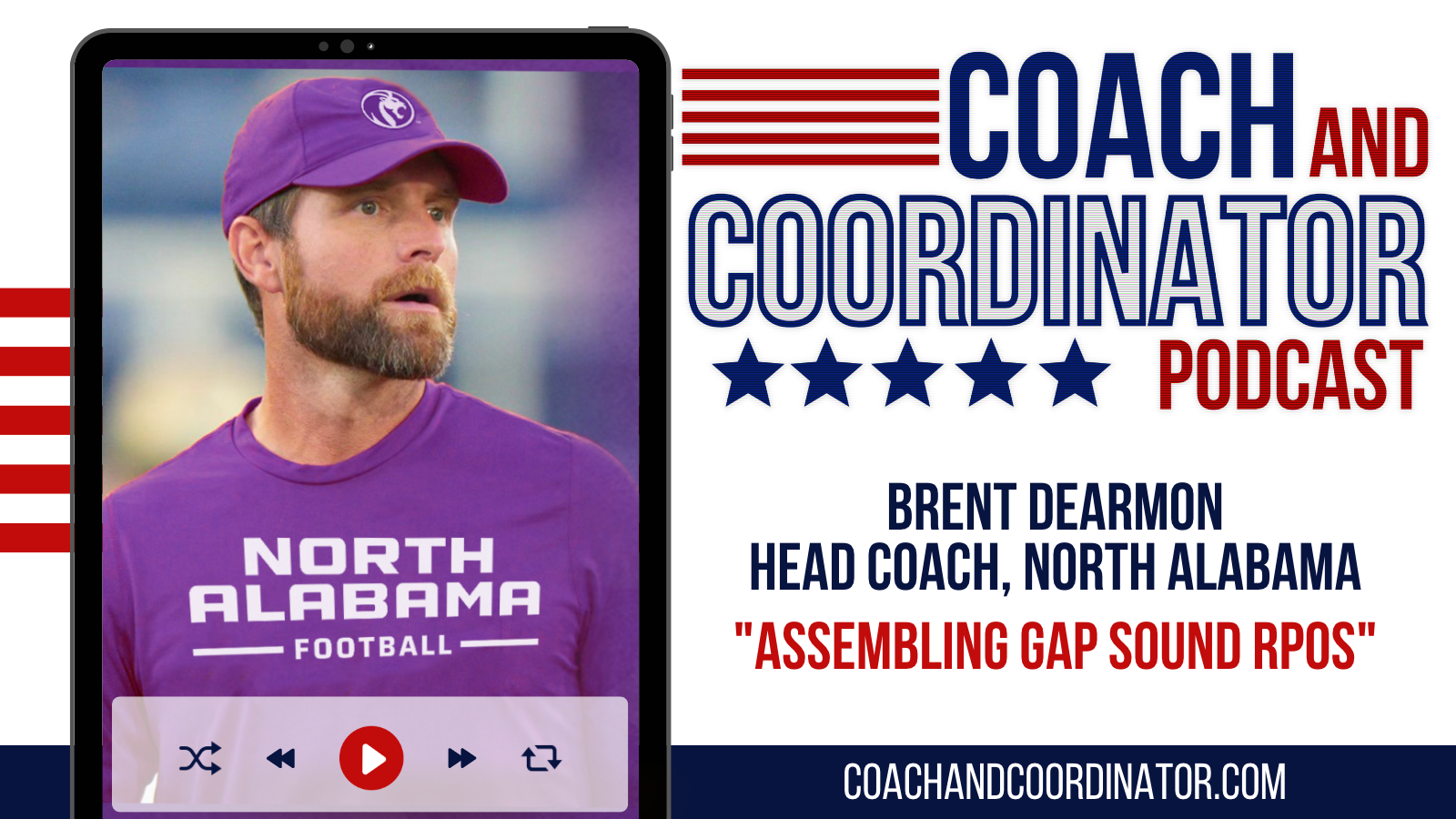 From the archives, Brent Dearmon discusses the evolution of the RPO in this episode. Coach Dearmon teaches how to maintain a downhill run mentality, account for the "hot gap", protect the QB on every play, and find success with Power, Counter, and Buck Sweep as RPO's.
Brent Dearmon is the head coach at the University of North Alabama. Coach Dearmon has always been at the forefront of RPO thinking, and it's become a big part of the offenses he has directed, including while serving as offensive coordinator at Florida Atlantic (2022), Middle Tennessee (2021), Kansas (2019-2020), and Arkansas Tech (2015-2017) when this episode was first published.
In 2018, Dearmon got his first experience as a college football head coach at Bethel University. In his one season at Bethel, Dearmon guided the team to an undefeated regular season mark. Bethel earned a number-three ranking while averaging 540.3 yards and 55.0 points per game. He was named Mid-South Conference Coach of the Year.
Dearmon then made the rare jump from NAIA to FBS. He joined Les Miles' staff at Kansas in 2019 as a senior offensive consultant. Midway through the 2019 season, Dearmon took over as the program's offensive coordinator and led the team to a 24.1 scoring average and more than 400 yards of total offense per game.
In this episode (one of four with Coach Dearmon in our library), he talks about assembling gap-sound RPOs. Be sure to listen to the Winning Edge at the end of the episode for our top takeaways.
Follow Brent Dearmon on Twitter @BrentDearmon.
Show Notes:
>Evolving the RPO
>Keeping a Downhill Rushing Mentality, While Opening Up More to the Pass
>Doing RPOs in a Sound Way, While Protecting the QB
>The Hot Gap
>Pre-Snap Reads
>Benefits of Power Built into RPO
>The Counter Game
>Turning Buck Sweep into RPO
>The Three Questions Dearmon Asks for Every Concept
>RPO and Practice
>Coaches Need to Ask, "Who Do You Say You Are?"
>Winning Edge: Takeaways and Ideas for Implementation
Additional Brent Dearmon Episodes:
Creating a Common Language for Coaching
C- and D-Gap RPOs
Brent Dearmon, OC Kansas Jayhawks
Brent Dearmon Courses:
Gap-Sound RPOs
Identifying and Attacking Coverages with the RPO
RPOs: Brent Dearmon
---
The Winning Edge – Takeaways and Ideas for Implementation:
1) Understand Where the Hot Gap Is
Coach Dearmon offers a simple but effective filter for looking at assembling an RPO in any offense by understanding where the hot gap is and building your RPO to account for that hot gap. In this way, you remain sound in protecting both the running back and the quarterback from unblocked hitters. Go back through your playbook and use this filter to determine if your RPOs are gap sound.
2) Utilize Your Defensive Staff
Your defensive coaches will help you understand how you are being attacked, what causes difficulties for defenses, and how to evolve what you do to attack a defense. This collaboration is a great way to build staff chemistry. It creates an open dialogue where the different sides of the ball do not get siloed from each other. I have found that having even a short session together helped us tighten up our game plan.
3) Practice with Intention
Create practice periods that work for your team based on what you do. We heard Coach Dearmon talk about routes vs. air and their adaptation so that they are making the throws that have a mesh because that's what they do. He talked about the different ways they can utilize their outside run period which allows them to work the RPO more here as well.
The point is, while most teams have a standardized set of periods like inside run, skelly, and routes on air as examples, there is nothing written anywhere that says you have to do it that way. If you need ideas, get out to spring ball and watch your local college team regardless of level. See what they are doing, and ask them why they do it. Then go back and look at your practice template, and start with "Why do we do this?" At the very least, it will give you more depth of understanding of how you best develop your players.
---
SUBSCRIBE: