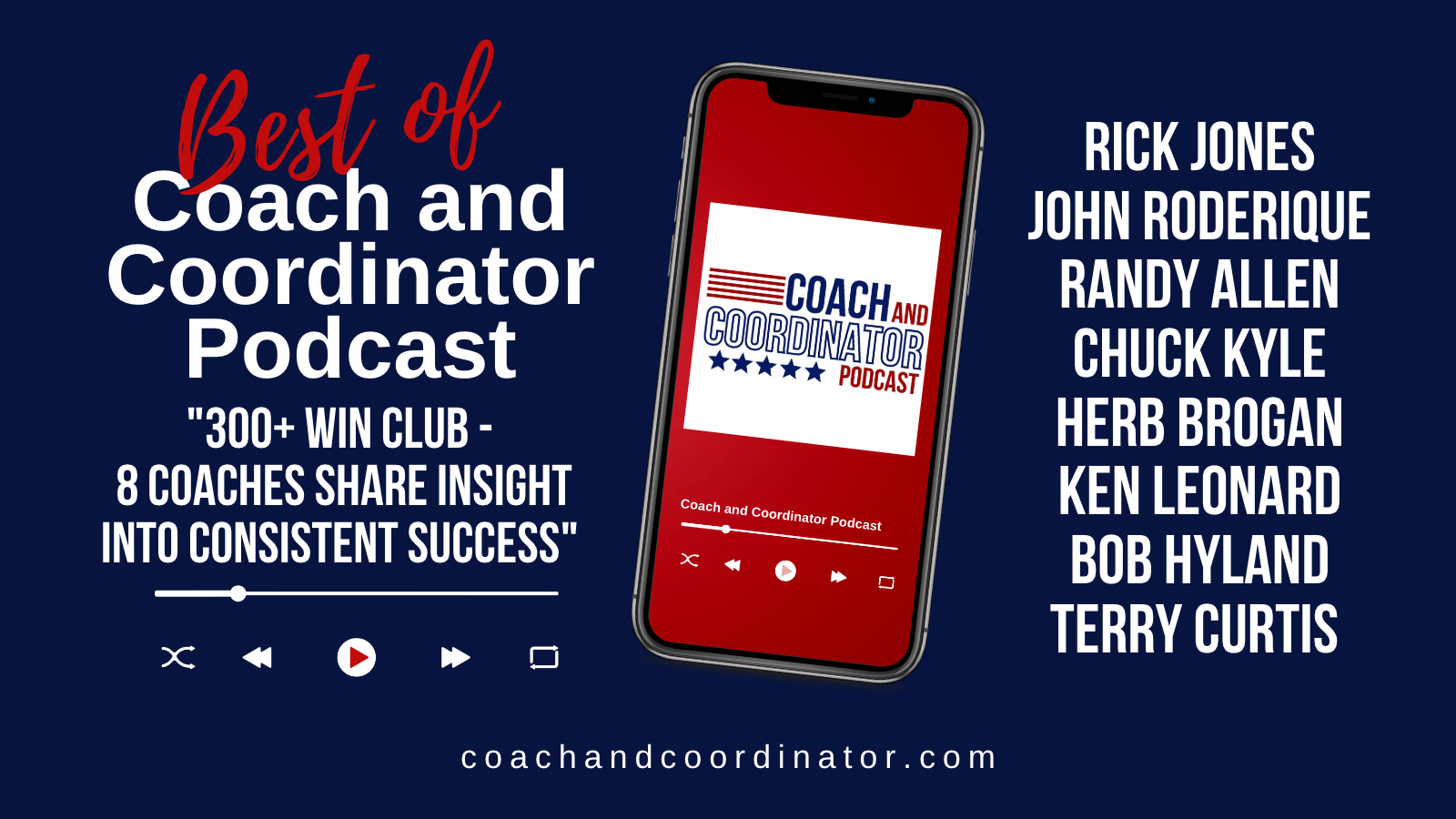 The eight state champion coaches featured in this episode are truly elite. They exemplify the 10% Coach – the coach who occupies that part of any bell curve with a standard of excellence above all others.
From a statistical point of view, this group has a winning percentage of .818 and a cumulative record of 3,032 wins, 663 losses, and 10 ties. And together, they've won 78 state championships to date. They have all won over 300 games, and one is just eight wins away from 500.
Listening through each interview, their stories and outlooks on life and coaching are amazing. They are certainly examples to follow. Their passion for the game is unquestionable. There is not a secret formula to what they have done to produce consistent excellence and results. They are deeply convicted and disciplined about their approach. And their faith and belief in their players and communities put them in a category all their own.
Show Notes:
(2:44) Put Priorities in Order: Rick Jones, Former Head Coach, Greenwood High School (AR)
>Career Record: 317-74, 9 State Championships
>Coach Jones is currently the special assistant to Missouri Head Coach Eli Drinkwitz.
(8:56) Prepare Kids for Life: John Roderique, Retired Head Coach, Webb City High School (MO)
>Career Record: 315-34, 13 State Championships
(11:24) Build Trust in Your Community: Randy Allen, Head Coach, Highland Park High School (TX)
>Career Record: 424-92-6, 4 State Championships
(13:42) Teach Young Men to Prepare: Chuck Kyle, Retired Head Coach, Cleveland St. Ignatius High School (OH)
>Career Record: 353-90-1, 11 State Championships, 3 National Championships
(16:00) Own What You Believe: Ken Leonard, Retired Head Coach, Sacred Heart Griffin High School (IL)
>Career Record: 419-81, 6 State Championships
(19:45) Create Culture in the Offseason: Herb Brogan, Head Coach, Lumen Christi High School (MI)
>Career Record: 395-94, 10 State Championships
(21:40) Develop a Program Through Consistency: Bob Hyland, Head Coach, St. Mary's Springs Academy (WI)
>Career Record: 492-113-2, 17 State Championships
(27:26) Win with Chemistry: Terry Curtis, UMS-Wright Preparatory School (AL)
>Career Record: 317-85, 8 State Championships
---
SUBSCRIBE: