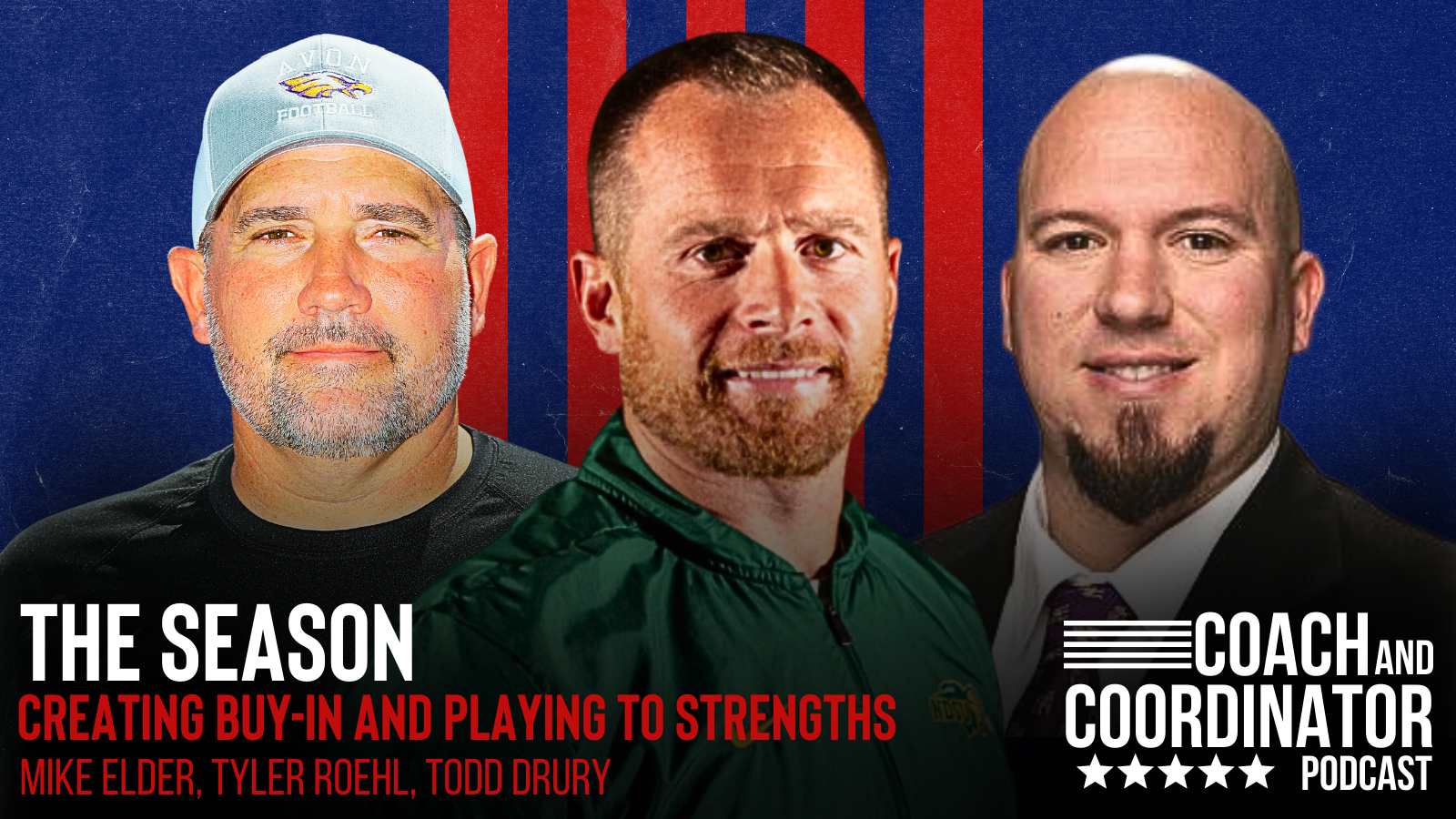 Mike Elder, Tyler Roehl, and Todd Drury provide ideas with examples of the little things we can do to create the buy-in needed to get the season started off with a strong foundation with players and coaches aligned in the culture.
Listen On:
A strong start to the season is directly correlated to player buy-in. It requires more than telling players they need to own things. Coaches must create environments where players have opportunities to take ownership of the team, offense, and defense.
Focusing on specific behaviors and building them into your team, unit, and position group sets everyone up for success within a player-led culture.
Today's Coaches:
>Mike Elder (@coach_elderm) is the head coach at Avon High School (OH).
>Tyler Roehl (@Coach_Roehl) is the offensive coordinator at North Dakota State University.
>Todd Drury (@DruryWIU) is the defensive coordinator at Western Illinois University.
Show Notes:
>Be Great at Things That Require No Effort
>End Everything with a Kick
>Competitive Excellence
>Mental Reps and Coaching Everyone
>Learning from Larry Kehres
>The Brotherhood
>Player Ownership Through Communication
>Everyone Is in Alignment
>Player Autonomy to Create Ownership
>Players Have Ownership in Coaching
>Examples of Players Taking Ownership
>Bringing Ideas to the Coaches
>Begin with the End in Mind
>Play the Game the Right Way
>Prepare Players for What They Will See Most
>Coach the Fundamentals
>Situational Preparation
Related Episodes:
Mike Elder: The Importance of the High School Coach in Building a K-12 Football Program
Tyler Roehl: Utilizing the TE and FB in the Pro-Style Offense
Todd Drury: A Unique Practice Period for More Reps for the Defense
Listen to all episodes in The Season.
---
SUBSCRIBE: