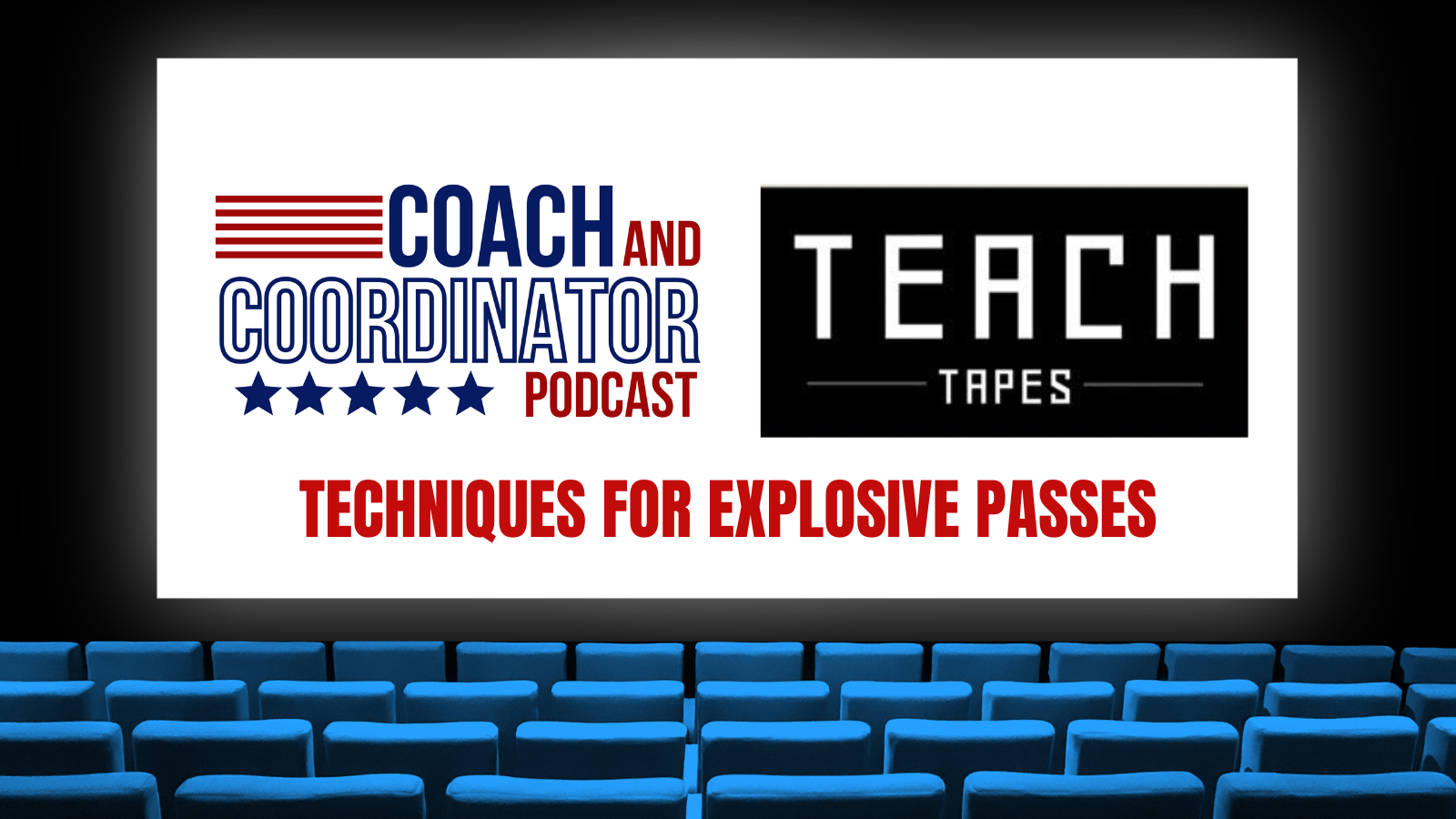 This week on Teach Tapes, Coach Hauser applies the details of route running to create explosives in the dropback, RPO, and play-action passing games.
Listen On:
Steve Hauser brings a unique résumé to the Coach and Coordinator Podcast in-season lineup, most recently coaching special teams at Iowa State. Coach Hauser has enjoyed multiple coaching stops, including positions at Oklahoma State and the Cleveland Browns. He now manages the @TEACHtapes Twitter account, highlighting the best of the best NFL drills and techniques. This week on our Teach Tapes series, Coach Hauser focuses on explosive passes and the drills and techniques that reduce the gray area between wins and losses.
Follow Steve Hauser on Twitter @HauserFootball.
Show Notes:
(1:15) Sean McVay on Matt Stafford
>Great QBs Are Great on Known Passing Downs
>Maximize Opportunity
>Take What's Given
(3:12) Route Running
>Three Types of Cuts: Stick, Speed, and Power
>Threaten DB's Leverage
>Press His Blind Spot
>Step on His Toes
(5:50) Teach Tapes Drills
>Save WR's Legs in Practice
>Take the Air Out of the Drill
>Examples from the Browns, Eagles, Buccaneers, and Titans
(8:11) Technique Meets Scheme
>Dropback Backside Post
>RPO 5-Step Glance: Run After Catch Opportunity
(10:38) Inside Receivers
>Isolate on the Field Safety
>Take a Fatter Angle
>Help Your Guys Stay Fast
>Love of the Game Route
(14:02) Play-Action Tips for QB + RB
>Peyton Manning Quick Study
>QB Gets the WR Open with His Action
>Three S's: Show, Snap, Setup
(16:41) RPO Keys
>Players, Formations, Plays
>Creative Examples with Immobile QB's
>Third Level RPO: Read the Safety
>Understand the Concept: Adjust Splits
>#TEACHqb: Peyton Manning, Kyler Murray, Justin Fields
Coaches Mentioned in This Episode:
Sean McVay
Bill Belichick
Joker Phillips
Brian Hartline
Chad O'Shea
Aaron Morehead
Rob Moore
Mike LaFleur
Joe Lombardi
Brandon Staley
Eric Yarber
Adam Gase
Greg Knapp
David Cutcliffe
Mike McDaniel
Mike Shanahan
@TEACHtapes Clip of the Week:
Top of Route: Power Cut (curl, spot) …step on toes, low in/out break #TEACHwr
Additional Coach and Coordinator Resources:
Listen to Our Podcast Episode with Brian Hartline, WR Coach/Passing Game Coordinator, Ohio State
Read Our Feature Article on the RPO of the Year
Listen to the Entire Teach Tapes 2022 In-Season Series
---
SUBSCRIBE: