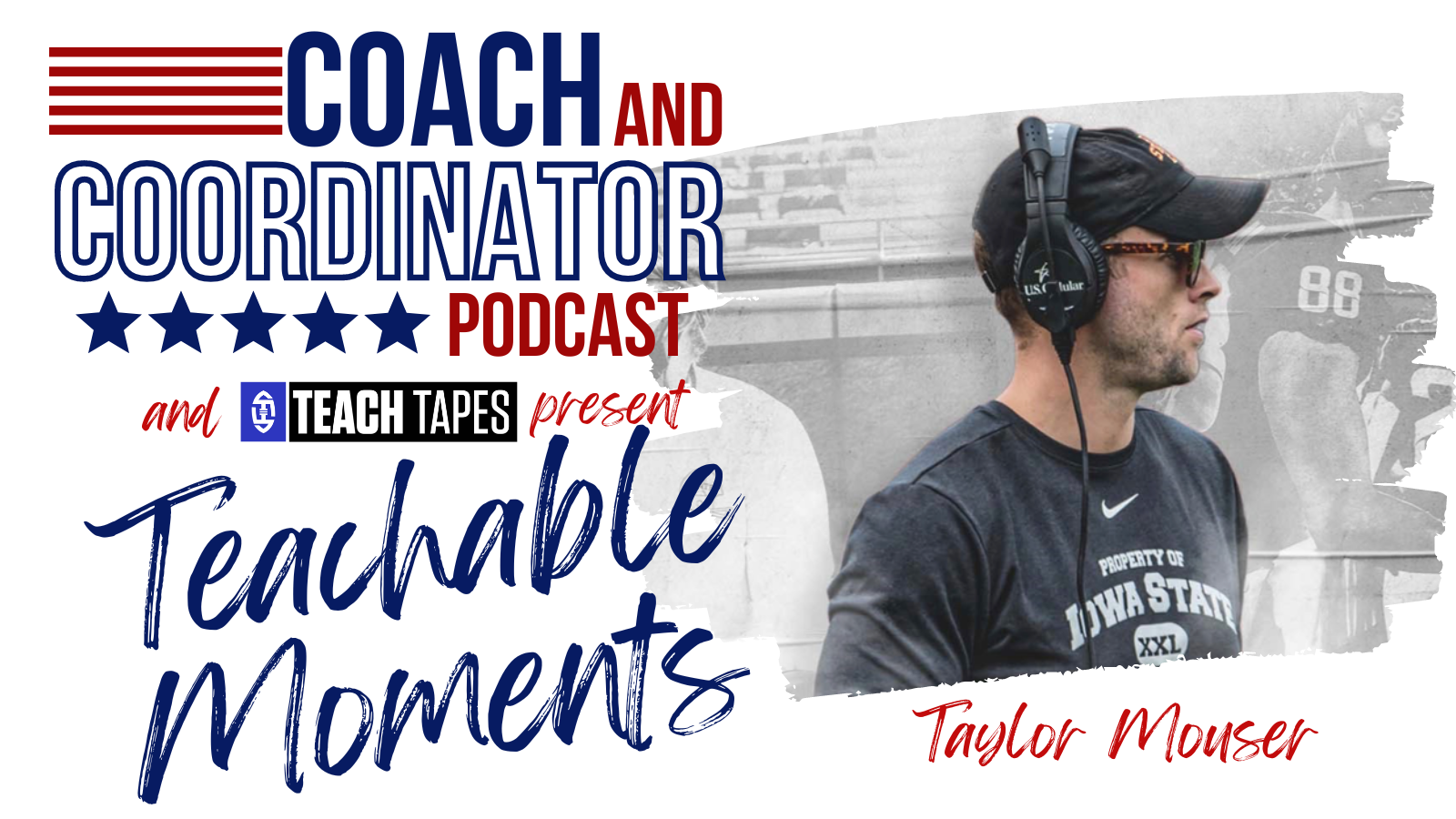 In this episode, the first in our "Teachable Moments" series, Taylor Mouser recalls those early days of stuffing envelopes and the journey taken as a young coach to now leading his own room.
Taylor Mouser is the tight ends coach and assistant head coach at Iowa State. Coach Mouser has been on the Iowa State staff for seven years, starting as a graduate assistant before moving into a scouting role, and ultimately, working his way up to his current position.
As tight ends coach, Mouser leads one of the most critical positions in the Iowa State offensive scheme. Under his tutelage, multiple All-Big 12 performers and All-Americans have flourished, including Charlie Kolar, the school's only three-time All-American and regarded as the best tight end in program history.
Coach Mouser began his career as a graduate assistant at the University of Toledo. From humble beginnings of stuffing envelopes, to growing and developing as part of a staff, and gaining the responsibility of running his own room, Iowa State Tight Ends Coach Taylor Mouser looks back on points in his journey that made a difference in getting him to the position he is today.
In the "Teachable Moments" series, guest host Steve Hauser sits down with coaches who have made the journey from the bottom to establishing themselves in the coaching profession.
Show Notes:
>Stuffing Envelopes
>Proving You Are About It
>Moving with a Staff You Know
>Staying on After Being a Graduate Assistant
>Taking an Old-School Approach to Recruiting
>The "Boom Boom" Room
>Building Relationships
>Having Real Juice and Staying Fresh with It
>Navigating the Hard Times
>It Doesn't Take Having Your Own Room to Get the Experience
>Having the Big Picture in Mind
>What's Next
Get all of the videos and drill clips you need at TeachTapes.org.
---
The Winning Edge – Takeaways and Ideas for Implementation:
1) Be Driven By Relationships
Coach Mouser's connection to the people around him tell his story. Whether he was picking up a guy from the dorm to take him to class, having hard conversations on the field, or going through hard moments in life, Coach Mouser earns the trust of his players, his colleagues on the coaching staff, and everyone else in the building.
2) Take a Breath
The football calendar never stops. For Iowa State in 2021, one day they are winning the Fiesta Bowl, and the next day they are starting winter workouts, with seemingly no break in between. Coaches must take time to rest and recharge. It can be as simple as going to trivia night with the wife or watching a hockey game. However you unwind, you must take the time to do so.
---
SUBSCRIBE: