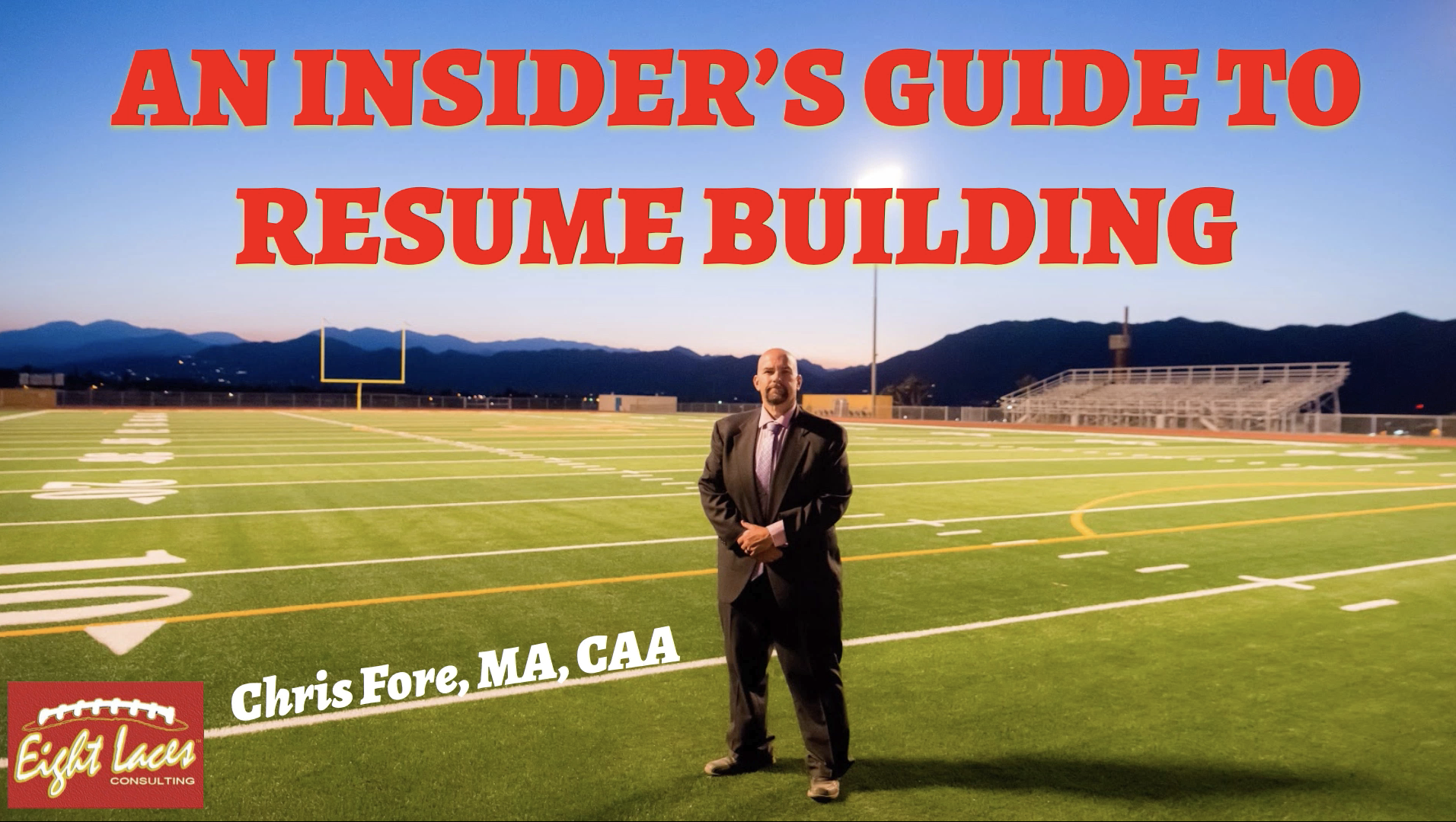 COVID has provided an incredible challenge for all of us in every area of our lives, but that doesn't mean this time is not without opportunity. Every year 25% of coaching leadership turns over. The burden of all the extra work which went into getting teams on the field or just keeping them together may increase the turnover even more.
This means there will be opportunity for those seeking to advance their careers in coaching. Chris Fore, a former football coach turned school administrator, joined me on The Coach and Coordinator Podcast to discuss how to approach these opportunities and land a head coaching job.
First let's start with the premise that the playing field has changed drastically.  Zoom and video platforms have expanded the search area for both the schools looking for coaches as well as coaches looking for a new job.  What was a time and travel expense for in person interviews prior to this new landscape has opened up the job market either further.
A job across the state or even out of state may not have been worth the time and effort to explore prior to the use of virtual interviews, but now you can sit down in the comfort or your own office or home and interview with an athletic director or even a committee.
This is a benefit to schools looking for a new head coach as well. Their applicant pools are opening up because the virtual interview is smashing those obstacles and allowing them to speak to coaches from a wider geographic area.
In addition, with over 41% of the country's workforce shifting to remote work, this also makes it easier for a spouse to make the move and still have employment. Don't expect the new hiring process or remote work to change anytime soon. In fact, it may be here to stay.
So how will you set yourself apart and STAND OUT in this new normal?
Coach Fore joined me on Coach and Coordinator Podcast to discuss how to standout in a Zoom interview.  We discussed the main ideas in detail:
Six Keys to Standing Out in a Zoom Interview:
Dress the part – wear what you would wear if it was an in person interview
Make sure your background is clean and orderly
Be early and be ready! You wouldn't walk into the building late. Don't enter the Zoom room late and make sure your technology is dialed in
Make your personality come through. It is a bigger challenge online!
Keep their attention. Be quicker making your points than you usually would
Introduce yourself prior via email and follow-up after. Send a short email to the committee members sharing your cover letter and resume as well as a quick note about yourself .
The things that will set you apart may not change drastically, but you better step up your game to get noticed and get through that virtual door for an interview.
Putting together a great resume and cover letter are more important than ever because, as stated, expect the applicant pool for any single job to increase.
That's where my friend Coach Fore comes in. He has become the go to consultant in resume and cover letter writing in athletics.  His services are sought out by coaches at the FBS level through the high school level.  Because of demand, he has become virtual as well. While he still maintains live consulting and work, he's put together the exact process for writing a resume in his course "An Insider's Guide To Writing Resumes."
Here's an example of the expertise he provides as he explains two common mistakes:
A friend of mine, Ian Shoemaker, the offensive coordinator at FCS Eastern Washington, used Coach Fore's services and had this to say:
"When the right job opened up for me, I looked for the best support person I could find to make sure I would get an interview. Chris was able to help me organize my resume and supported me in producing an infographic that got my foot in the door. Thanks Chris!"
Listen to the outstanding feedback Coach Fore has received in this video:
"An Insider's Guide To Writing Resumes" is Chris Fore's patented system to help YOU write a sports specific resume. Fore has been helping coaches just like you develop eye catching and interview getting resumes since 2012. He has helped 100s of coaches nationwide, from both the high school and collegiate ranks, renovate their boring resumes, and turn them into something great by using a system that NOBODY else in the resume writing space does.
This course has more than FIVE hours of on demand video instruction to walk coaches through every single detail of putting together an award winning resume! Fore shares his tricks and tips for writing and creating a resume that will help your case in landing the job of your dreams.
Invest in yourself!
Coach Fore explains what you get:
More than 5 hours of on demand video instruction
Free access to Fore's Coach Tube course called 29 Mistakes Coaches Make On Their Resumes
A PDF copy of his book An Insider's Guide To Scoring Your Next Coaching Job
27 articles about the job search process, more than 75 pages
Download the same resume format that Fore has used for his clients
Two different cover letter templates
Cover letter worksheet to help you write an interview getting cover letter
The opportunities will be there for you this offseason. You still have to get in the door and you can't go wrong in learning exactly how to do that from Coach Fore.
Check out his course, "An Insider's Guide to Resume Building" and get the process started now!