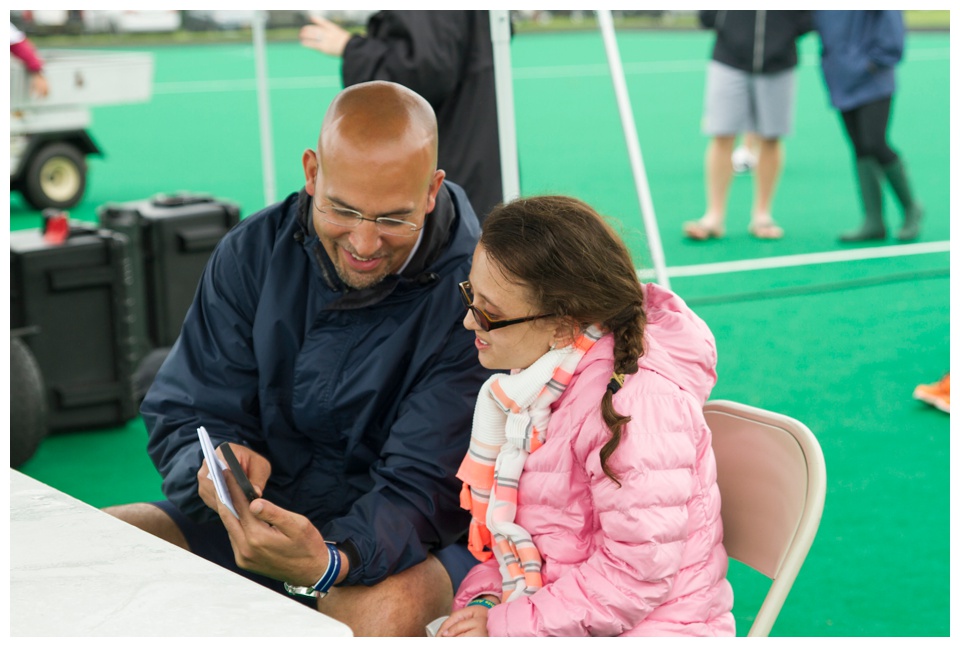 Today's 12 Days of Christmas provides you with a course Tackling & Defensive Fundamentals by John Loose Army West Point Associate Head Coach/Linebackers Coach. Coach Loose is providing his course to you FREE.
Also, the Loose family is asking you to help a great cause.
The game of football has a great impact on so many lives. Everyone in our profession, at some time or another talks about giving back. That was the inspiration behind creating Lauren's First and Goal Foundation for John Loose and his wife Marianne.
Lauren's First and Goal is a 501(c)3 charitable organization. It is a labor of love started in 2004 by John and Marianne Loose in honor of their daughter, Lauren, a pediatric brain tumor survivor. She is pictured below with James Franklin at the camp.
The Lauren's First and Goal clinic began in 2004, with parents John and Marianne Loose looking for a way to help families like theirs navigate the difficult road of pediatric cancer. It grew into one of the largest football camps in the country and has raised over $2.6 million.
They offer financial and emotional support to families living with pediatric cancer, and to increase awareness of the disease. These goals are made possible through the funding gained through LFG Football Camp and charitable contributions.
John Loose shares what LFGF is in this video:
The Loose family believed in their pursuit primarily because of their coaching friends, most of whom ask, "What else can we do to help?"
Speaking to reporters at the last camp in 2019, Marianne Loose said, "To think that it would grow to this? Unfortunately, I don't even know all the college coaches who come anymore. I meet them when they come, but they come with such enthusiasm and they're excited to be here and they want to be part of what we do as a foundation."
Unfortunately, COVID-19 shutdown the camp in 2020 as well as 2021, but the Loose's have not stopped finding ways to help those with pediatric cancer. What began as a camp with coaches volunteering their time has turned into a virtual clinic with coaches donating their expertise.
Lauren's First And Goal is presenting it's first annual Coaches Clinic on January 14-17. It will include 160 college coaches presenting their clinic talks with the mission of replacing the donations lost through the shutdown of the camps.
Headlined by keynote speakers Luke Fickell, Mack Brown, Jeff Monken, Dan Quinn, and Greg Schiano and a few more keynotes to be named soon, the line-up is filled with something for every coach on a staff. The entire line-up can be seen at LFGF.coachesclinic.com.
An important aspect of this for John Loose was that the price point of the ticket made it affordable for every coach in the country. The individual pass is $49 and for 5 coaches it is $150 or $30 per coach.
When putting the clinic together, John was detailed in making sure that all position groups and topics are covered. He also included strength and conditioning coaches in this line-up.
The challenges that families face with children with cancer remain, and the Loose family is grateful for coaches who support this great cause. Please sign-up and help and learn ball from some great coches along the way.
On to John's course. He's loaded it with techniques and drills designed to improve the technique and fundamentals beginning with "The Difference" which was inspired by Urban Meyer and the Ohio State Buckeyes. The period is 2 ½ minutes of block destruction and 2 ½ minutes of tackling that the begin everyday with.
Coach explains "The Difference" in this video and the videos that follows with "punch-pull and rip" technique and various drills and then shows it with game film:
As coach said in the video, "The Difference" period has made a big difference for the Army defense on the field. Get the entire course for FREE here.
John, Marianne, and Laura are asking you to make a huge difference as well simply by attending the Lauren's First and Goal Clinic.
Only 4 days remain on early bird pricing which ends when the ball drops on New Year's Eve. Don't drop the ball and miss out on this great opportunity to grow as a coach and give back.