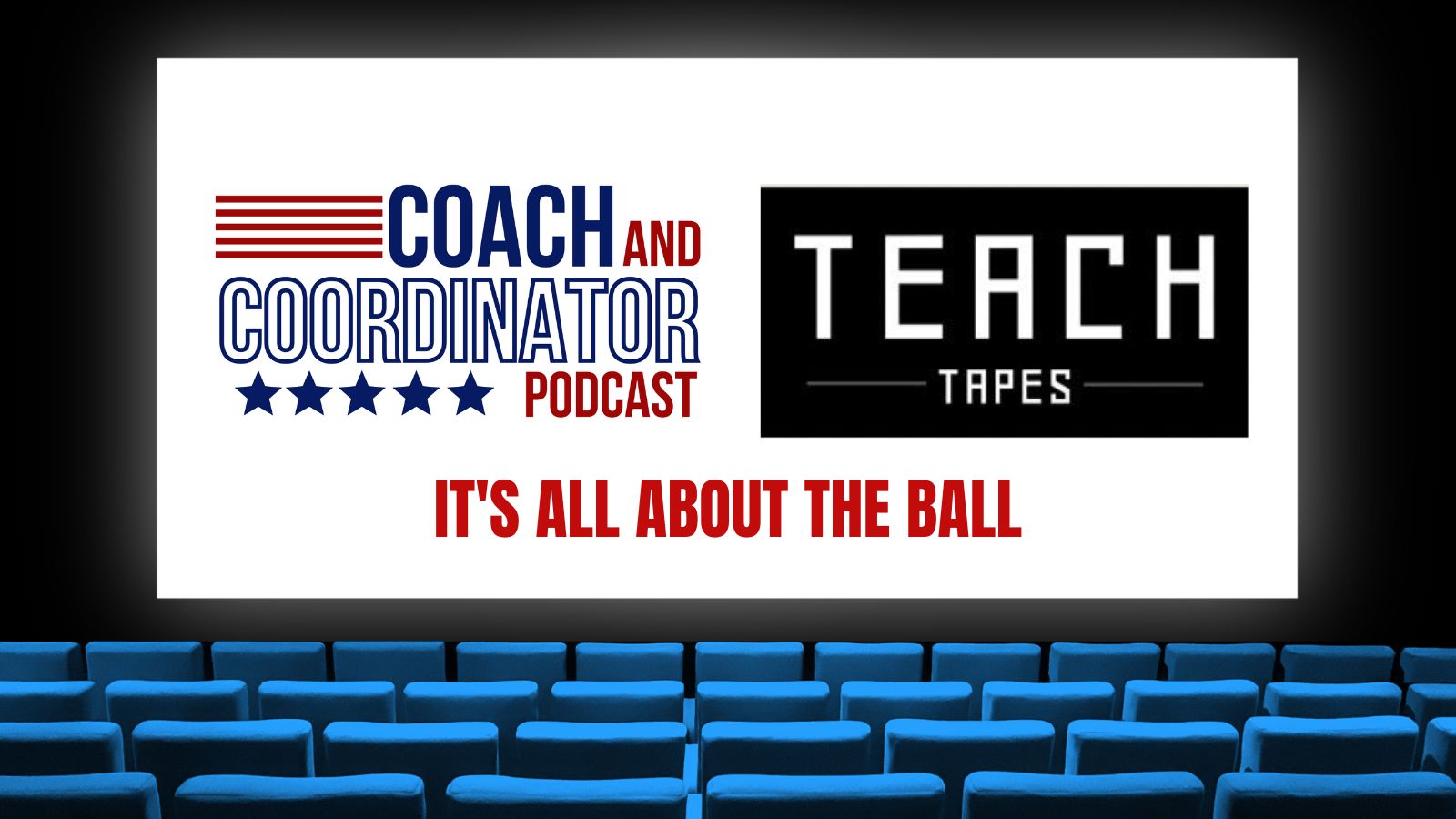 Our interview this week with Steve Hauser showcased many drills deployed by NFL coaches to practice ball security and takeaways, and instill that mindset into the team's culture. Review the conversation in its entirety below.
This interview was transcribed by HappyScribe.com. Please forgive any minor typos.
Keith Grabowski:
We're moving into week four, which means we're going to recap week three here, the week that was on Teach Tapes. And joining me as he does every week is former FBS special teams coach Steve Hauser. Steve, back for another week of it.
Steve Hauser:
Yeah, Keith, always good. These games keep on your toes now. Whether it's end of game stuff, whether it's teams that are supposed to be gearing up for conference play, you're down to the wire. And you got to figure it out. So you always learn something.
Keith Grabowski:
In our intro every week, I say we're going to cover everything here, offense, defense, special teams. We always start with special teams. That's been your niche, and we've just not gotten around to a lot of the other stuff. We've hit on it here and there. So our focus is going to shift a little bit today. But before we do that, in the week that was, we had one of the things we talked about come up again.
Steve Hauser:
Yes, it was a one off there, talking about a lot of punt returner fundamentals and making good decisions. But the punt coverage of impact on that returner, we talked about it briefly of long stride of that jammer into the returner. And that happened in the Arkansas State-Ohio State game at the end, and it actually hit a bouncing ball. But this week, it happened three different times. I'm looking through my notes here. And you got South Carolina against Georgia and a couple of other instances where it was really clear. Nebraska-OU. OU had that guy dropping out, trying for a max hold up. And at the end of the game, Purdue got one against Syracuse. So it's funny, we talked about the position players having to fill in with specialists. It's like you speak into existence.
Keith Grabowski:
I pulled up a quote. I remember Jim Tressel talking about this at a clinic, and I believe this is from Peter Drucker. It's a business quote, and it's "what gets measured, gets managed." The idea that what you focus on is something that your team is going to work towards, not just managing, but making sure that those things happen, that they create those opportunities. And one I see again and again, and I see some teams that are just hyper-focused on it.
I've seen coaches talk about it in their clinics, and it shows up on their game tape. And I see other teams that probably do circuits for it and talk about it, but really don't make those little details something that everybody sees, right? And I see it quite a bit watching some Friday night games. But I've seen it at the college level too, and it's the idea of ball security and turnovers, right? Both of those things work in both sides of it. And I think you hear those programs that talk about being about the ball, whether that's been an old famous Pete Carroll talk where he has the ball right up in front, talking about the ball is everything.
I think it was Greg Williams that put the ball in a spring. I remember a coach asked me if I knew where you could get one of those after he saw him doing it. But it's one thing saying it. It's another to teach it and actually make all those things a part of your culture by instilling the behaviors that are either going to create ball security all the time or create the takeaways.
Steve Hauser:
It's great to see and really been able to focus on it a lot through Teach Tapes. Teach security as a hashtag. The other one is Teach takeaways. Whether it is that five to six minutes of offensive and defensive circuits or even guys in positional work. You see a lot of things with the Colts. You also see a lot of things with the Browns and their receiver drills, with Chad O'Shea going through things with Amari Cooper and Peoples-Jones. Like all these guys, they're doing different things within their individual work, even outside. If the ball is in your hands, you're the most important guy in the organization.
Keith Grabowski:
Again, it has to become part of the culture. So it's more than, well, we covered it. We did the circuit with it today, and we moved on. It has to be something that is being coached up all the time, and not just by you, the coach. It's really going to become powerful when your players see it, when they see those opportunities. They see somebody miss it in practice or in a game, and they're coaching it up as well.
Steve Hauser:
I think just breaking it down in the lens that I grew up with, with offense before I went into special teams. Number one, like wrist above elbow. I remember John Wozniak came in for his interview at Oklahoma State and did a 15-minute ball security presentation. And that was the number one coaching point, right?
The other thing I've heard is squeeze it. And that came from when Tom Manning was with the Colts. And that's the thing that Frank Reich was saying all the time. You can say all these other things like eagle claw, big coaching points. But at the end of the day, squeeze the dang ball, get it on your chest.
Joe Judge had a great rep that I saw with Saquon of front tip, right, fingers across the top, butt of that ball is in your arm, right? With the crease in your bicep and rolling that thing over to your far pec. So now you got a backboard, right? So now understanding, hey, in the open field, number one, those points to contact, but also then what, right? In and out of the cut, how is that ball carriage maintained? Is it flailing out? Going opposite?
The Broncos under Nathaniel Hackett are doing a drill where they drop in and get a ball tossed to them. And they've got to do basically a mirror drill, where they're making cuts and making sure that that ball is not changing whether the front tip comes down or that back end comes open.
Sirianni's big thing is elbow lock, right, when you're going down, and you're trying to stay upright, that stumble bumble. He'll talk about rolling over the far pec, but also locking in that back elbow to your rib cage. So there's not that punch out on the back end. So a couple of different things even just an open grass.
The other thing I had as a note was body, ball, boundary. The thing that Tom Manning would always talk about. Man. You get that pursuit from the inside, and there's a great clip I saw of Sirianni talking it through. Like where can you protect with your off hand, telling the guy that's coming for pursuit later on at an over-the-top angle. And God forbid something does happen, that ball is still going towards the sideline, which offensively would be a huge friend for you.
Keith Grabowski:
With all those things as you talk through them, it's looking for where do these situations occur. Or how do they occur that, on the ball security side, make that ball carrier vulnerable to losing the football. It is the guy who's stumbling and trying to keep his balance. It's the guy who's throwing a stiff arm, but not cognizant of what's coming up behind him. Those are situations where the focus becomes something else a little bit more than just the ball, that those things start to get lacked and fall apart. Now the defense has that opportunity, and you can bet on the other side, they're looking for those exact things.
Steve Hauser:
100%. And everything you hear from the defensive side is going to be second man in, right. Again, the ball carrier, he's trying to destroy that would-be tackler with the stiff arm or the spin move or throwing that guy by. Well, everything about him, that primary focus isn't about the ball now. It's about staying up. Well, that's where you're getting a lot of activity.
And I talk about Chad O'Shea with the receivers. He's got those guys going through the ladder. He's having them stiff arm the medicine ball. And then his assistant's got the boxing gloves or the pencil arms. And they're attacking the actual ball while that ball carry is working the fundamentals of the stiff arm. So you've got a lot of processes firing for that player, and you got to feel it from both sides.
The other side is out of the spin move. Eddie Faulkner with the Steelers does an incredible job with the running backs. You got some clips of Najee Harris going through and literally rolling with his back off of a medicine ball like a pile ball, and then coming back and making sure that carriage is tight as he stays up.
The other thing, they've got this big little heavy bag that looks like on Game of Thrones when they're trying to break down the door, those logs. But it's just a bag, a cushion. And he's hitting those guys with it and making sure that they have that clasp hand, right. Instead of the old in-trouble double, where you're putting two hands over it. Well, literally just locking that in like a necklace clasp, right. And making sure that that ball stays high and tight, the tenant philosophy. But also you have that arm bar over the top with your off hand. So that ball's not coming wide flailing out of the spin move.
Keith Grabowski:
Great coaching points. There are a lot of different drills that you can work these in and the situations. And I like what you talked about there with Coach Faulkner and creating, simulating the spin move, right, and how you do those different things. That's where in drills, you want these guys to get the rep in the field for when these things happen. So it's not just talking through and showing them on film, here's where some of these things happen. It's creating the behaviors behind it, right. They need to feel what that technique is.
Steve Hauser:
And just one other situation there, Keith, I was kind of watching these clips before we got on the phone. Jemal Singleton, who I had the chance to work with at Oklahoma State, he's now with the Eagles. And they're going through, and he's got that clicker with the rope attached to the ball. And he's pulling it down while these guys are falling on a hand shield, right. When you're falling forward, you better rip that thing and hold it tight. Because when someone's trying to peel back, rip the front tip of that ball out, that's where you got to even squeeze harder, right? You're falling forward, man, make sure that ball security is a premium so it won't call the fumble with the ground.
Now, the other side of it, Tyrone Wheatley, who had all sorts of success as a running back, he's with the Broncos now. He's got the back tip of that football in kind of a brace there. And it's on the sleds like these guys are running during the off season. So when that slack hits, it gets pulled back just like a defensive lineman is trying to rip that ball out from the back end. And it makes them squeeze it and pull it up and chin the ball.
So all these different verbal cues, whether it's you as the coach or with some equipment to simulate, hey, they're coming from behind you. Make sure we have this thing when we go to the next down.
Keith Grabowski:
What's important for this is that it's just not the circuit that you might do or the individual drills that now, once you start instilling, these are the situations that as a coach, you're looking for those within group periods, within team periods, within whatever might be one on ones or match ups or whatever you have that guys are following through on doing those things there and again.
I think what you start to see in anything that you do start to put that in awareness, as I said, you do start to measure it, it's going to become managed not just by you, but everybody else, that they're going to see those things and coach each other up as well. As I said, then it becomes part of truly becomes part of your culture. Now, flipping that to the other side, the defense is also working against that. They're looking for the opportunities to create fumbles, to recover fumbles, and a lot of great things that you've put together on Teach takeaways as well, just like.
Steve Hauser:
We got caught up on the special teams. Keith, before we leave that Teach security aspect, it's not just the ball handlers, right? It's the old line right there's. Guys doing drills and those circuits, that ball gets swatted up, and obviously they can't catch in advance at the numbers and all that, just swatting it down, make sure that ball is not getting up there. And that's a potential takeaway in the D line. And the quarterback gets stripped because he's stepping up in the pocket, falling on that, getting in the feeble position and getting your knees up and building that thing right into your gut.
I mean, there was a rep this week in college football. There was a strip sack and a running back came diving back from the protection. He literally belly flopped on the ball. It skirted out further down the field, and the defense scooped and scored it. There's actually the Dallas Cowboys with Mike McCarthy training. And this is a little bit to the instagram now of teaching some of these offensive guys a little bit of teaching the takeaways. If there is, for some reason the turnover, hey, how do we go through and punch out the back or rip it and try to get that ball back and also build into the Teach takeaways here they got Mike of Parson doing ball security drills.
I mean, he scoops and scores that thing. He makes a pick. How do we make sure we finish through the play and goal line high and tight with that wrist above elbow. So I just wanted to make sure I got that in on you, Keith. But the Teach takeaways, I mean, the number one thing I'm seeing in the actual clips and this is just football, I mean, is getting a body part on that ball violently, right? Helmet on the ball, bite the ball, second man in with a big shoulder collision.
I don't know how many times you can wrap that in practice. But that's the actual part of that coaching point showing up in the game, right? We can do as much peanut punch and whether it's from the front end. Saw a drill with John Gruden going through a line. They got the ball and the little wraps right there. And they're just literally going down and punching the ball out four or five times in a row. You've also got situationally along the sidelines, destroying that stiff arm and taking that far hand and punching the ball through. Use the sideline as your vice and take more of an aggressive pass to the ball.
So I think there is two different ways to think of that punch out from the front, but more so if it's pursuit, punching that thing out from the back or even over the top. I saw a clip from Jacksonville with Joe Cullen talking about if you're pursuing from the backside, go through that near hip one way or the other, whether you're coming up through the back door or down over the top, you're pursuing that backside finished down through the near hip. So I think it's interesting from how are you creating it with violence on the football, with the tackle and just that surge of energy punching the ball out? Or also, are we targeted punching through? And there's a lot more reps of guys being well schooled up in that.
Keith Grabowski:
In the college game, just as we said on the offensive side of all, look for the situations, create those situations, replicate them over and over. And I know one that's become popular is called the Circle Chase.
Steve Hauser:
Yeah, and that's definitely a drill that started with Coach Belichick and his side of the tree. I mean, going through and having an offense and defense competitive drill. You're starting down that far side of the hoop, they catch a ball coming in from the quarterback on that downhill shoulder. Tuck it, pin it. And now that backside elbow lock, right? You got your wrist above elbow. You're chinning the ball, you're squeezing it, whatever your team's coaching points are.
But they're getting that immediate trail of the defender in his back pocket trying that hard front tip rip from the backside or punching out that extension. Because again, what we said is guys are coming through angles and that ball is flailing out as they try to get back up field and there's that back door. But on the depth, you still have that second level safety coming down and closing out from that 15 to 20 yard range. Not only are you protecting the ball and offense. You got to get north and win between that small area. Right the sidelines to the numbers. That red line tackling and going long stride to short stride. Because what that bleeds into.
Keith. Is one of the drills that I was surprised that I didn't think of this until I saw it and then I see it happen more and more in the game. Reps is the 40 niners D line coach. One of his stations in their takeaway stations is literally just a ball rolling on the ground towards the sidelines in another player. Saving it from going out of bounds and the other one working the scoop and score and we can get into all the dynamics of four balls over the ball and the escort blocks leading your team down there.
But just making sure that ball doesn't roll out of bounds because then that's another place for the offense. Like, how many times have you seen that run, run, reach in the strip sack or even just the ball in the perimeter and that thing is rolling and everybody's eyeballs are like, oh, my God, the ball is just on the ground and everyone's converging on it. How do we make sure as a defense we don't lose an opportunity for that ball going out of bounds? So just situations that come up off the tape and building it into the drill.
Keith Grabowski:
Steve, that was a quick one this week, but we did focus on both sides of the balls we said we were going to, and really, all of this is framed out. You sent a picture this week of Brandon Staley in front of his team with a screen that said The Blueprint, and on it he has things that we're going to talk about. We've already hit quite a bit on Situational Masters, right. That's an important thing.
Today we focused on the takeaway margin. Both keeping the ball and taking it away in the future. We'll talk about explosives and penalties and really using that as a framework on how we're going to go through the season and really highlight some things that you can work on right now in season to make your team better at, whether you're getting ready for a rivalry game or run into the playoffs. All these things are going to be important because as the competition level increases. You get deeper into season. The margin becomes slimmer and slimmer for air. And these are the opportunities that are going to create some wins.
Steve Hauser:
And Keith, you brought up the word culture earlier, and obviously there are books and podcasts and studies that you could go on for days about that word, but how do you make it your culture on video? How does it show up? I think these are structures that you can keep coming back to. Like, if we're going to do things the right way and be about our business, how are we taking care of the football? Are we diligent in our preparation for our situations? Are we playing legal? And are we doing the things that are going to manage the game the right way, whether positively with explosives or hampering the opponent?
So I think just this blueprint that Coach Staley talked about made sense to me, whether it's your drills, whether you're referring back to the football film of what you should be doing and just segmenting it out the right way to refresh that for your team as you start to get in the trudge of these continuous game weeks.
Keith Grabowski:
And every week, we give you a teach tapes clip of the week. This week, we've already mentioned quite a few of those, and we're going to put those together. So you will be able to see all of those clips that we mentioned from Jason Garrett, Joe Judge, Eddie Faulkner. Guys talking about the eagle claw. We'll hit all of those for you this week as we wrap up another great week of football and get ready for the next one here, starting on Thursday night here in Cleveland with the Steelers and the Browns.
Steve Hauser:
Well, there's one thing I've learned, Keith, that the Browns games are always going to be interesting. So let's just leave it at that.
Keith Grabowski:
Yeah, exactly. Well, Steve, I appreciate the time you took in putting this together again. And I look forward to another week of Teach Tapes.
Steve Hauser:
Awesome. Thanks, Keith.
---
SUBSCRIBE: