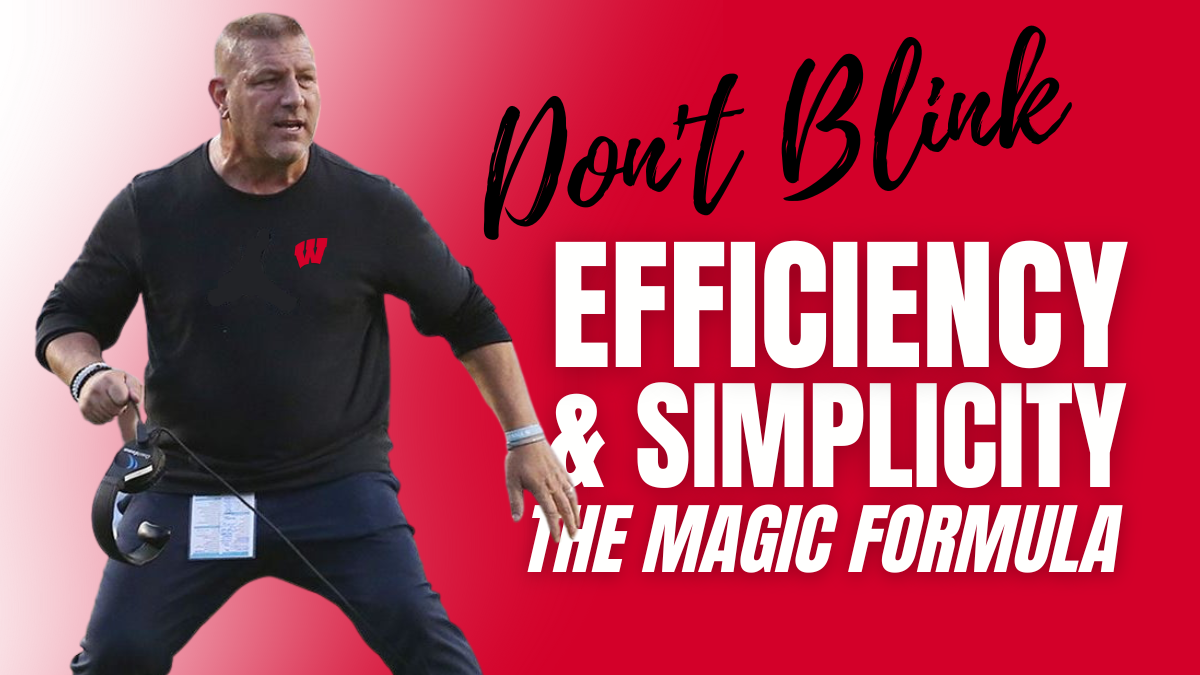 New Offensive Coordinator Phil Longo brings to the University of Wisconsin his version of the Air Raid - his "Don't Blink" Offense built around personnel and objectives of balance.
Upon his hiring, Wisconsin Offensive Coordinator Phil Longo brought with him his version of the Air Raid – his Don't Blink Offense – and a lot of excitement for Badger fans. As a 33-year coaching veteran, he knows that an offense is first built around personnel, which reflects in what he identifies as an objective – balance.
"Balance to us is not 40 runs and 40 passes," Longo says. "Balance to us is the distribution of the football to all of the weapons that we have in the offense. Here [at Wisconsin], we've got two really good ones, and we've got a really good running back room. What we want to do is increase how effective we can be in the passing game so that defenses have to defend the full field and all five skill players. That's really the goal of the Air Raid here at Wisconsin."
One thing you can count on with Phil Longo is that he will find a way to keep things simple and streamlined in his "Don't Blink" Offense at Wisconsin.
Don't get it wrong. He loves offense. He loves great plays. And as he's said on Coach and Coordinator Podcast that his playbook at home "is as tall as him." However, the "Don't Blink" playbook at Wisconsin is as thin as he can make it.
This approach has helped him bring success to every program he has taken part in. Over his last 13 seasons as an offensive coordinator, Longo has helped produce a 118-59 (.667) record, won six conference championships, and made six postseason appearances.
It starts with a philosophy. As Coach Longo points out, it's important to develop the culture and understanding to have a high-performing offense.
He puts the offense and the staff through the process every year. He will find a way to simplify things all the way down to a point that is as easy as possible while not impacting efficiency.
Simplicity and Efficiency
Simplicity is at times overemphasized in coaching. Coach Longo believes in simplicity with one caveat. He will constantly look to simplify to the point where he says, "If we get any simpler, we won't be able to handle all the situations that we see defensively."
In looking at the playbook, just because something is simple doesn't mean it stays.
"Is this play efficient enough to keep it in the offense?" asks Longo.
For him, he can't have something simple without being efficient. He explains his philosophy here:
Here's the outline of Coach Longo's philosophy. It's three things:
1. Play Fast (Speed Is a Premium)
2. Play Instinctive (Play without Thinking)
3. Next Play Always (The Past Does Not Dictate the Future)
Practice and Communication
In addition to the time which works to benefit the offense (and the program), a focus on communication in practice is done in a way that makes it efficient in practice.
The morning practice and headphones are explained here:
Finding Efficiency in Technique
Efficiency makes its way into technique as well. Here, Coach Longo explains their drop and how this little change helps to open lanes:
A lot of coaches say they want to be simple, but oversimplification is a danger to an offense. Focusing on simplicity with an understanding of efficiency is the key, and it's something that Phil Longo has figured out.
Now it's time for him to apply his Don't Blink Offense to the Big Ten.