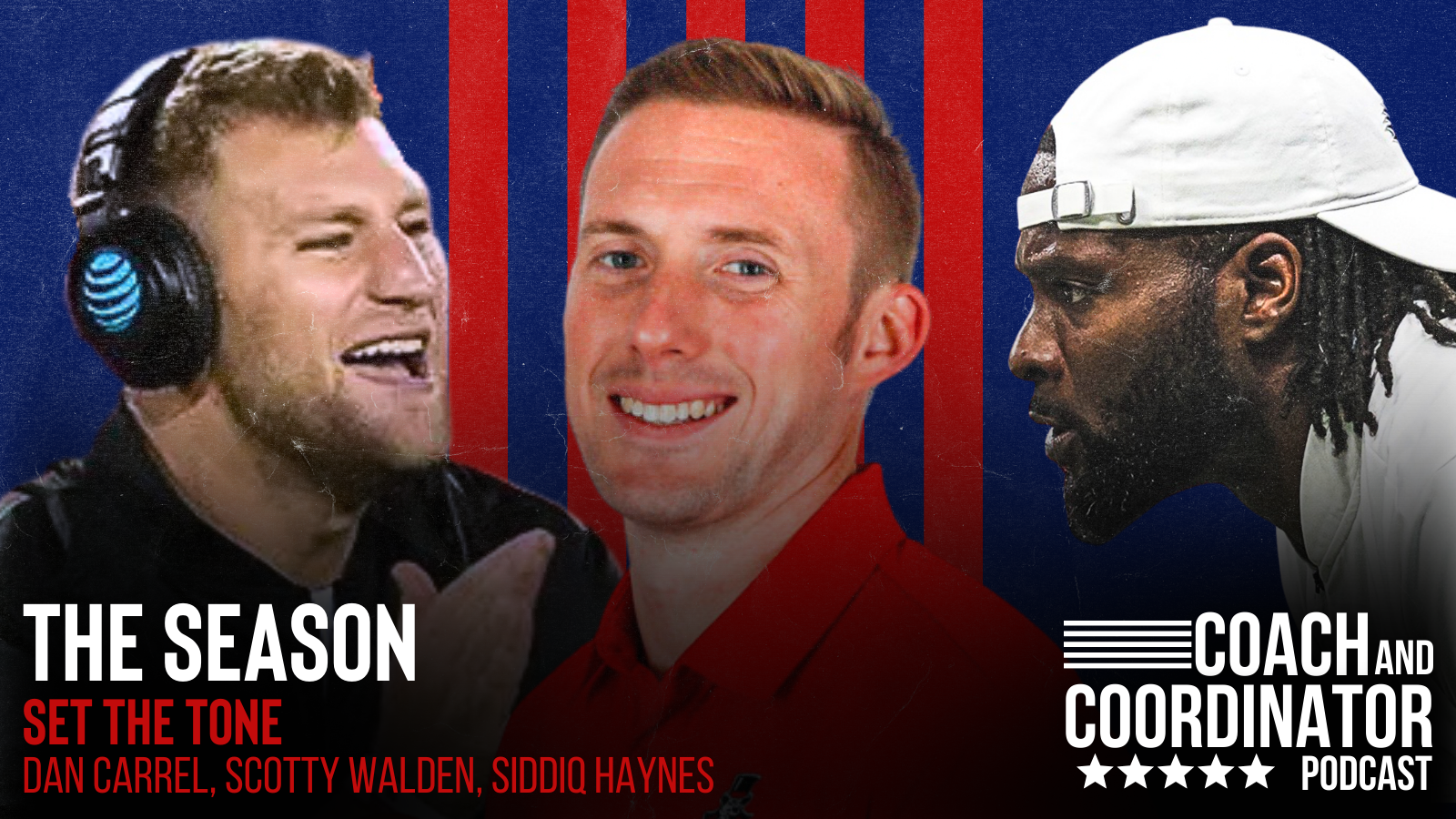 Siddiq Haynes, Dan Carrel, and Scotty Walden share how they bring camp energy and set the tone for the day. Whether it's starting a meeting or creating drills and practice flows conducive to bringing the juice, coaching energy is contagious, and it's important that it permeates throughout the entire program.
Listen On:
We are all familiar with what poor coaching energy looks like during practice. It may involve coaches failing to set clear goals, adopting a monotonous tone, remaining stationary on the field, or even sitting back. Coaches lacking energy may display closed body language and use repetitive feedback, language, and drills without considering the needs of the athletes.
Having good coaching energy doesn't mean being a loud, rah-rah coach or constantly jumping around on the sidelines. It's about being positive, consistent, engaged, and demonstrating care for the players and the team. And bringing the juice starts with camp energy.
However, it's essential to be mindful that displaying good coaching energy can be draining, so coaches need to take time to recharge. Nonetheless, the impact of energy on the players' response can help coaches push through challenging moments. Energy begets energy.
Coaches Appearing in This Episode:
>Siddiq Haynes (@CoachSiddiq), Defensive Line Coach, UTSA
>Dan Carrel (@DanCarrel), Co-Defensive Coordinator and Linebackers Coach, Coastal Carolina
>Scotty Walden (@APSUCoachSW), Head Coach, Austin Peay
Related Episodes:
Siddiq Haynes:
>Mental Warfare and Calculating the Pass Rush Plan
>Get to Sack City
Dan Carrel:
>Out Prepare the Competition
>Complementary Football
>Designing a Run Fit System
Scotty Walden: Youngest D1 Coach
Related Resources:
Siddiq Haynes: Pass Rush – Get to Sack City
Dan Carrel:
>Make Sense of Your Self-Scout
>Building a Run Fit System
Scotty Walden:
>Austin Peay Offensive Principles and RPO
>Mesh and Shallow Cross Variations
---
SUBSCRIBE: