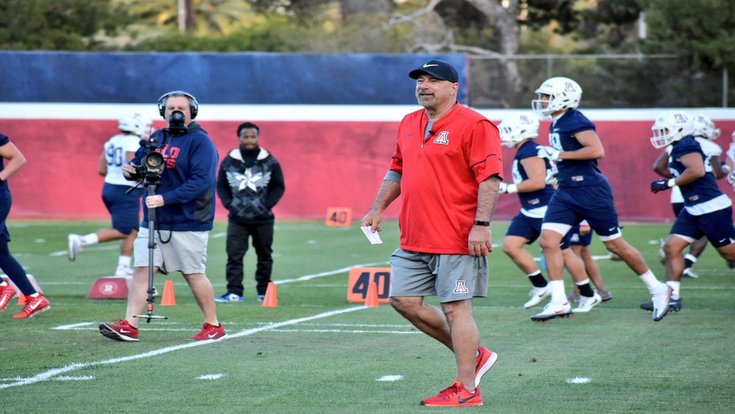 From the Archives:
Today's Coach and Coordinator podcast guest is Noel Mazzone, offensive coordinator and quarterbacks coach at the University of Arizona. This will be Mazzone's first season at Arizona after two seasons at Texas A&M under new Wildcats head coach Kevin Sumlin. Prior to that, he was the OC at UCLA from 2012-15 and Arizona State from 2010-11. He spent four seasons in the NFL with the New York Jets as a wide receivers coach/consultant, in addition to collegiate stops at Mississippi, NC State, Oregon State, Auburn, Minnesota, TCU and Colorado State.
Mazzone has coached in 12 bowl games with seven different teams. He's tutored several NFL quarterbacks, including Josh Rosen and Brett Hundley at UCLA, Brock Osweiler at Arizona State and Phillip Rivers at NC State. As a player, Mazzone played quarterback at the University of New Mexico and graduated in 1980.
On today's show, Mazzone tells host Keith Grabowski how he puts together a game plan, integrates players and coaches in that plan, and playing with tempo.
Show Notes
1:58 How Mazzone created his offensive system
6:46 Formulating the terminology
9:16 Process of teaching terminology to players
10:03 Plays that work better in tempo
14:14 Preparing the number of plays they want to run on game day
18:48 Recognizing what opposing coordinators are doing
22:32 Building explosive plays in the game plan
25:47 Using the "12 percent rule" in game evaluation
30:36 Delegating game plan responsibilities to coaches/players
34:29 Organizing a week of practice to set up for the game
38:45 Attire and equipment for a relaxed practice day
39:53 Teaching situational "special" plays in practice
41:22 Pros and cons of using VR technology in practice
45:43 The Winning Edge