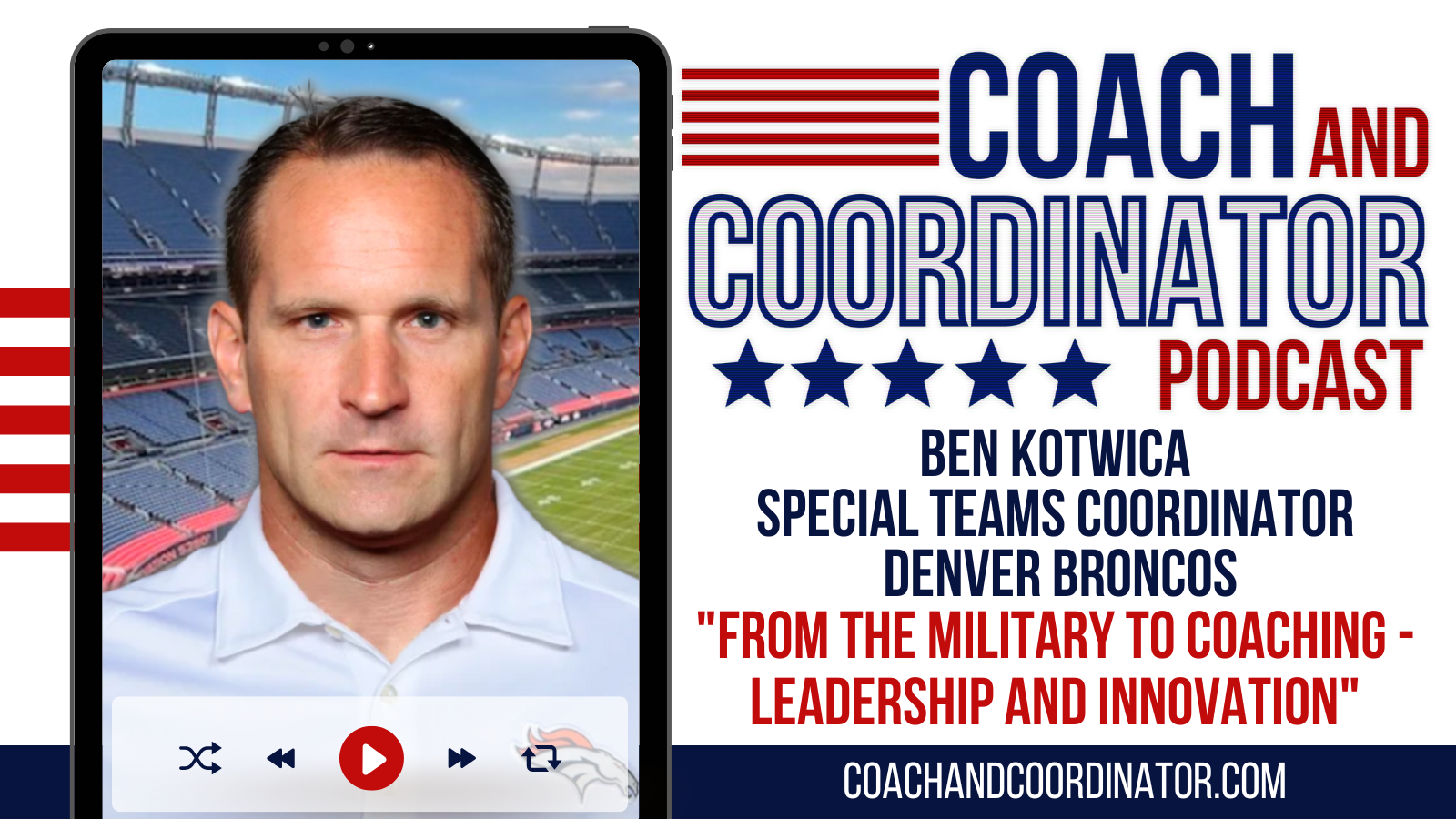 In this episode, Ben Kotwica shares his influences, the importance of our roles as coaches, developing a leadership style, innovation, and the use of technology in teaching and developing players.
Ben Kotwica is the special teams coordinator for the Denver Broncos. In sum, he has 17 years of coaching experience, including 15 seasons in the NFL. His previous experience includes stints with the New York Jets, Washington Redskins, Atlanta Falcons, and most recently, with the Minnesota Vikings, with whom he served as the assistant special teams coach.
Coach Kotwica is a graduate of the United States Military Academy, where he played linebacker and served as team captain. After graduation, he was a helicopter pilot, serving in the Iraq War, as well as in missions in Bosnia and Korea. Kotwica reached the rank of Captain.
In this episode, Ben Kotwica discusses the challenges and honors that come with being a leader, the importance of leaders (including football coaches), the importance of evolving with changing times, and teaching with technology.
Follow Ben Kotwica on Twitter @BKotwica44.
Show Notes:
>Early Influences
>Abilities That Translated into Being a Coach
>How His Military Background Shaped Leadership and Coaching Styles
>People Make Experiences Rewarding
>From the Military into Coaching
>Mike Westhoff and Having Standards
>Leadership: Being the CEO
>You Must be Yourself as a Leader
>Coaching with Technology
>Passive Versus Active Learning
>Integrating a New Technology into Workflow
>Enhanced Player Development
>Post-Practice Punt Protection Period
>How to Be Innovative
>Advice on Implementing Technology
Watch Ben Kotwica Presentation:
Punt Install with Technology and Drills
Related Episode:
Figure It Out with Mike Westhoff
---
The Winning Edge – Takeaways and Ideas for Implementation:
1) Be Yourself
The biggest takeaway on leadership is that, as a leader, you must be yourself. As you are learning and growing as a coach, you must first identify your beliefs then the behaviors that must be demonstrated that will produce the outcomes you desire. It's a framework learned from Brian Kight on this podcast.
Once you have that framework in place, you can start to say "yes, this idea fits, or no, this idea doesn't. Or if I take this idea and do it this way, it will work for the position, unit, or team I lead." You need an anchor point for your ideas, so start with clearly identifying the beliefs, behaviors, and outcomes you desire as a leader.
2) Be Innovative
Coach Kotwica made a valid point that our duties as coaches are to be innovative. As he mentioned, it goes beyond the X's and O's. How we teach those X's and O's must be engaging.
Trying new things out now in the offseason allows us to fine-tune what it will look like in the fall. Some will stick, and some won't, but it will help you get to a place where you have the most effective and efficient room possible with the resources you have. And there are plenty of ideas out there that are free like Go Army Edge or Google Docs. Don't let budget be an excuse for not being innovative.
3) Be Patient
Coach Kotwica also makes an important point that when implementing anything new, one must crawl, walk, run. That philosophy applies to new plays or schemes, teaching methods, and the use of technology.
Yes, you have a vision for what the end looks like, but you cannot jump from point A to point Z. There's a learning curve, but taking that crawl-walk-run approach to implementing something new gives it the best chance for success and impact on what you do as a coach.
---
SUBSCRIBE: