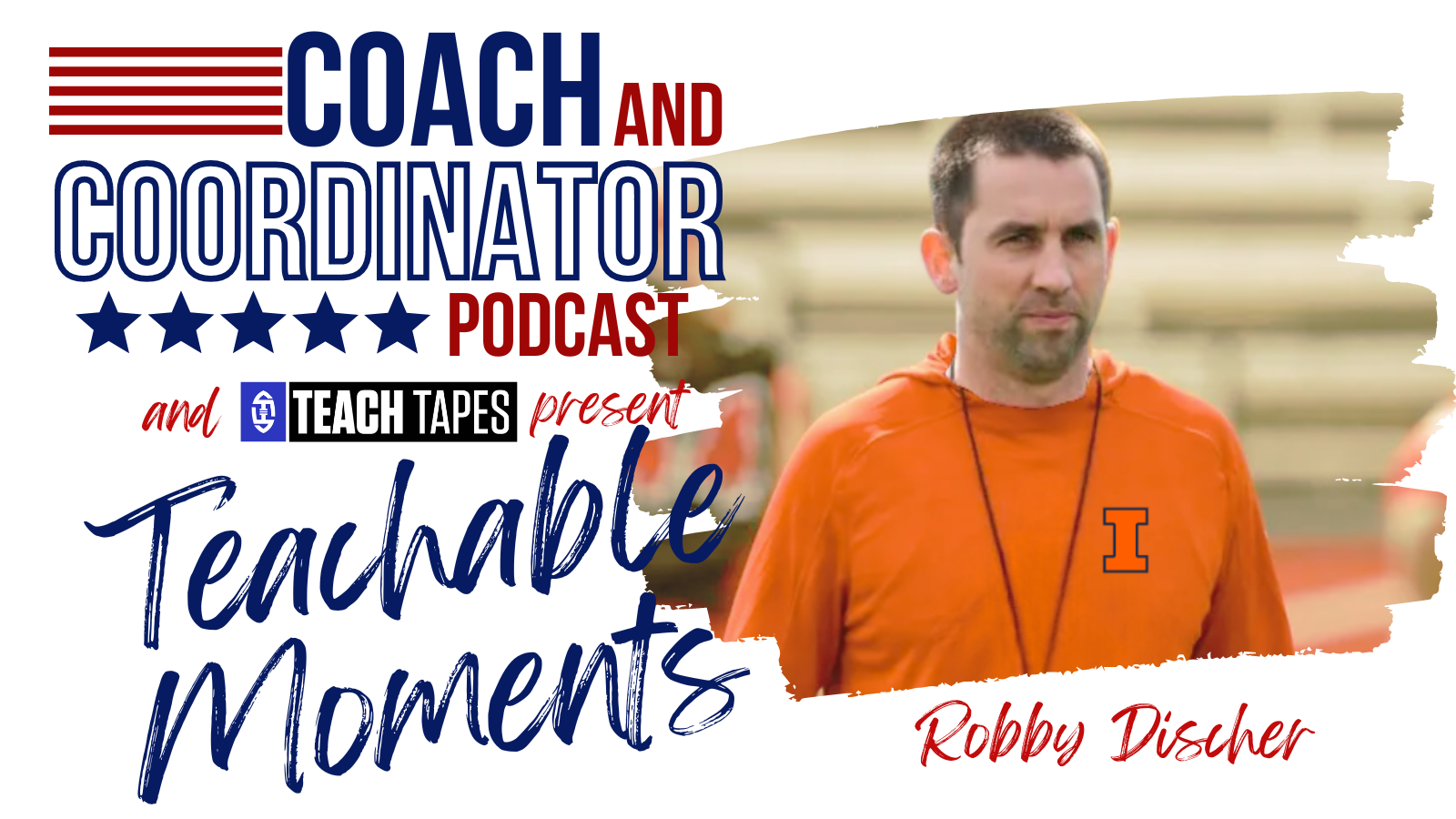 In this episode, the penultimate installment of our "Teachable Moments" series, Robby Discher talks about his journey through the coaching profession and the importance of staying true to oneself.
Robby Discher is entering his first season as the special teams coordinator and tight ends coach at the University of Illinois. In 2022, Discher helped Tulane to a AAC conference championship and Cotton Bowl victory as special teams coordinator. In 2021, Coach Discher was a special teams quality control coach for the National Champion Georgia Bulldogs. He also spent one season at the University of Louisiana as special teams coordinator and defensive assistant.
Prior to Louisiana, Discher spent four seasons at the University of Toledo, serving as both special teams coordinator and tight ends coach. He spent two seasons at Oklahoma State as a graduate assistant. Coach Discher also served at Sam Houston State as a GA before rising to special teams coordinator.
In this episode of "Teachable Moments", Coach Discher offers advice on how to remain genuine and authentic in any situation. He explores the impact of mentors like Willie Fritz and how being special teams coordinator builds relationships with the entire team.
Follow Robby Discher on Twitter @RobbyDischer.
In the "Teachable Moments" series, guest host Steve Hauser sits down with young coaches who have made the journey from the bottom to establishing themselves in the coaching profession.
Show Notes:
>William Jewell Lineage
>Learning from Willie Fritz
>Sam Houston State Experiences
>Oklahoma State Influence
>The Special Teams Coordinator Can Build Relationships with the Entire Team
>"They Didn't Sign a Scholarship to Cover Kicks"
>Make the Meetings Enjoyable and Get Your Message Across
>We All Have Our Own Personalities
>It Won't Work If It's Not Who You Are
Additional Teachable Moments Episodes:
Jordan Hogan, Wide Receivers Coach, Colgate
Chili Davis, Special Teams Coordinator, Florida A&M
Get all of the videos and drill clips you need at TeachTapes.org.
---
SUBSCRIBE: