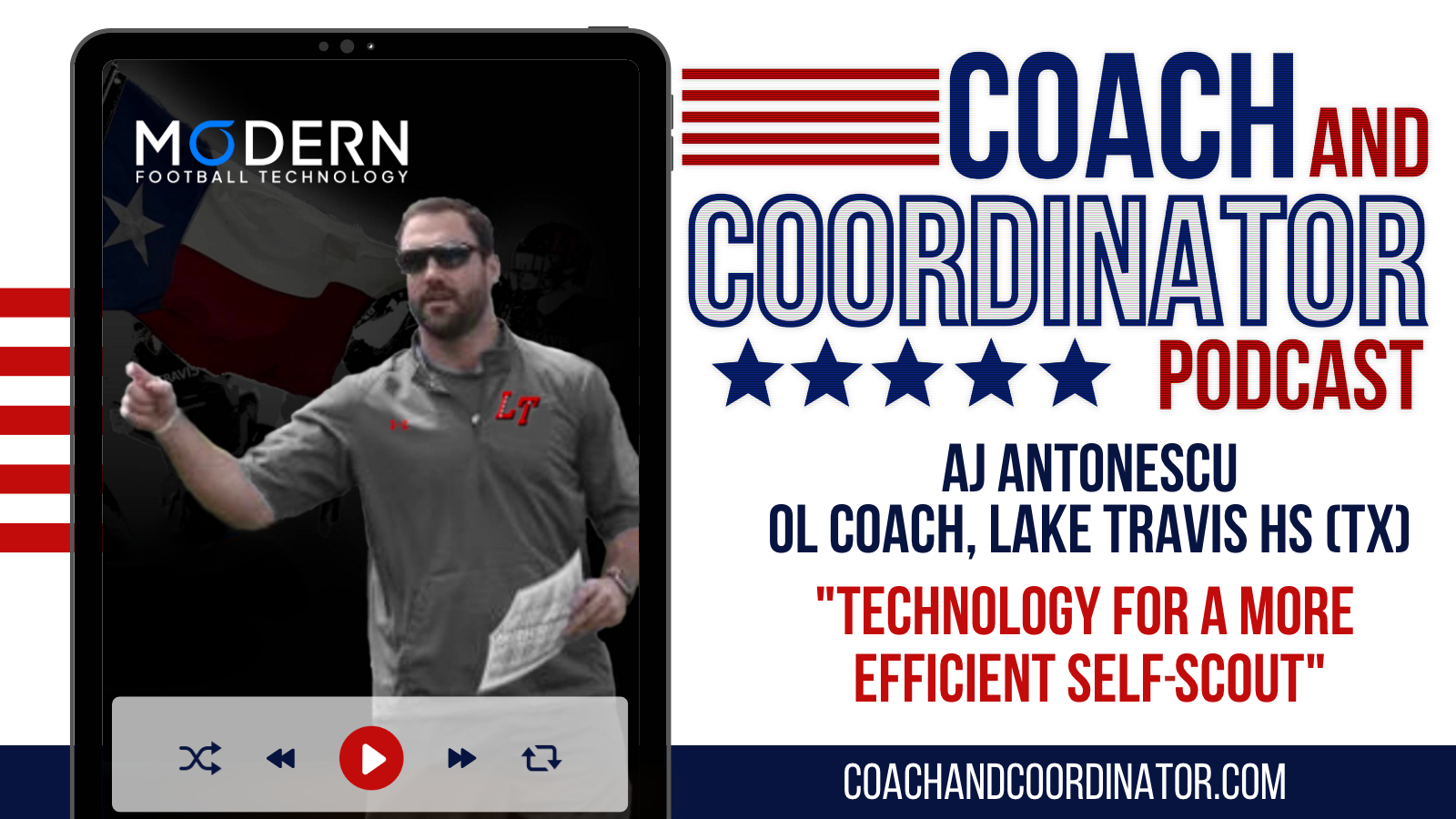 In this episode, AJ Antonescu discusses the tools and workflows deployed by the Cavaliers to improve their self-scout and game planning, as well as the new technology platform they use to make it simple and accurate.
Listen On:
AJ Antonescu is the offensive line coach at Lake Travis High School in Austin, Texas. Coach Antonescu is entering his second season at Lake Travis, a six-time Texas state champion. The program is currently led by head coach Hank Carter. Since Coach Carter took over as head coach in 2010, the Cavaliers have won three state championships with a record of 155-26 over that time.
In this episode, Coach Antonescu goes deep into how Lake Travis prioritizes self-scouting to improve their practice plans and game plans throughout the season. Self-scouting is an undervalued and underperformed function of a post-game review. It tells us a lot about our team, gives us insight into how an opponent views us, and allows us to put together a better plan for practice, carry it into the game plan, and in some states, into game-day decision making.
Follow AJ Antonescu on Twitter @AJAntonescu.
Show Notes:
>Importance of Self-Scout for an Offensive Line Coach
>Process of Getting Data into the System
>First Areas Looked at on Post-Game Reports
>Using Reports to Focus Viewing of Game Film
>Transferring Self-Scout into Game Planning and Practice Planning
>Game Plan Responsibilities
>Situational Run Plan
>Pressure Plan
>How Technology Enhances the Game
>A Look into the Near Future
>Winning Edge Takeaways
Learn More about Modern Football:
Modern Football predicts your opponent's next move. Some of the most elite coaches in the game leverage this new platform for in-game decision making and play-calling success. Visit teammofo.com today to start dominating your opponents with a tool for detailed analysis that simply works and delivers value.
Related Episodes:
Why Inside Footwork in the Vols Offense – Glen Elarbee, OL Coach, University of Tennessee
Setting Up Your Scheme for Success – Darnell Stapleton, Offensive Line Coach, University of Florida
The Mushroom Society with Bob Wylie: Blitz Pick-Up, Featuring Kyle Caskey
---
SUBSCRIBE: