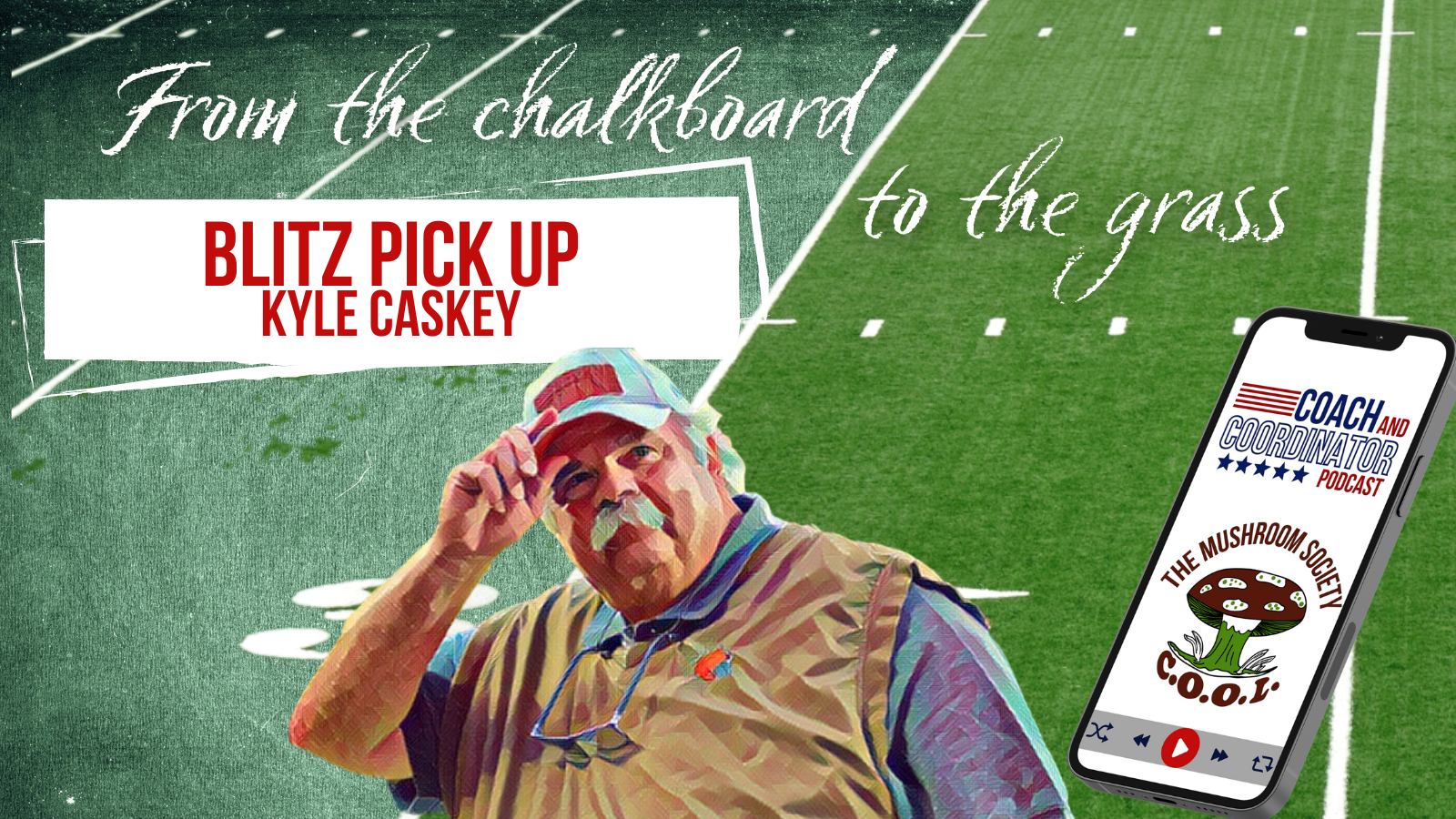 On this week's episode of The Mushroom Society Series, Kyle Caskey joins Bob Wylie to share stories from their NFL experiences, while discussing blitz pick-up, help systems, how to coach protections, player-coach relationships, and more.
Kyle Caskey is a 12-year veteran NFL assistant coach. Coach Caskey's résumé includes stints with the Cincinnati Bengals, Detroit Lions, and Jacksonville Jaguars, working throughout his career with running backs and offensive line. He has also spent time at the college level at LSU, Ole Miss, Indiana State, and Louisiana-Monroe. Caskey played collegiately at Texas A&M, where he also competed in track and field, earning All-Big 12 honors in the discus.
Follow Kyle Caskey on Twitter @CoachKyleCaskey.
Show Notes:
(3:13) Putting Together the Protection Plan
>Remember There Is More Than One Way to Do Things
>Plan for Exotics: Tampa Bay Case Study
>Handle Who Calls the Protection
>Take Note of the Defensive Structure
(6:25) Changing the Protection
>Change Using Three Triggers
>Watch Personnel to Know Blitzes: New York Jets Case Study
>Study the Coach Calling the Game
(9:33) Solving Problems Before They Occur
>Determine the Next Thing They Could Do
>Remain Logical – Don't Chase Ghosts
(12:23) Preparing to Win
>Don't Over-Saturate the Game Plan
>Don't Give Players Too Much Information (applies to both game plan and technique)
>Be Mindful of the Next Man Up and His Capacity to Handle the Game Plan
>Don't Lose Track of Your Base Rules
>Meet Early in the Week with the Centers and Quarterbacks
(16:23) Compartmentalizing Your Approach
>Hold Protection Meeting to Start the Week
>Recognize Patterns and Similarities in Opponents from Week to Week
>Make Changes Based on How Much You Can Rely on Your Center
>Win with Smart Players
(24:42) Having a Plan for Help
>Teach the Back to Release Through the B-Gap
>Chip Help
>Side Board with the Back
>Slide Protection vs. Fire Zone
>Block Him with the Throw
>Be Careful How You Communicate and What You Say
(38:35) Developing a Player-Coach Relationship
>Help Guys Get Better to Earn Trust
>Be Honest If You Don't Know and Go Get the Answer
>Don't Act Like You Have All the Answers
>Hold Everyone to the Same Standard, But Don't Coach Everyone the Same
>Find Out How They Learn – Ask Them
(47:30) Adjusting to Double Trouble: Coach Caskey Teaches Blitz Pick-Up
>Duel Read
>Molly the Linebackers
(52:38) Editing Down the Number of Protections in the Game Plan
>Don't Put the Protection at Risk Just to Get One Route Off
>Don't Practice It, Don't Call It
>Run 16 One More Time
Coaches Mentioned in This Episode:
Rex Ryan
Darrel Bevell
Dick LeBeau
Jon Gruden
Hue Jackson
Tom Moore
Additional Mushroom Society Episodes:
Five as One, Featuring Jonathan Himebauch
Safety Through Superior Technique, Featuring Mike Pollak
Additional Kyle Caskey Resources:
COOL Clinic Presentation: Game Planning for Exotic Pressures
Follow the COOL Clinic on Twitter @TheCOOLClinic and on CoachTube.
---
SUBSCRIBE: