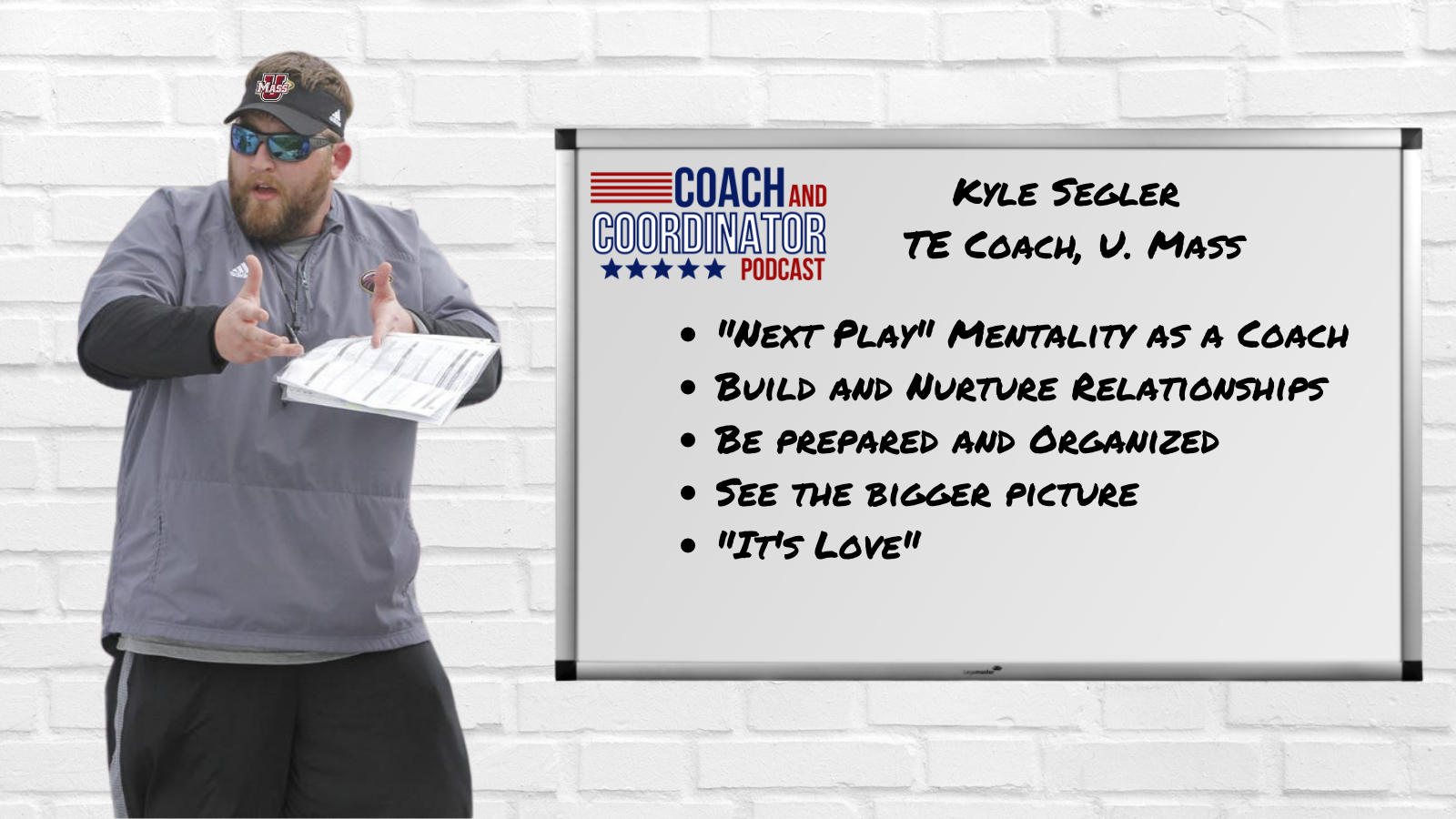 The Inspiration to Coach:
Segler is a fourth generation coach. His grandfather coached college and high school basketball. His father was a basketball coach at the collegiate and high school level, and his brother is a college basketball coach. While he didn't follow the hoops coaching path, he grew up being around people and having coaches for guidance and inspiration. He learned that he needed to do things the right way and listen to what was being said. He also saw the value of relationships.
The interaction he saw between his dad and his dad's former players who still called him "coach" gave him perspective on the impact of a coach. He saw the ability to impact people in such a way that he could be a mentor who would be sought throughout life for wisdom and knowledge.
Segler saw playing college football as a path to become a teacher and high school coach in Texas. He called himself "a try hard guy, limited from the DNA standpoint." However, he knew having the background in college football would help him as a coach.
Segler's path didn't take him to the high school level. After graduating he reached out to a start-up JUCO program, then later was able to come back to his alma mater, Sam Houston State with Willie Fritz. He made the sacrifices commonly heard of in the coaching profession being unpaid for 18 months, staying on a buddy's couch and working night jobs.
However, Segler was able to turn those sacrifices into a full-time opportunity for the 2012 season and coached at his alma mater for eight years including coaching in two FCS national championships.
Segler feels one of the important things that guides him through the moves he has made has been to find people that he clicks with from a philosophical and personal standpoint and to be on the same wavelength in life and football.
Segler Experience:
2009: Lon Morris College, Offensive Line Coach
2010-15: Sam Houston State, Offensive Line/Tight Ends Coach
2016-17: Sam Houston State, Offensive Line/Tight Ends Coach and Special Teams Coordinator
2018: Louisiana Monroe, Tight Ends Coach/Special Teams Coordinator
2019-20: Marshall, Tight Ends Coach/Co-Special Teams Coordinator
2021: Massachusetts, Tight Ends
The Mindset:
Segler has a mindset that has allowed him to navigate change. He said, "So much of what we do is we talk to kids about "how will you react to things?' What is your perspective in the situation and move on to the next play." He understands that a "next play" mentality applies to a coach's development as well.
For example, He pointed to initial attitudes to the shutdown in the spring of 2020. Many coaches griped about what they were losing. Segler took a step back and reflected on how lucky he is to be in the coaching profession. He said, "We're the luckiest people on the planet. We get to be around great coaches. We get to be around kids, develop kids and make great people."
With that mindset, Segler approached the shutdown as an opportunity. He pointed out, "We talk about development of our players. But you also have to develop as a coach. I don't have all the answers. The moment you feel you do have all the answers, you need to get out of the business. This sport is not thriving like it is based off of people who think they have all the answers. It's based off people who are growing and pushing themselves personally and looking inward on, 'How can I improve myself and make myself better to make the people around me better?'."
Navigating Adversity
Life hit Segler hard at the end of the 2020 season. In the same week as learning that he would not be retained by Marshall, his father passed away. The mentor who he grew up listening to, modeling and getting advice from was no longer there in what was the most trying time for him professionally. This is where the mindset discussed earlier came into play. Though it was a difficult time for Segler, he moved forward focused on what he needed to do to get the next opportunity.
His relationship and networking came into play. Some of his best friends in coaching were the first to step up, offer encouragement, and keep an eye and ear open for opportunities for him.
The Skillset – Be Organized and Prepared
Part of being able to stay both relevant and ready in this profession is having resources prepared for the next step on the coaching journey. Segler spoke of both utilizing the COVID shutdown to network and learn, which is exactly what he did.
Over the shutdown, his teach tapes were prepared. His portfolio and resume were in order, and Segler did not have to scramble to figure things out on how he would move forward when change hit. That's something Segler feels is of utmost importance in getting a coaching job in the highly competitive environment. He pointed out that a coach can't expect to be looked upon favorably if he goes into an interview and says, "I don't have any of my tape." It shows a lack of preparedness as well as resourcefulness. Most coaches know to make friends with the video staff and get the film and resources they need well before something happens.
Organization and preparedness aren't something that happen when faced with adversity. It's too late then. But for Segler, it's just a way of operating and it carried over to a time when he needed it most.
Winning Edge:
For Segler the winning edge in what he does for his players boils down to one thing, "love." Segler recognizes that he is in a profession where a lot of these student-athletes come from less than ideal situations. They may not have someone they trust to seek guidance from. Segler said, "At the end of this deal, if you say that I didn't invest in these kids as people and love them, then I failed."
He feels that this has become cliche in the profession. The word "family" is thrown around often but not embraced enough. He understands the importance of what his players sacrifice for him. "If you aren't putting time in with them…these guys play football for me, to put food on the table with my family." Because of that, Segler understands he must make a true investment in each of them as people.
"If they dont love you and believe in you because you don't love them they will fail when it comes to execution" Segler said.
He concluded, "It's not about wins. It's not about rings. It's about humans." With an attitude and the actions to back it, it's easy to see why a coach like Kyle Segler will continue to get opportunities to develop people.
Connect with Kyle Segler:
Twitter – @Coach_Segler
Coach Segler's Course on CoachTube
Listen to Our Interview with Coach Segler: