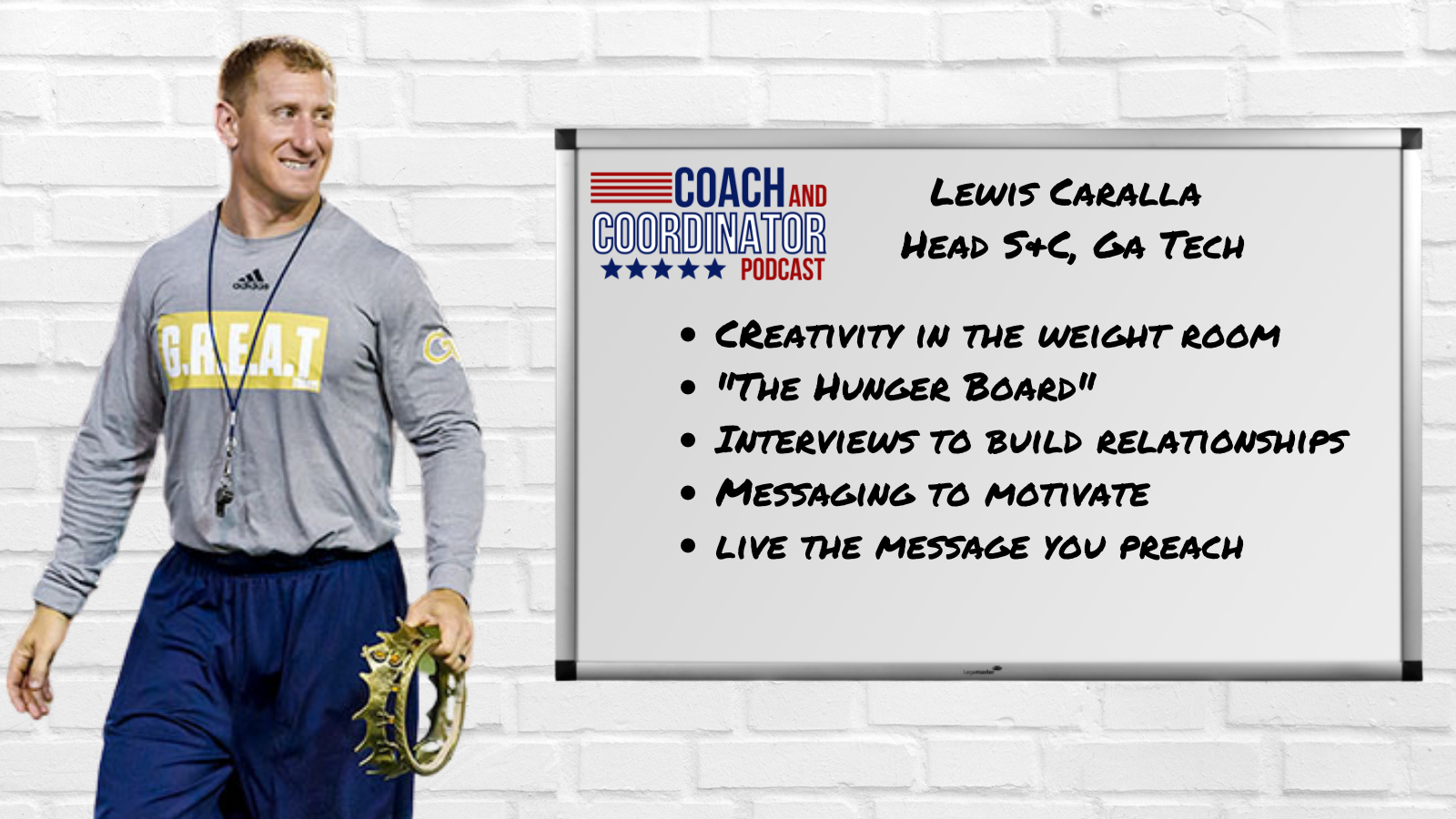 Lew Caralla is the head strength and conditioning coach at Georgia Tech University. He's a key piece of the culture that head coach Geoff Collins is building in the 404. Caralla joined Keith Grabowski on the Coach and Coordinator Podcast to discuss the mindset he developed early on that has become a big part of who he is as a coach, creativity in coaching and the methods he uses to build relationships and create buy-in from his athletes.
Caralla experience:
2007: USF, Intern
2008: Virginia, Intern
2009-10: Mississippi State, Graduate Assistant
2010-11: Georgia Tech, Assistant Strength and Conditioning Coach
2011Mississippi State, Assistant Strength and Conditioning Coach
2012-14: Michigan, Assistant Strength and Conditioning Coach
2015: North Texas, Director of Strength and Conditioning
2016-17: Louisiana-Lafayette, Director of Strength and Conditioning
2018: Buffalo, Head Football Strength and Conditioning Coach
2019: Georgia Tech, Head Football Strength and Conditioning Coach
Developing a Mindset
Lew Caralla learned early on to make it in coaching, it takes sacrifice. While he was still a player at D3 Defiance College, he took an internship at South Florida. After being an athlete in training in the first session of the day with the USF strength staff leading, he would serve as a coach and train during the next two. He knew that summer that he wanted to be a coach.
After his next year of college he served as an unpaid intern at the University of Virginia, he was able to get his first graduate assistant job because he was willing to exhaust himself working for free in his summers. His development of the mindset of making sacrifices allowed him to climb through the profession. It allowed him to learn and start building his network in the strength and conditioning world.
For the young coach he would recommend the following become part of what you do:
Ask questions
Keep journals
Pick the brain of those you are working for
Be willing to sacrifice
Integrating the football culture with your work in the weight room
Being a strength and conditioning coach means working with the head football coach while using expertise to program workouts. Caralla leaned on his experiences as a player and his understanding of what his players are going through to direct the workouts for the teams he has been a part of.
He takes on the role of inspiring his players through their workouts. That begins with doing those workouts himself first. He wants to know what it feels like for the players who will go through the workout. That is something he developed a practice of while he was at South Florida. He's continued that as he's progressed through his career. Ultimately, what he does has to mesh with what the head football coach wants.
Having experienced situations where he's worked for micromanagers, and those who explain the objectives and let him go and do his thing. Both Geoff Collins and Lance Leipold are coaches that he's worked for that had a trust in him to do his job. It's what makes a great situation for a strength coach. "It's a great experience when your head coach has buy-in from you and thats when the program can really take off," Caralla said.
Those situations of having that buy-in from the head coach leads to creativity, which further feeds the morale and culture of the team. For example, Caralla makes every Friday work out a themed workout. Why does he do it? For him it's simple, "Predictability is boring," he said. Friday is the day where he puts the entire team together in the same workout regardless of position to create team chemistry.
For example, they do a partner lift where they need to do a certain amount of reps for that exercise together. Another example of a themed workout is "tap out." Caralla explained, "Tap out is you vs someone else in 14 different events. It's like a game. You need to figure out how to beat someone. The only way you win the event is if the guy you are competing with taps out." Changing things up while creating competition helps strengthen the Yellow Jacket's culture.
Measuring Effort – The Hunger Board
Caralla evaluates the team with the "hunger board." The entire staff is involved. Caralla describes it, "It's an effort board…there's three levels of hunger. There's 'satisfied' which is the worst kind of guy. "Hungry" is average and "starving" are those guys that you want to go to war with every day of the week. The coaches vote each week. The walk-ons tend to dominate that board. The strength staff goes down the roster and votes, and gives opinions on why. "It's normally unanimous if a guy is starving…It's the driver of our strength program. We hang our hat on that board. And kids take full offense if they are not starving. It's an inspiring board and the driver of our strength program," said Caralla.
Interviews build the relationship
Coach understands that in order to fully develop his athletes he needs to get to know them. It helps build the relationship and allows the coach to push the athlete to develop his full potential. It's something he does with every single player.
He has 25 questions which he asks each player. He does this to help set the tone and earn trust.
Some examples include:
What's the biggest obstacle you've had to overcome?
Who in your life inspires you?
Who is the worst coach you've ever had and why?
Who is the best coach you've ever had and why?
This helps get a pulse on what that player likes, how he likes to be coached, and an understanding of what is going on in that athlete's life. It gives the coach the insight he needs to really make a difference in a kid's life. Caralla noted, "The effort it takes to make a difference in a kid's life is endless."
Helping players get on the starving board is different for everyone. Coach points to impacting the room. A measure he uses is "If you weren't in the room no one would notice." The interviews help him go back to what drives the player as well.
In Season Focus and Putting Out Fires
His role is not over during the season. He becomes somewhat of a sports psychologist, helping players to navigate their personal challenges and the team to overcome failure. The lift on Sunday's is crucial in setting the tone for the week. "The strength coach needs to be strong for his players in their weakest time."
There're so many more kids disappointed in the season because they aren't playing or aren't in the role they want, and he assists in keeping those players focused on the overall team goals which helps put out fires and focused in the right direction.
Messaging to Motivate
Drawn from his playing days and how he thought as a player. You need to remember what it was like as a player with everything that was on your mind. Going through experiences and not using them is a waste." For Caralli that includes failures as well.
The Winning Edge
As a coach if you want your players to your program, you need to buy-in yourself and be the message you preach." For Caralla that means living up to everything he tells his players. That will translate to them and they will echo that message.
Connect with Coach Caralla:
Twitter: @lewiscaralla
IG: @lewcaralla
Listen to Our Interview with Coach Caralla:
Develop as a Coach: Strength and Conditioning Courses
See Coach Caralla on Georgia Tech's YouTube feature #WaffleWednesday:
Coach Caralla on his YouTube Channel: