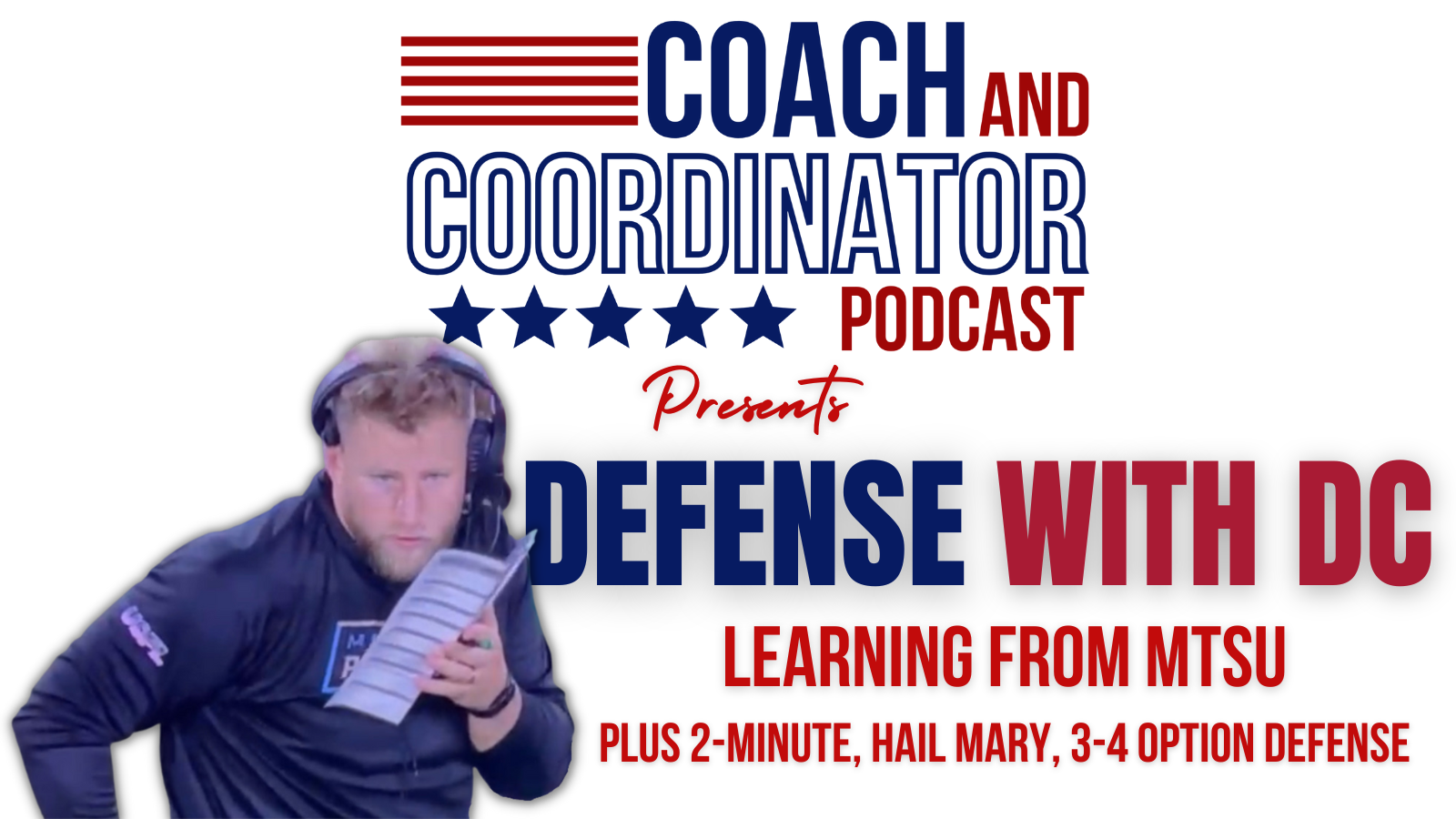 Dan Carrel, DC for the Michigan Panthers of the USFL, digs into the MTSU upset of Miami, tips for handling end-of-half and end-of-game two-minute situations, and coaching points for defending the option out of a 3-4 structure.
Listen On:
Dan Carrel joins the Coach and Coordinator Podcast fall lineup after a successful 2022 campaign as the Defensive Coordinator for the USFL's Michigan Panthers. Coach Carrel's previous coaching experience includes stops at Ohio State, Kentucky, Houston, and UMass. Before getting into the coaching profession, he graduated from West Liberty University, where he played linebacker. Coach Carrel will lead the discussion every week of the season on this defense-focused series of Coach and Coordinator Podcast. This week, he studies Middle Tennessee State's defense, as well as defending two-minute situations.
Follow Dan Carrel on Twitter @DanCarrel.
Show Notes:
(1:07) 4-Down Quarters Defense
>Dictate Where the Ball Is Going to Go
>Get the DL Going Vertical and Cutting Off the Field
>Create Pass Rush on RPO
(5:37) Penetration Kills the Play
>Spill the Run
>But Safeties Have to Remain Aware of the Possibility of Fitting Inside
>Hold the Glance Window and Play the Run
(9:55) What Worked for MTSU
>Defend Double Squeeze Set, Stick Routes
>Disguise Cloud into Trap Coverage
>3 Deep, 2 Under Fire Zones
(14:10) Defense for Critical Two-Minute Situations
>Build a Library of Critical Situations
>Coach 2-Minute Every Week
>Walkthrough It on Friday (Thursday for High School)
>Work Against Specifics Rather Than Generalities
>There's Less Creativity in Critical Situations
>The Worst Feeling You Can Have as a Coach
>Bring a Book/Card to the Sideline for When These Situations Occur
(26:18) Defending the Hail Mary
>3 Man Underneath
>3-Man Front
>LB Attached to the Back
>Run a Stunt to Keep QB in the Pocket
>Put Best Ball Defender in the Middle of the Field
>Bat It Down If You Can, or You Have to Catch It
>Create a Library for Hail Mary
(30:56) Weekly Option Tips
>East Carolina vs. Navy
>3-4 Structure
>Force Players Need to Be in a Force Position
>Frontside LB Plays Aggressive. Backside LB Is Ready for Center Cut
>You Must Have a Plan for G Lead
Coaches Mentioned in This Episode:
Additional Defense with DC Episodes:
Self-Scouting the Game Plan
Learning from the Texas vs. Alabama Game
---
SUBSCRIBE: