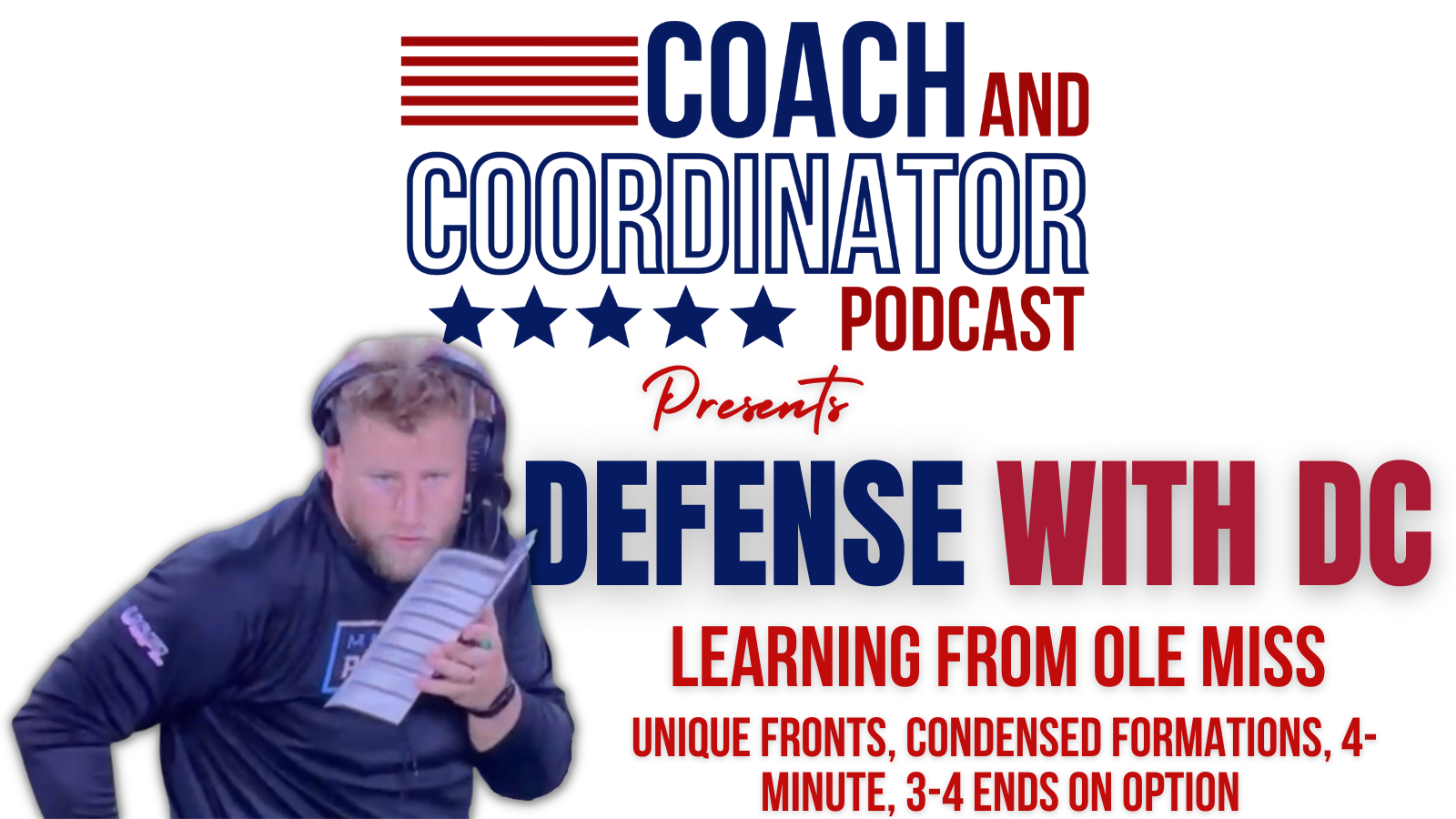 Dan Carrel, DC of the Michigan Panthers, coaches up new defensive front looks, moving that front, the buzz safety, 4-minute defense, max field goal block, and more option tips, using takeaways from Ole Miss and Georgia State.
Listen On:
Dan Carrel joins the Coach and Coordinator Podcast fall lineup after a successful 2022 campaign as the Defensive Coordinator for the USFL's Michigan Panthers. Coach Carrel's previous coaching experience includes stops at Ohio State, Kentucky, Houston, and UMass. Before getting into the coaching profession, he graduated from West Liberty University, where he played linebacker. Coach Carrel will lead the discussion every week of the season on this defense-focused series of Coach and Coordinator Podcast. This week, he studies Ole Miss' defensive front, as well as defending four-minute situations.
Follow Dan Carrel on Twitter @DanCarrel.
Show Notes:
(1:13) Takeaways from Ole Miss Against Kentucky
>Aggressive Defensive Front
>Nine TFL's
>Two 5 Techniques and a Shaded Nose
>Reminiscent of Desert Swarm Defense
(3:34) Considerations When Deploying a New Front
>Remain Multiple
>Tag and Stem
(6:11) Tips for Coaching Movement
>Define What You Want Out of the Movement
>Hold Gaps or Penetrate
>Fire Zones
>4-Man Stunts
(8:35) Drills + Techniques
>Practice Against Your Offensive Line
>It Doesn't Need to Be Violent
(10:33) Defending Condensed Formations
>These Sets No Longer Indicate a Specific Package – There Is A Lot to Defend
>Creative Options with the Safety in the Run Fit
>Be Mindful of Crack and Go
>CB in Run Fit in a One-High Structure
(14:18) Coaching the Buzz Safety
>Work with the Will
>Learn the LB Key Structure
>Adjust to Motion
>Decide How, or If, to Disguise
(20:24) 4-Minute Situations
>Defines the Toughness of Your Defense
>Keep a 4-Minute Book/Card on the Sideline
(25:50) Defending Last Chance, End of Game Situations
>Keep D Line Behind the Ball, Fan Out to Their Third of the Field
>Keep Three Deep Safeties in Their Third of the Field
>Man Under
>Max Field Goal Block Team
(33:34) Georgia State vs. Army
>3-4 Structure Option Tips
>Defending Midline
>Defending QB Sweep
Coaches Mentioned in This Episode:
Additional Defense with DC Episodes:
Learning from MTSU vs. Miami Plus Defending Critical Situations
Self-Scouting the Game Plan
---
SUBSCRIBE: