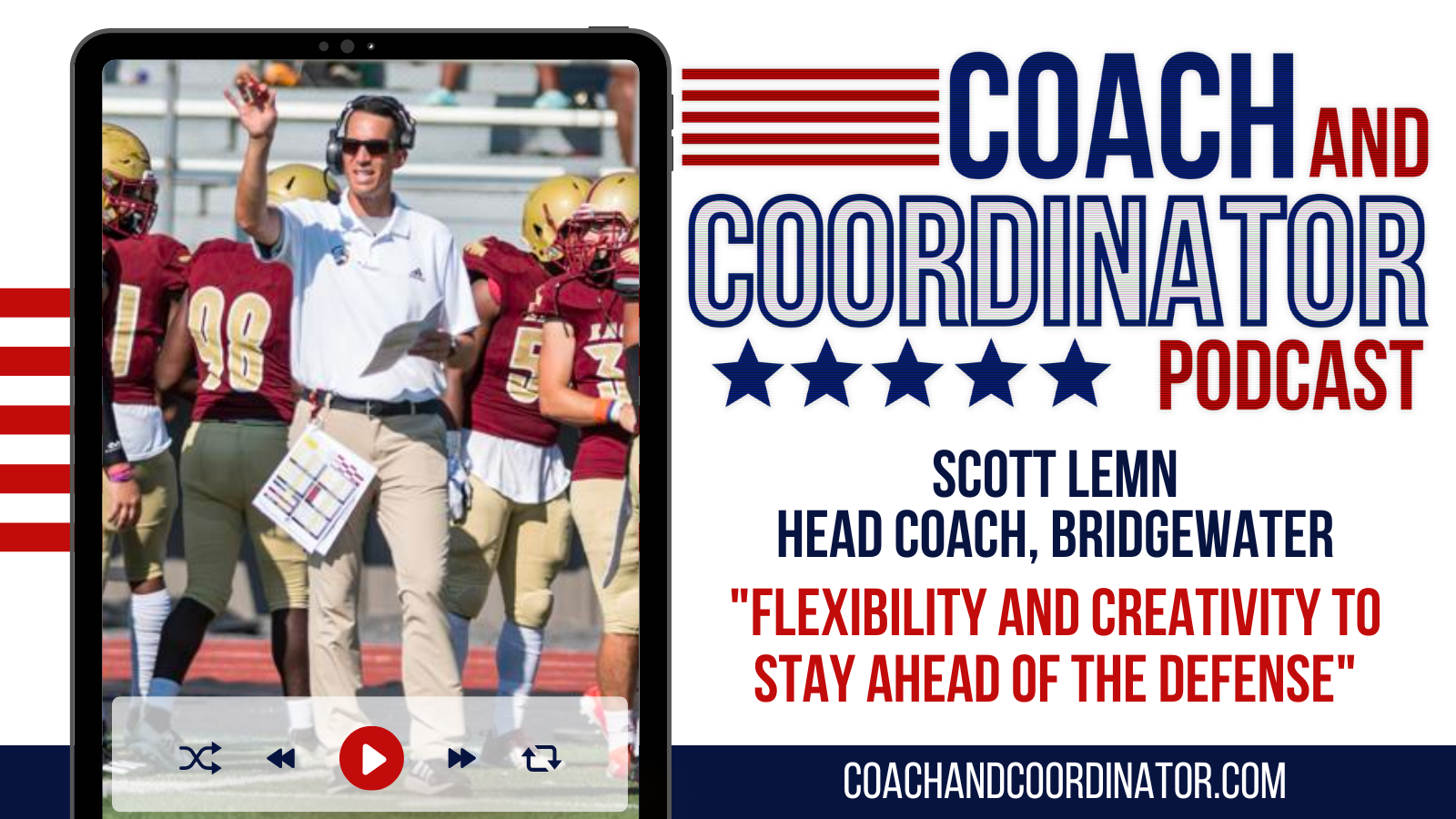 In this episode, Scott Lemn discusses his process for evolving an offense with flexibility by design and an openness to creativity. He explains how teaching is central to this process and how the workflow and tools coaches have at their disposal help teach players in a way that is most relevant to them.
Scott Lemn is the head coach at Bridgewater College. Before being named head coach, Lemn was an assistant with the Eagles for 11 years, including two as offensive coordinator. He directed the offensive line for eight seasons after coaching the defensive line in 2010.
Lemn began his coaching career at conference rival Randolph-Macon. Prior to his time with the Yellow Jackets, he was a first team All-American at James Madison in 2008 and was the Rimington Award winner as the nation's top center while aiding the Dukes to a FCS semifinal appearance and a number-one ranking for much of the 2008 season.
Follow Scott Lemn on Twitter @CoachLemn.
Show Notes:
>Start with Looking at Your Personnel
>How Research into Ideas Begins
>Implementing New Ideas
>What Does It Complement, or What Does It Replace
>Getting New Ideas Enough Reps
>Carry Both Gap and Zone
>Alex Gibbs Approach
>Staying Ahead with Adding a Wrinkle
>Finding "Same As" in Teaching
>Carry Over
>When Being Creative, Make the Least Adjustments with the Offensive Line
>Building Terminology
>Taking Inventory of Terminology
>Asking "What If" Questions for Ability to be Flexible and Creative in the Future
>Word Association to Play Faster
>Technology to Create Efficiency in Workflow
>Flipped Classroom Model
>Go Army Edge
>Winning Edge
Related Episodes:
Phil Longo: From the Archives
Ben Kotwica: From the Military to Coaching
Related Resource:
Free Download to Inventory Your Offense
---
The Winning Edge – Takeaways and Ideas for Implementation:
1) Set Up Parameters for New Ideas
Put together your own process and filters for how new ideas are adopted or rejected from being adopted into your offense. Every coach on your staff wants to be able to bring ideas to the table. Whether something is implemented or not has to have a framework.
Coach Lemn starts with personnel, then he looks at how it fits into prior teaching, especially for the offensive line. Then he considers its relevancy against the defenses they face. Finally, if something goes in, then something goes out. Setting up parameters for how new ideas will be implemented will allow questions to be answered by the coach bringing in the new idea and promote ownership in what is part of the playbook. In this way, everyone can be a contributor to evolving the offense.
2) Inventory Your Terminology
Every offseason, take inventory of your terminology. A well-structured taxonomy for your language will allow you to easily adapt new ideas.
3) Find Tools Most Relevant to the Way Your Players Learn
The ways we consume information are constantly evolving. We are a video-driven society, and those ideas are given to us in short pieces. With that in mind, a "flipped classroom" approach allows players to utilize a five-minute period on their phones to learn what is on the script or what will be installed for that day. Designing everything with that approach to delivery will lead to more engagement with the coaching content you put together.
4) Speed Up Mental Reps
Use Go Army Edge, even if it's starting with small things. We've had several coaches discuss how they use it with all of the different positions and units. Coach Lemn deploys it to speed up the process for giving players mental reps.
---
SUBSCRIBE: