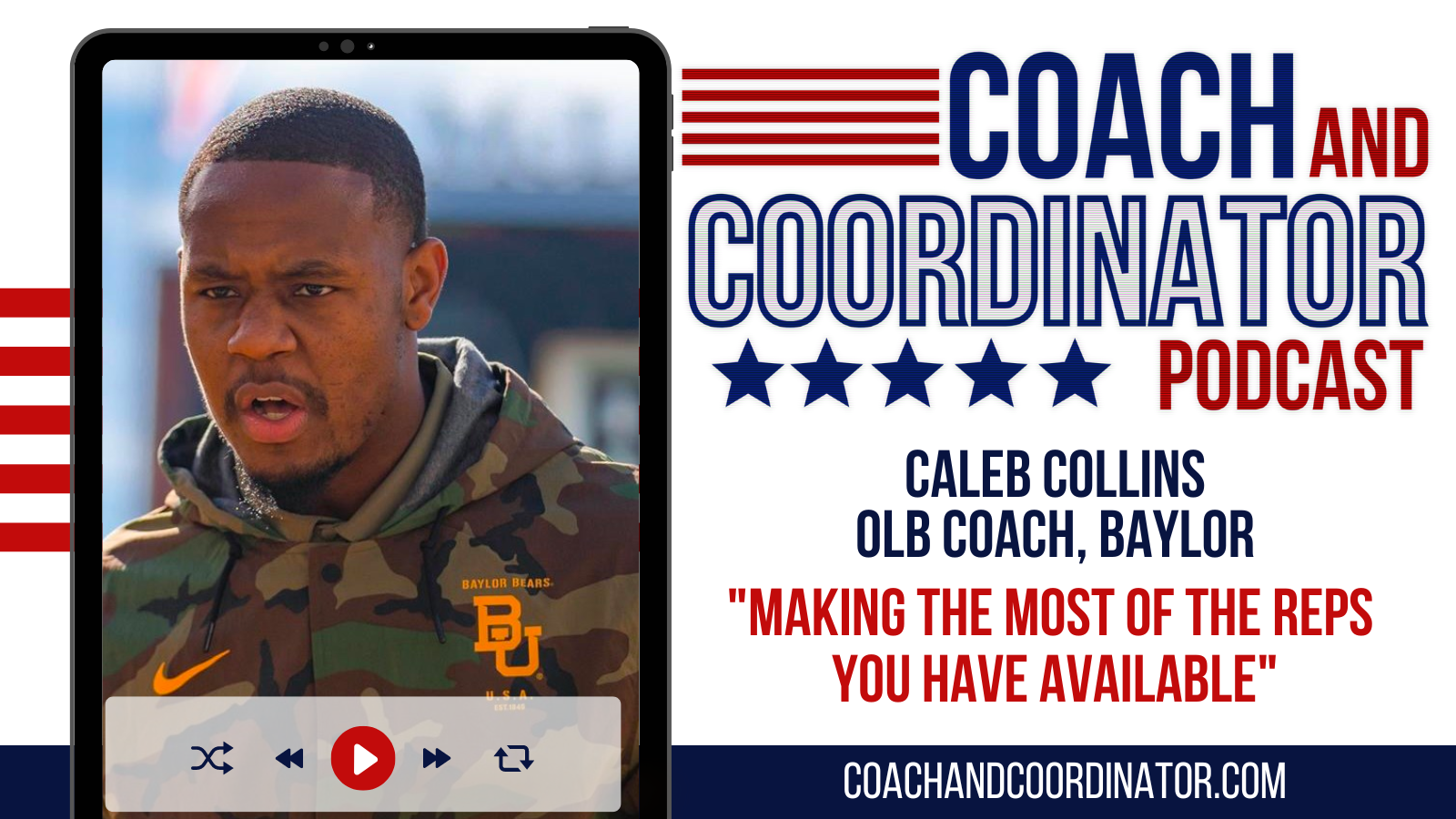 In this episode, Caleb Collins details with depth his desired traits for the Jack position, his teaching progressions and coaching cues for pass rush, and technology tools to speed up process and get more reps.
Caleb Collins coaches outside linebackers for the Baylor Bears. He joined the Baylor staff in 2020 after three seasons at LSU, including the 2019 National Championship season. At LSU, where Coach Collins first worked under Baylor head coach Dave Aranda, he served as a graduate assistant before being promoted to the role of analyst.
Collins entered the coaching profession after a student-athlete career at Southeastern Louisiana, playing under current Baylor defensive coordinator Ron Roberts from 2012-16 while earning a degree in physics. His first job was as a teacher and a coach at Rayburn High School in Pasadena, Texas.
In this episode, Coach Collins shares his journey from high school teacher and coach to LSU to Baylor. He pulls examples to show how his time in front of a classroom prepared him for where he is today. He then goes deep on what he's looking for in the Jack position. Coach Collins sets his players up for success with a toolbox of skills, drills, and coaching cues.
Follow Caleb Collins on Twitter @BU_CoachCollins.
Show Notes:
>How Teaching in the High School Classroom Helps Today
>Getting Reps at Coaching Your Own Room
>Traits Desired in an Outside Linebacker
>Setting the Tone with the Jack
>Setting the Edge and Rushing the Passer
>Teaching Alignment and Recognition
>Using Technology to Speed Up the Process and Get More Reps
>Stance and Start Progression
>Pass Rush Progression
>Keys Instead of Ball Key
>Understanding the Set
>Hand Combat
>Upper Body Violence Instead of Hip Flip
>Coaching Cues for Pass Rush
>Skill Toolbox
---
SUBSCRIBE: