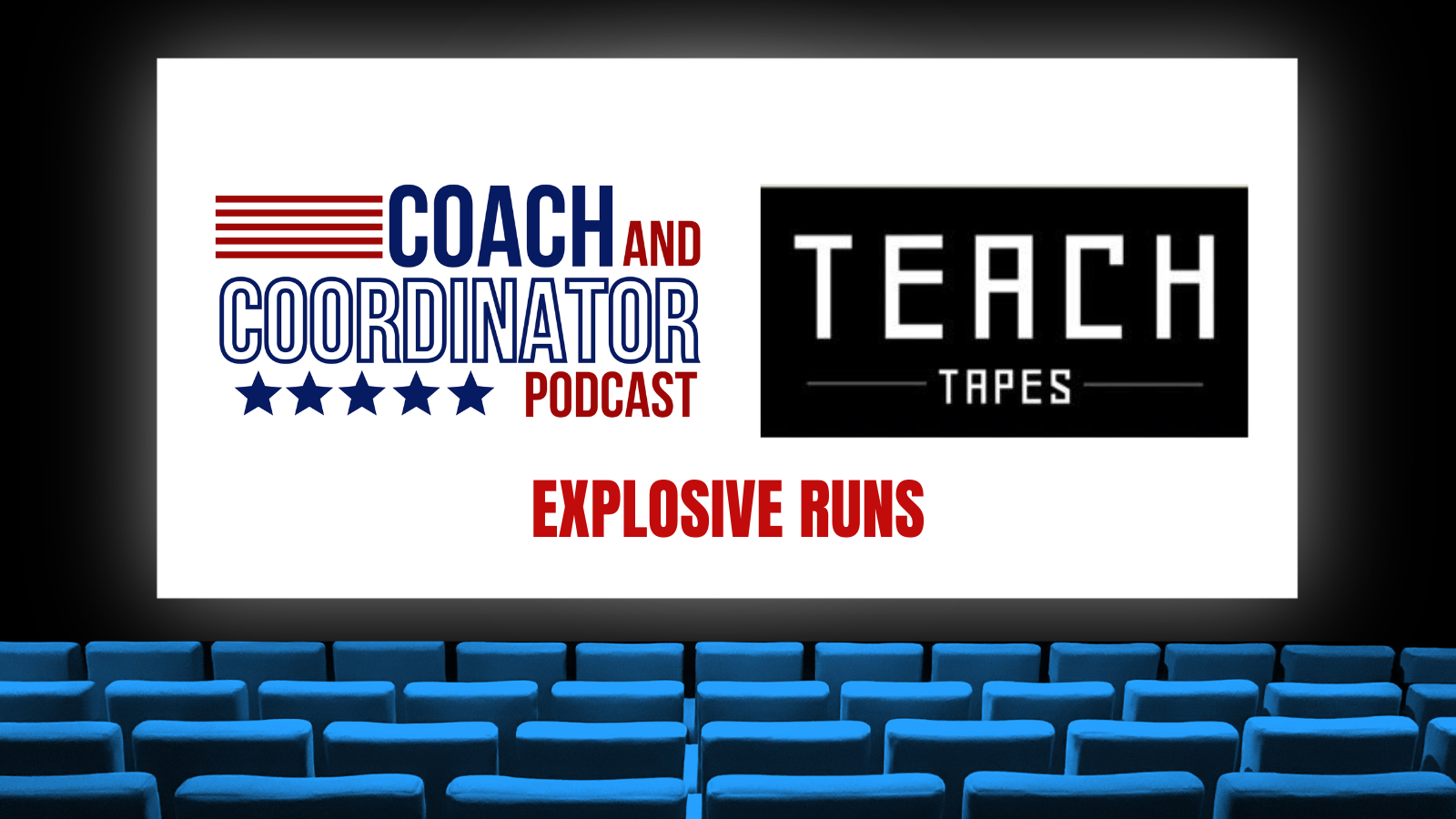 On this latest installment of our Teach Tapes series, Coach Hauser reviews explosive runs, how they take shape, when they don't, and the related coaching points connecting the run game to special teams returns and run defense to coverage units.
Listen On:
Steve Hauser brings a unique résumé to the Coach and Coordinator Podcast in-season lineup, most recently coaching special teams at Iowa State. Coach Hauser has enjoyed multiple coaching stops, including positions at Oklahoma State and the Cleveland Browns. He now manages the @TeachTapes Twitter account, highlighting the best of the best NFL drills and techniques. This week on our Teach Tapes series, Coach Hauser focuses on explosive runs and the drills and techniques to create and stop them.
Follow Steve Hauser on Twitter @HauserFootball.
Show Notes:
(1:44) Kickoff Return Scheme
>Boundary Double
>Field Counter
>Football Is Football Is Football
>Special Teams Mindset Is the Same as the Offensive Run Game
>Mount Union Ethos: Players, Formations, Plays
>Iowa KOR = Michigan Run Play
(6:27) Defense Gets to Make Plays Too
>LB Drills Focusing on Footwork, Block Defeat, Maintaining Spacing
>Slow To and Fast Through
>Similarities to Punt Coverage
(10:15) Outside Zone/KOR
>RB Vision and Trust for the Path
>Step on the Heels of the Ghost TE
>Bounce Until You Can't
>Keep the LB in a Bind Longer
>One Cut and Get North
>Stress and Puncture
>#TEACHrb: Green Bay Packers and Philadelphia Eagles
>Low Beam, High Beam
>Win to the Sideline
(16:07)WR Blocking
>Block for the Least Amount of Time Possible
>Make the CB Be in the Fit
>Not a Kill Shot – Take Care of the Guy
(20:15) Attitude + Effort
>Measure Your Program By It
>All 11 Guys Matter – Be It on KOR or in the Run Game
>Everything Matters
>Highlight in a Team Setting
>Hold True to Fundamentals
Coaches Mentioned in This Episode:
Brandon Staley
Matt Campbell
Nate Scheelhaase
Larry Kehres
Mike McDaniel
Jemal Singleton
Jeff Fox
Bob Wylie
Todd Monken
Ian Shoemaker
Bill Belichick
@TeachTapes Clip of the Week:
Additional Teach Tapes Episodes:
It's All About the Ball – Security and Takeaways
How to Find and Create Opportunity
Take Care of Details and Technique
---
SUBSCRIBE: