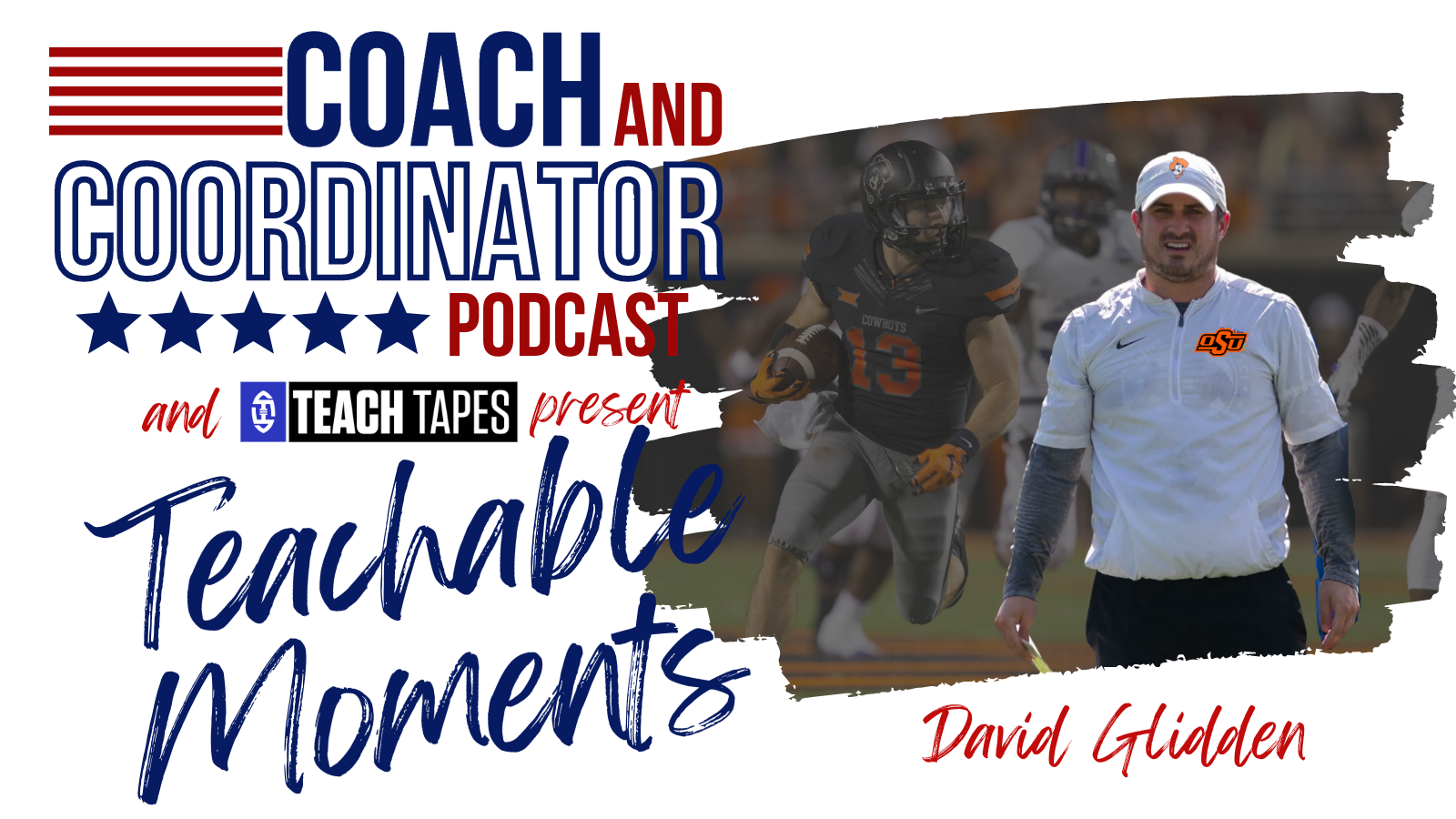 In this episode, the finale of our "Teachable Moments" series for 2023, David Glidden discusses how he has grown in the profession and the top takeaways from his arc of player to coach to back to his alma mater, where he currently serves as an offensive analyst.
David Glidden is entering his first season back at his alma mater Oklahoma State as an offensive analyst. Glidden was a four-year player for OSU and earned an invite to the Atlanta Falcons' preseason camp in 2015. After his time in the NFL, Glidden transitioned to coaching, beginning at his high school alma mater Mustang High School (OK).
Coach Glidden joined the staff at the University of Memphis in 2018. He served in a variety of roles at Memphis, including offensive quality control analyst, tight ends coach, and wide receivers coach. The program enjoyed tremendous team and individual player successes during Glidden's tenure. In 2021, he was recognized on 247Sports' 30Under30 List.
In this episode of "Teachable Moments", Coach Glidden offers tips for coaching ball skills, returning punts, and gaining confidence in front of players as a young coach.
Follow David Glidden on Twitter @david6glidden.
In the "Teachable Moments" series, guest host Steve Hauser sits down with young coaches who have made the journey from the bottom to establishing themselves in the coaching profession.
Show Notes:
>An Atmosphere of the Building: Created Over Time, Proper Expectations
>Different Perspective from Player to Coach in the Same Building
>Tidbits to Share with Players
>Coaching Ball Skills: Hopping at Catch Point, Leveling Eyes, Cleats in the Ground/COD
>Catching Punts with Devin Hester
>Body Language of Punter Kick Direction: Footwork/Leg Swing
>QC to Full Time… "I Didn't Know What I Didn't Know"
>Gaining Confidence in Front of Players
>Be Prepared
>Speak When Impactful
Additional Teachable Moments Episodes:
Jordan Hogan, Wide Receivers Coach, Colgate
Robby Discher, Special Teams Coordinator, University of Illinois
Get all of the videos and drill clips you need at TeachTapes.org.
---
SUBSCRIBE: