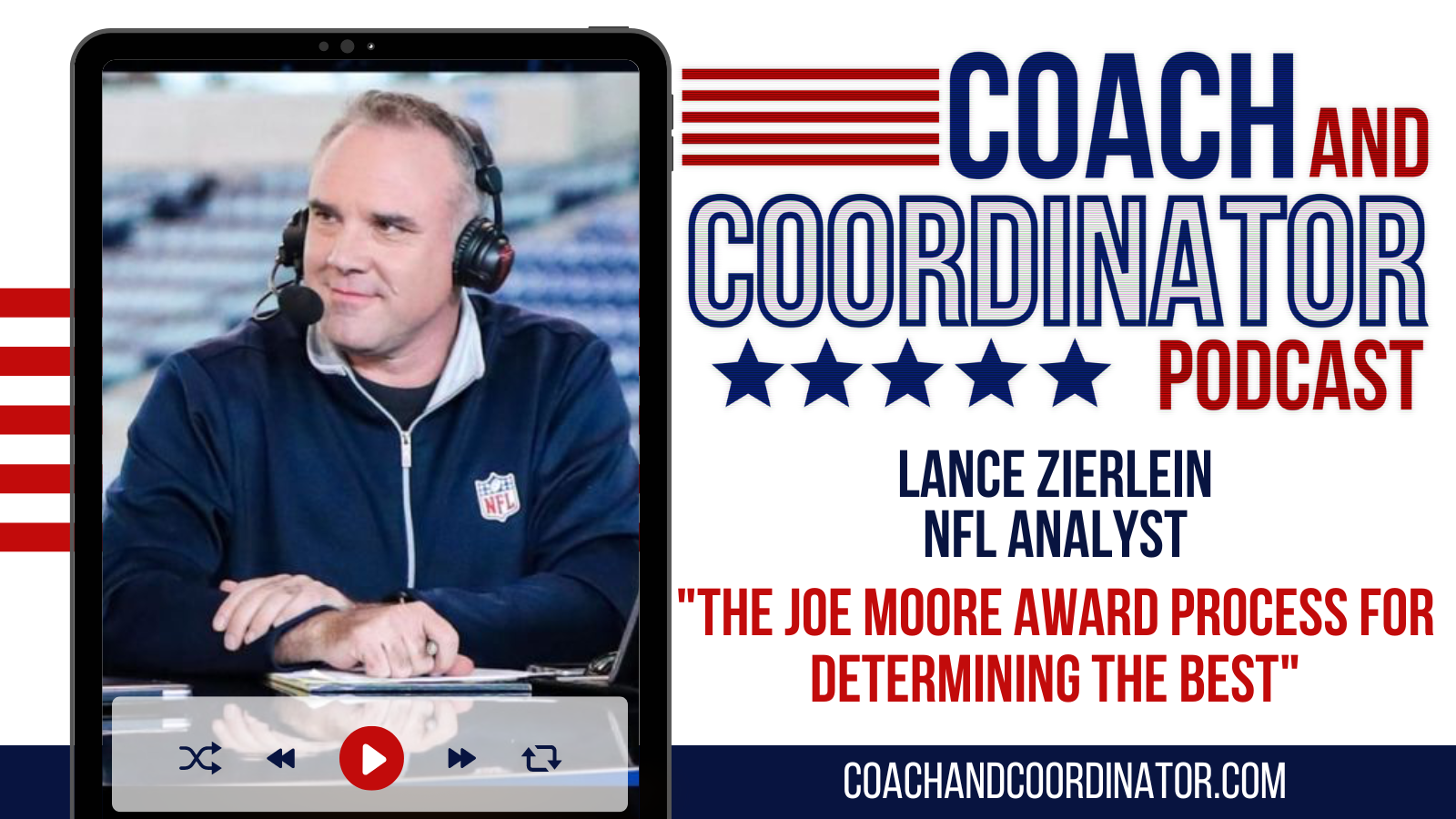 In this episode, Lance Zierlein shares his involvement in the Joe Moore Award, sheds light on the process for determining the award's winning unit, and reveals the characteristics of the highest-performing offensive line units and coaches in the country.
Lance Zierlein is a voting committee member for the Joe Moore Award. He is also a football commentator and NFL draft expert. He writes over 500 draft profiles each season for NFL.com and is active throughout the NFL media sphere leading up to the draft.
Football is in Lance Zierlein's blood. His father is Larry Zierlein, the retired offensive line coach, who coached at all levels of football, including with four NFL teams. Larry Zierlein was the offensive line coach for the Pittsburgh Steelers when the team won Super Bowl XLIII.
In this episode, Lance Zierlein comments on both the physical and mental aspects of elite offensive line play, and he shares the common characteristics displayed by the coaches leading these top units.
Follow Lance Zierlein on Twitter @LanceZierlein.
Show Notes:
>How Lance Became Involved with the Joe Moore Award
>The Process Is a Funnel
>The Watchlist Is Everybody
>Duke Manyweather: His Assessment of LSU Five-Man Protections in 2019
>The Three Phases of the Block
>Learning About OL Play from His Dad, NFL Coach Larry Zierlein
>Evaluating Pass Protection of the Unit
>The True Sign of Teamwork in Pass Pro
>Run Schemes That Lend Themselves to Teamwork
>Assessing Varied Technique
>Characteristics of the OL Coaches Leading the Best Units
Additional Joe Moore Award Episode:
The Impact of Joe Moore and the Joe Moore Award – Aaron Taylor, NFL Alumnus and Founder of JMA
Related Resource:
The Moore Method – OL University
---
Additional Offensive Line Episodes:
Sonny Dykes – Putting Together an Offense
Bob Wylie – Coaching That Builds Relationships (Part 1)
Bob Wylie – Coaching That Builds Relationships (Part 2)
Kyle Caskey – Blitz Pick-Up
Research and Development Series:
---
The Winning Edge – Takeaways and Ideas for Implementation:
1) Build Schemes That Allow OL to Work Together
Lance Zierlein talked about schemes that highlight an offensive line working together. As coaches, we need to understand the type of linemen we have on the roster. If we have some big, powerful guys who can win mano a mano, then schemes that leave them on their own at times may work well.
Most times though, we need to build schemes that allow offensive linemen to work together. Ultimately, we need to determine what's right for our offensive line because in that unit is where we will find offensive success.
A segment from a clinic talk with Sonny Dykes, which we highlighted on the podcast comes to mind. In an offense which has tremendous quarterback and receiver play, Coach Dykes still begins with determining what his linemen will be best at.
2) Work Together in Pass Protection
Pass protection shows how well an offensive line works together. Again, we can easily analyze an individual offensive lineman's technique, but we are playing within the context of a scheme against various defensive schemes, movements, and pressures. One on one is great in practice to work technique and understand each lineman's ability, but ultimately, they need to work together to protect the passer.
Lance made this point, highlighting that a good portion of our time should be spent working together to be able to give help, pass off twists, and handle all that a defense throws at us.
3) Start with Finish
Lance pointed out two important characteristics of the offensive line coaches of these elite units. He pointed out that the best start with finish. They display that ability to take the block through the whistle. Some line coaches like the phrase "go until the echo of the whistle." Emphasizing the finish is a logical place to start. Many things may go wrong through the first two phases of the block, but it can all be righted with a hat on a hat finishing the play.
The other aspect, which Aaron Taylor mentioned as well, is developing brotherhood. For the offensive line unit, these guys ultimately need to lead their own culture, but the best coaches facilitate it.
---
SUBSCRIBE: