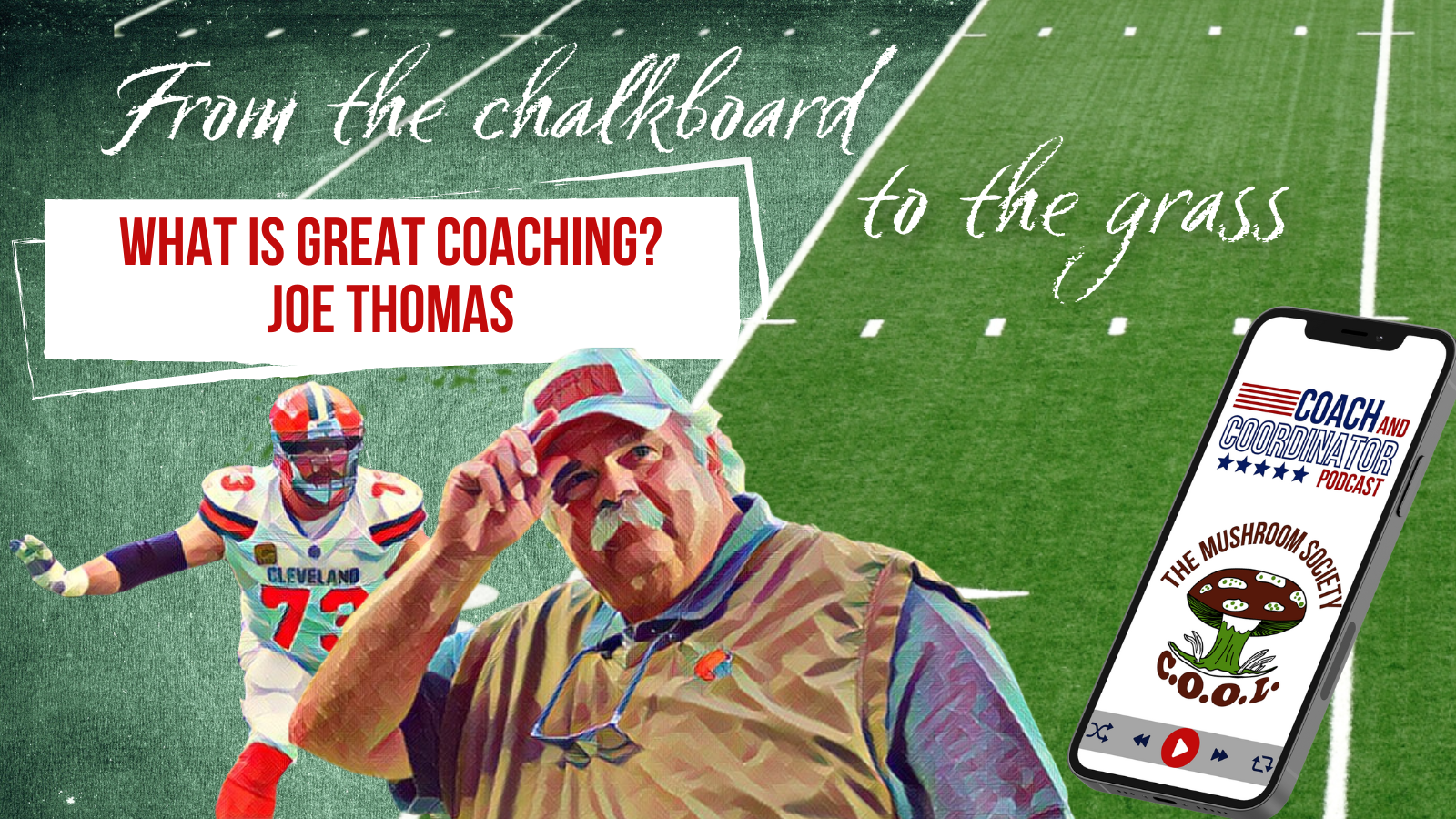 Joe Thomas, former All-Pro left tackle for the Cleveland Browns and soon-to-be Pro Football Hall of Fame inductee, joins Bob Wylie for an honest discussion on the definition of great coaching and how the player-coach relationship best functions in the meeting room, on the practice field, and on gameday.
Listen On:
Joe Thomas played 11 seasons for the Cleveland Browns. He was the third overall selection in the 2007 NFL Draft out of the University of Wisconsin, where he earned All-American honors. Thomas' hallmark was his consistency of performance. He played a remarkable 10,363 consecutive snaps at left tackle, which is the longest streak at any position since the NFL began recording the statistic. He was voted to ten consecutive Pro Bowls (the only offensive lineman in NFL history to do so), achieved eight All-Pro selections, and earned a spot on the NFL's 2010s All-Decade Team. Thomas is widely expected to be voted into the Pro Football Hall of Fame in 2023, his first year on the ballot.
Follow Joe Thomas on Twitter @joethomas73.
Show Notes:
(3:50) Great Coaching Defined
>Consistency Is Most Important to Players
>Clear, Correct, and Consistent Messages
>Adapting to Each Player's Learning and Playing Styles
(9:33) The Player-Coach Partnership
>Both Sides Share Responsibilities
>Give Ownership to Players
>Make Players a Part of the Process
>Build a Two-Way Street of Trust
>Let Players Figure It Out
>Encourage Players to Speak Up
(16:36) Empowering Players
>Players Become an Extension of the Coach
>Build Camaraderie Throughout the Roster
(21:42) A Productive Meeting Room
>Coaches Cannot Be Insecure
>Find the Validator
>Create a Non-Threatening Learning Environment
>Show Players You Care About Them
(28:40) The Learning Environment
>Write It Down
>Get Out of Your Seat
>Make the Player the Teacher
>Hear the Lesson from Different Voices
>Reimagine How You Use the Meeting Room
(32:54) Preparation Process
>Meditation and Mindfulness
>Visualization
>Psycho-Cybernetics
>Note Cards
(42:49) The Best Grading System
>Dig into the Why
>Tweak the Process
>Include Contextual Comments, Not Just a Plus or Minus
>Have a Growth Mindset
>Include a Run Grade, Pass Grade, and Total Grade
Additional Mushroom Society Episodes:
Al Saunders: Learning from 50 Years of Coaching Experience
Kyle Caskey: Blitz Pick-Up
Jonathan Himebauch: Building a Strong OL Culture
Additional Resources:
Dante Scarnecchia: Practice Drills and Work Ethic
The COOL Clinic Channel on CoachTube
---
SUBSCRIBE: