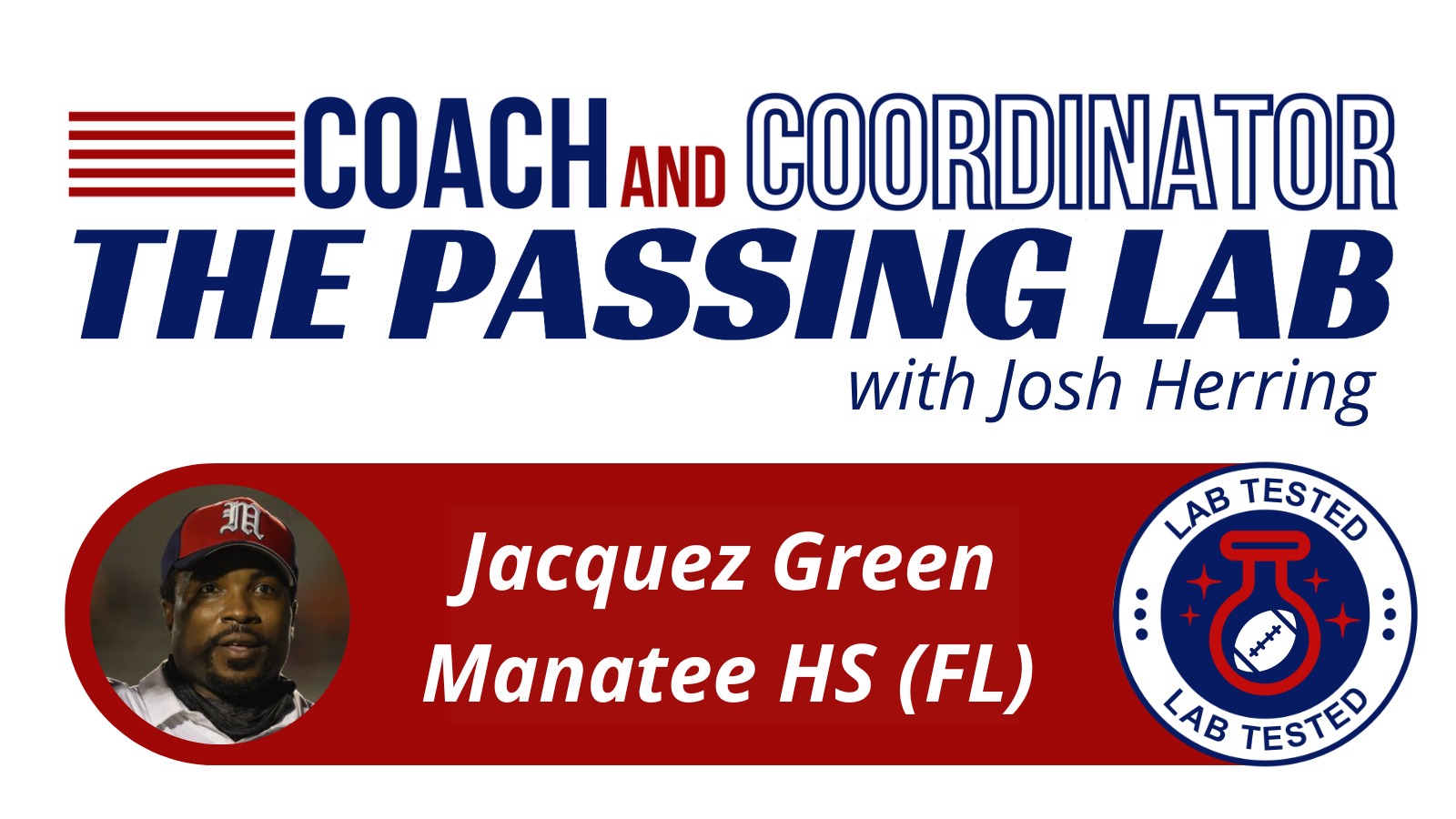 In this installment of our "Passing Lab" series, Jacquez Green discusses some of his coaching influences, including Steve Spurrier and Jon Gruden, how he filters NFL concepts for the high school level, as well as the nuances of his favorite passing concepts in high school.
Jacquez Green is the head coach at Manatee High School in Bradenton, Florida. Previously, he had been a successful offensive coordinator at multiple schools across the state of Florida since joining the coaching ranks following a prolific playing career.
Green made his mark at the University of Florida, where he was a consensus first team All-American and national champion playing under the legendary Steve Spurrier in the 1990's. He was a second round pick of the Tampa Bay Buccaneers in the 1998 NFL Draft and enjoyed five seasons in the NFL, playing for the Buccaneers, Washington Redskins, and Detroit Lions. Green was inducted in the University of Florida Football Hall of Fame in 2017.
In this episode, Coach Green discusses how his collegiate and professional success now translates to being a coach at the high school level. He specifically goes deep on why it is important for wide receivers to understand the quarterback's thought process, how to get running backs involved in the passing game, as well as his favorite passing concepts at the high school level, including snag, stick, and drive.
Follow Jacquez Green on Twitter @JacquezGreen.
Follow guest host Josh Herring on Twitter @joshherring1.
In our "Passing Lab" series, guest host Josh Herring, QB Coach at Lassiter High School (GA), sits down with passing game experts on the leading edge of offensive strategy.
Show Notes:
>Influences in Coaching
>Spurrier Offense
>Learning Protections
>Choice Routes
>Difference Between Pro, College, and High School
>Snag Route
>Drive with Tags to Beat Different Coverages
>Reading the Snag
>Calling Plays from the Field and Box
>Adjustments Going from OC to Head Coach
Related Passing Lab Episodes:
Andrew Coverdale, Offensive Coordinator/QB Coach, St. Xavier High School (OH)
Jay Wilkinson, Offensive Coordinator/QB Coach, Fayetteville High School (AR)
Additional Resources:
Andrew Coverdale Video Course: Boundary Pass Concepts
Josh Herring Video Library
---
SUBSCRIBE: