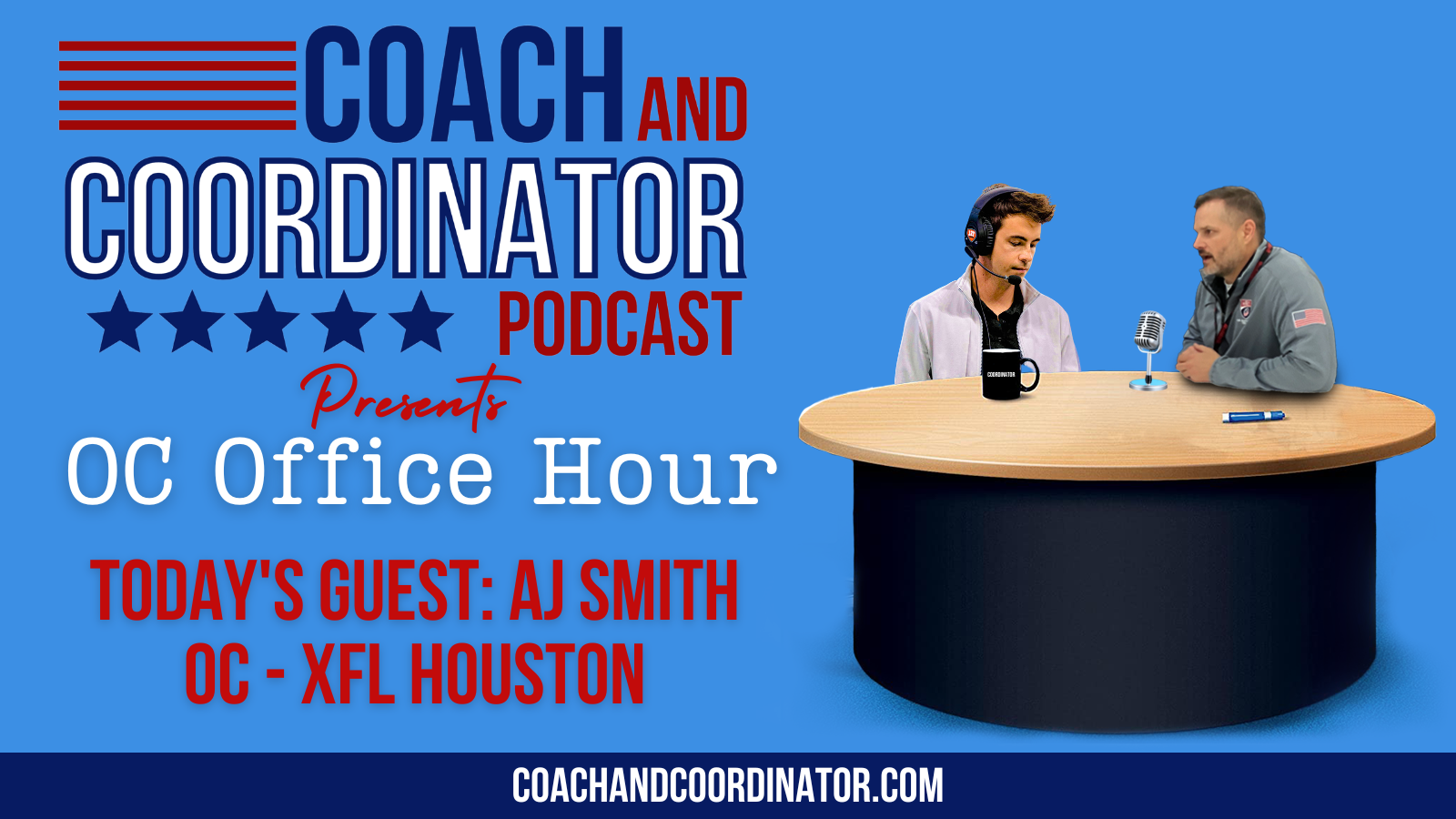 Our interview with AJ Smith covered many aspects of RPO, condensed formations, and playing to the strengths of your personnel. Review the conversation in its entirety below.
This interview was transcribed by HappyScribe.com. Please forgive any minor typos.
Keith Grabowski:
We're back for another week of our in-season, offense-focused series, the OC Office Hour. And joining me today is the Offensive Coordinator for XFL team Houston, Austin James Smith. AJ, great to have you back on the podcast again.
AJ Smith:
No, thank you, Keith.
Keith Grabowski:
So you have the luxury this fall of sitting back and watching some games as you prep and get ready for your season, which will be in the spring. But it's always fun to sit back and see some of the patterns evolve, see some of the trends evolve, and I know you've been picking up on a lot of those.
AJ Smith:
Yeah, usually when I'm in season, you can't focus too much on what other people are doing. You got to focus on yourself. And then your whole offseason study is kind of going backwards. But interestingly, with the schedule of our training camp starting in January, we're kind of going forward, we're keeping up to date. I get my all-22 sent in every Monday of college and NFL, and we're keeping up with what's happening in the pro game and the college game.
Keith Grabowski:
So what are you seeing right now? Where do you see the game heading with some of the trends that are evolving? And I know they're distinctly different this year between the college and the pro games.
AJ Smith:
Well, I would say with the college game, it's two different things I'm seeing. With college, if you see one college football game, 85% chance you've seen them all. All the offenses are starting to look the same. But if you look through the course of history, that's what college football is always kind of done, and then these offenses just disappear. And I don't know why it is this way, but in the last 20 years, there's no more naming offenses, right? There used to be the veer and the wishbone and the West Coast offense and the run and shoot. Now it's just offense.
And what you're seeing now in college football is everybody outside of a few teams that stay true to their philosophy and being different in schematics, whether that's triple option or air raid, is you're seeing a heavy dose of eleven personnel tempo running the same five RPOs, same inside run game, and the same type of play action, quarterback boot. Everybody's doing it in major college football.
And I just think that's interesting. I don't know if you call that the eleven tempo RPO offense, but with those plays I just mentioned, that's an offense in a box right there that everybody in the game is doing well.
Keith Grabowski:
I think part of this in looking back on football history is a function of how accessible everything is now to coaches. If you go back and you read Homer Smith, one of his books, self-published books, one was called History, and he goes through the history of the offenses, and how they evolved, and the defense that evolved to stop them, and then what the offense evolved into, or the new offense that came in vogue.
I think part of that, too, is you went out and you learned an entire offense, and you had to spend your time doing that. It's not like, okay, I'm going to go here, look at this, and then I'm going to get online and pick up this over here.
And I think just now, with technology, you see how this is spread. Even with what happened in the pandemic, I think jumped it forward even more with how things are so accessible, and everybody can learn all these different things. And you're right. It's offense now, right? There's no naming these things. You could throw a little nickname on stuff. But truthfully, what one team is doing is a lot like the other team is doing, and they may call themselves distinctly different types of offense, right?
AJ Smith:
And here's what's crazy to me. I'm seeing these trends, and we can get into some schematics maybe. I'll call one of these the RPO of the Year, which I'm seeing every single game I watch. But if we go by, almost like a crypto chart, okay, how everything evolves and changes. Well, history of the chart of offense shows us, and it's kind of crazy to think that this could possibly happen. But look at history, and I'll go through it.
In 20 years, nobody will be running this offense. Okay, let's go back 20 years, where 85% of college football was under center and two backs. Maybe it's a little bit further back than that. 25 years, right into the early 90s, late 80s, it was under center, two backs. Maybe had it tied in, maybe had three wide receiver sets.
Okay, if you looked at it right now, nobody in college football ran that formation, got under center this year, or maybe even the last five years, right? That formation, that offense is extinct. Go back 25 years further. What was being run by 85% of college football in the 70s was the wishbone, right? And maybe a version of the split back veer.
For the last 40 years, nobody has run the wishbone. So you just talked about the involvement and where we are now. I'm thinking 20 years down the line, what's it going to be then? Because the trend is everybody in college football kind of copies that offense today and gets it tight. And I think the biggest reason why is because these guys are not professional athletes at the end of the day.
And offensive coaches are doing their part in their job. It's like 'hey, what's the most explosive offense we can put together while these guys have to go to class?' They have all this other stuff they got going on and being a student. And then these hours. We got to get them the easiest offense we can put together and go score points. Which is what you're seeing in the game. There's a lot of points scored now because of where the offenses have evolved.
Keith Grabowski:
Yeah, I think that's exactly it. I really believe in looking through history and things do come back, but they come back different. So you could look at, for example, the idea of the running quarterback and go back to the single wing. Well, yeah, a lot of that came back now distinctly different with that guy and all the things they're doing with him.
You look at just some of the schemes that become popular, and they go away for a little bit. And a lot of this is just the answer to some of the things that are happening defensively. I think all of this is happening at a much faster pace than it did in the past, so you say 20 years, but I think now this has sped along a little bit. I don't know if it's now 10, 15, five, but I think the evolution of the game is going to continue at a rapid pace with things coming in and out of offenses and defenses as a response to something popular that's happening this year.
AJ Smith:
Yeah, that's a great point you mentioned about what's happening defensively. And I'm seeing a trend starting to go back the other way. But a lot of this works on offense because of the fact that everybody on defense got enamored with four deep zone, match coverage, all that type of stuff. When I see that, I just say that's give-up defense. And now teams are adding a gap, RPOing off guys are trying to match, and they're doing a good job of exploiting it.
What I would see coming back is single high coverage, cover three. People got out of that because they were so worried about four verticals. You don't really see a true four vertical team anymore where they're trying to exploit cover three. And I could see cover three, cover one coming back in a strong way, trying to catch up with some of these offenses, and it circles back. Let's talk about the RPO of the Year, and let's see if yours and I agree right here. What do you say?
Keith Grabowski:
Yeah, let's go ahead. What are you seeing?
AJ Smith:
Okay, everybody's doing this to where let's say it's two by two, and we got two receivers to the right and eleven personnel tied in off the ball into the left, and then the receiver out of decks.
Well, we're going to go RPO, and so we're inside zone, and we're not going to use a technique where the left tackle stays and blocks the end. He's going to be up the field is true inside zone. The Y is going to run a flat route, and the quarterback is going to read that in. If that end squeezes at all, he's going to run around and he's looking to throw to the flat route to the tight end where the x or the receiver over there is blocking that corner.
Okay, well, that's not the end of the play because what if the will didn't squeeze because the court backs really not going second level reading if the will squeeze or not, they're being coached not to care. It's all about the end. Because if the wheel comes over there and covers that flat route, well, then the quarterback pumps it. And now to tied in, turns to the next level and blocks the guy that's actually covering.
And then the quarterback takes off and he runs. So right there you have three different plays in one play, which is true inside zone play action. Throw it to the flat screen or it's play action or run fake run around the end and it turns into QB arc if the wheels out there covering them. I mean, I'm seeing that play every game. Everybody's running that, especially if you have a quarterback who's running. So I'm calling that RPO the year.
Keith Grabowski:
Yeah, I see it quite a bit. I've even seen that at the high school level. And they're doing a lot of similar things, too, as far as personnel. And like you said, guys going to class with the most explosive offense we can put on the field. Yeah, definitely. I would agree with you. RPO of the year right there. And you mentioned just everybody doing the same things, right? In same play actions. So in regard to the same run, same play action, what's the trend there?
AJ Smith:
You know, it's inside zone, outside zone. How can we split flow with it and then how can we pop the tide in out? So, again, staying with most of these quarterbacks out here, pretty athletic these days. You're seeing them fake the split zone and then boot around and they're looking for that tied in for an overall behind it. I mean, everybody's doing that. Maybe the Z runs a comeback or post, but he's going to highlight the weak side flat defender.
And hey, if everybody's covered, that quarterback is going to take off. And here's the reason why. It all goes back to philosophy, not so much schematics. With the offense we're talking about, this is a run to set up the pass offense. And so when you sit there and run these things, run these things, those play actions become a lot bigger. And I think it fits everybody's philosophy. Everybody is really big on run emphasis and running the football. It fits with what they do. And so whether it's play action or RPO, when they pass, it's like, well, we pass because they took away the run and our RPO made us right.
AJ Smith:
What I see happening is a lot of these teams that are passing for 300 yards a game, if it wasn't for RPO, they'd probably be passing for 150 to 200 yards per game. But now they're being seen as passing teams or balanced team. Some even call them air raid when they're completely not. There's so many RPOs going out there. It fits within their philosophy of run to set up the pass, and it kind of skews the stats in a way, but it fits right into philosophy. And they've opened up and started not to care whether or not they got it through there or through the ground, as long as it fits what they're doing in the RPO game.
Keith Grabowski:
The saying that the run game is the quarterback's best friend, right. If you have a good run game going, those things are going to open up naturally in the RPO and the play action, and I think it's interesting play action, it felt like for a lot of teams, wasn't in their playbook for a while as we got into RPO. And you even hear guys talk at clinics, well, RPO is my play action and RPO is my quick game. You see both of those things back in. I think there's a time and place for both of them because you still have to stretch the defense vertically. And I know you could get into those third level RPOs.
AJ Smith:
Oh, yeah, those are in existence.
Keith Grabowski:
You get the floods to the other side and it attacks in a different way. Right. So you're going to put different stresses on the defense.
AJ Smith:
I think I watched North Carolina maybe. No, it was wake forest. I was watching Wake Forest versus Vanderbilt, and they went RPO, and the slowest RPO I've ever seen in the history of football. Almost a three second mesh, and that quarterback pulled it and threw a post route about 45 yards down the field. And you're starting to see that become kind of a new trend, is the slow RPOs to see if we can get to that third level touchdown?
Keith Grabowski:
Yeah, I think I saw Stanford maybe doing that as well when I first saw Wake doing that. They've been doing it at least four years now, maybe a little bit longer, but first saw them doing it, I was just so interested in what was going on there. Everybody's in sync because that offensive line, the way they're blocking it, they're not quick to climb to level two. I mean, they're really working to displace level one.
And because that mesh is so slow, they're literally at times walking the ball to the line of scrimmage and trying to get the linebackers to trigger quick, because if they do, that's where they get them, right? And then on top of it, like you said, holding the ball for three plus seconds, I mean, three plus seconds in dropback, the ball is not out by then. Your quarterback is scrambling or leaving the pocket most of the time if he's not sacked. These guys are three plus, and they're hitting glance posts down the field without anybody being over the line of scrimmage. I think it's a brilliant concept. They've really done some great things with it. I've watched Dave Clawson speak in a couple of clinics on it and the running backs coach John Hunter as well.
Just an incredible concept. I'm a little surprised that hasn't picked up that slow mesh timing with a lot of other teams.
AJ Smith:
Yeah, it'll be interesting how these things keep evolving. Again, it fits within that philosophy run to set up the past. How can I keep faking that run, faking that run and then try to hit you, which essentially you said RPO play action, but almost all of them, and unless it's click screen, key screens, or pop pass offense and they just found a way to do it with post.
And so it will be interesting to see how it keeps going. Are we going to be sitting here 20 years from now saying, 'hey, remember when teams are doing RPO?' That's what history tells us. Sometimes I just sit here and wonder and I'm like, where's the coach that is somehow hooked up with Bill Wash? And it is a split back under center coach and believes in that because the media, if Bill Wash came back and he was 30 years old right now, would he still run the same offense study? He innovated in the NFL or college football at Stanford and I think he would because he believes in it. So we'll see. That's all interesting stuff.
Keith Grabowski:
Yeah, last thing on Wake, what I did notice a couple of years ago is they went from being almost exclusively that slow mesh to doing a little bit more with the quicker mesh, which I thought was very interesting because I said on the slow mesh, those linebackers trigger too quick, they're opening up scenes. And now you think about really putting people in an uncomfortable position. Sometimes we slow mesh, sometimes it's just a regular tempo, regular speed kind of mesh. I would think that really starts to mess with the defense, those linebackers on. When am I feeling and fitting in this gap?
AJ Smith:
No, it is. It's interesting with the linebackers because they've caught on, they've had to defend how the backside linebackers or weak side to the back, if we're in a gun, are very mindful of RPO, whereas the front side play side, that Sam linebacker, they're kind of being taught the trigger. And I think what's kind of cool now, I first kind of saw this maybe two years ago from Ole Miss, is that when they're getting their mesh, whether it's quick or slow, traditionally for the last 15 years, you got it and you read the end and then we started reading linebackers and you're looking where the back is.
Well, now they're catching it and not even the quarterback is not even seeing the mesh and he's looking at the sound and he's way out to the right. He can't even see what's going on with the running back. And to counter that, if they trigger it all, they're going back away. Front side, RPO and I thought that's a great answer to what the defense answered to them and all good stuff. But one story I'll share with you because we're talking a lot about RPO and what make RPO go just like anything in office, just like if you're a passing team like we are is the quarterback.
And there's something about RPO's. I've ran them the last seven or eight years. What depends on how much we run it is the quarterback. Is he a guy that really has a feel for things and has an intuitive feeling to know that's going to be there, or is he guessing? Because an old joke is one time we're at Jackson State with Hal, and the quarterback we had in read the RPO three times wrong. I mean, we're just running inside his zone stick, and he did it three times in a row. Each time should have been gas. And we kept doing the exact opposite of what we're supposed to do.
I said, man. Coach mum, we're not running RPO. We're running RPGs. Run past guests. Because he was guessing and you just kind of know. I think taller quarterbacks benefit from this because they can see the second level defenders really easy. But if you sit there, and all of a sudden, things are getting completed, and you don't over coach it, and you just have a feel for it, I think that's when you have to go RPO, not just because it's the scheme of the day, but because your quarterback has a special ability to do it, and effectively.
Keith Grabowski:
Yeah, I like to run past guests. Well, let's flip this a little bit and go to the NFL side of things. And there's definitely some trends in the NFL, some of its guys coming from the same tree. But with them it's interesting to see when they get on their own, how they add their own flavor to things. So what are you seeing in the NFL?
AJ Smith:
I have some new favorite teams to watch because they're starting to be some path to set up to run. Teams in the NFL is way more about personnel than the college game. So when you're paying that quarterback millions and millions of dollars, he better be the ball in his hands and he's the one that's going to make this thing come and go. And so from a schematic standpoint, the differences in college, it's about tempo. Let's catch a guy not lined up right, abuse them with the RPO. If he's not there, we pop it or we take that guy 20,30 yard run.
Well, in the NFL there's more practice times. You're not going to catch too many NFL teams slipping with tempo. In certain cases, defenses get tired as a base. There are pros over there too. They're going to be ready for that. But what they're doing instead is instead of challenging them to be lined up, they're challenging them to have their assignments correct. And it goes back to McVay and Shanahan and the run and shoot used to do this, but did it differently as they motion almost every play. And when somebody goes in motion, a linebacker maybe have to change the front to the line, could change to the coverage.
AJ Smith:
All the defense has to talk. And when that motion happens and somebody miscommunicates, boom, a guy goes down the field, wide opener, boom. A gap. Uncovered that. Inside zone, outside zone, just found this gap. Boom. 20 yards. So you can see it's the same type of thing each offense is trying to get in the college and pro, but they're doing it a little bit differently. And I think the pros, what's happening, too, is they're doing a lot of good job. And we can get specific to who I'm talking about, is more condensed split. So we mentioned Shanahan, McVay.
Well, the Vikings with Wes Phillips. Absolutely. If you see what Kurt Cousin is doing now, and one of my new favorite teams, Miami, with two super fast receivers, that would have been me and James types of receivers with Waddle and Hill. They almost look like the greatest show on turf. When you compare Tory Holt and Isaac Bruce with the speed they have and the concepts, they're doing well. They're getting in these condensed sets. So instead of it when you're in spread and in the college game and these super spread splits, well, the gaps are right there in front of you.
And it's usually six or seven. When you get so condensed, you're talking about I don't even know what the number is. But if you get into these nasty splits, there are 810, maybe even eleven gaps out there. And what that does is it creates more holes for offense to take advantage of. And then two, it's not so much about coverage beaters and concepts beaters, it's about leverage beaters. You might be in cover three, and you're supposed to have a guy covered a flat route with your flat defender, but he outran them to the sideline because they're head up and there's so much grass because he's convinced. And it's interesting what they're doing with all the motions, and I'm a big fan of it. And the speed to the speed they're electing to get in the draft.
Keith Grabowski:
The content sets definitely provide you an advantage. You get those speedy receivers, and now you have all kinds of grass for the defense to cover out there. Plus you're creating those gaps inside. Right. So the thing I see, obviously do it well in the NFL. I've seen some high school teams trying to do the condensed sets. And the thing I don't see them doing enough is taking advantage of all the space that's created outside, too. And sometimes they get into this garbage in the middle of the field, and the quarterback, he doesn't know where to go with the ball. But it's as simple as like, just bring those guys all the way across to all this space over here. The picture is going to clear up pretty quick.
AJ Smith:
And I'll tell you another reason why I like to condense as well. Now we're going to flip it and think what the defense is. And maybe we're talking about the give up match defense for deep please don't hurt not so much please don't hurt me defense, where they just play prevent, but they're trying to match. And so if you go out there and you're getting these wide splits, the defense is going, hey, we can put seven in the box.
The Will and the Sam and this is talking four down. The Will and the Sam will help in the run game. That seven man box great. We got three over two on our left and three over two on our right. Talking about outside linebacker safety in the corner. Well, that's all great. When we split out wide for you and everything is kind of in front of you and you can see the routes that are happening. And there's times to do that when you're trying to create maybe an ISO one on one at the corner, linebacker safety, whatever. But when you condense and you're trying to say three over two, three over two, here what happens when, let's say the right side, Y and Z go vertical.
And so they've matched it. They got three over two. They're matching. And the Y or the H on the other side is running a crossing route. Now all of a sudden, you can change the distribution to match distribution from it being two by two to three by one, or even flood the field with the running back and be four by one in the snap of a football. And so that's creating a lot of match problems as well. What's the answer? Do we man?
Well, what if we go mesh with that type condensed? But it goes back to what you just said. That drag route is going to be running for days. And so it's interesting stuff. And I'll give you one more thing I like about it, too. I call it nasty. Where the X and the Z line up five yards from the tackle. The Y and the H adjust accordingly whether or not it's one to three yards from the tackle or whatever. I see so many times with teams that split out wide and they go third and one, third and two, and they run inside zone to try to get it.
And it bounces out and the receiver can't help, the Wheeler, the sound, and that guy shoots in and makes the play because the receiver is so split out is outside leveraged. Well, with these nasty splits, I'm thinking specifically of the Dolphins play versus the Patriots. Everybody went in to stop the inside zone. Well, now, since the splits are so close, the Z and the y going help on that same outside linebacker.
Then when he gets stuck and he bounces out instead of somebody in his face, it's a foot race to the sideline. And because you're condensed now, you have this chance of a big play if they oversell the middle of the line of scrimmage, and he can bounce out and get 510, 20 yards. Especially if the corner misses or gets blocked, sucked in. And sometimes when it's one on one with the corner, that's it. That's a great match up. You're telling me our running back is going to be one on one at the corner to get the first down here because we condensed splits. I like that match up. There's a lot of cool things going on with condensed in the NFL.
Keith Grabowski:
Yeah, I think the other thing you see out of it, too, and I saw it from the jet yesterday, a little bit on Miles Garrett. You get in those condenses and really, it doesn't matter who it is. It could be a tight end, it could be a receiver. It's stuff I've used before when we had to stop one of those kind of guys. You use that nudge protection, go inside and chip him first. He's looking at you and now making that job so much easier on the tackle. And those guys are still then able to get into their route or get across the field.
AJ Smith:
Exactly. It helps with the protections as well, because you can chip from almost four different guys right there. So Chiefs have been doing this, I think my fondness of it as of lately, watching it this year, we're only two games in, is some of these guys before have been run to set up the past, and a lot of this was to help exploit some gaps and exploit some play actions and hit them deep. And it's usually under center play action, which let's talk about lower levels, especially high school football.
If you don't have the offensive line, that's the ask your quarterback to get under center and play action. It's not easy. You have to have the guys. And that's where half of football, to me, being offensive coordinator is you deciding personnel. And what you do with that personnel, it's big decisions right there in saying that. What I'm liking about it, specifically with the Vikings in Miami, is they're getting in the gun and doing the exact same thing, and they'll get into play action stuff. But now it's always been the advantage with the gun, is you catch it and you see it.
Now you never turn your back to the defense, and you can get it out immediately. So Tua and Cousins are getting the ball out quick, or they hold onto it. And if they found one of the exploitation we're talking about with the motion and the condensed flips and send that thing on down the field. Betty exactly.
Keith Grabowski:
Well, you're gearing up for the. Season you'll get going in January. You're not new to the spring leagues. You've been there before in some of the spring leagues. There's been so many now there was that little bit of more of a college flavor to the offenses, yet you would still see some of the pro concepts being involved. Where do you see the spring leagues evolving to as far as the way they'll attack with offense and again with the idea that in some ways you got a lot of guys you're trying to highlight and showcase.
AJ Smith:
I think it all depends on the coordinators and who's in charge with far as the offense and who the quarterback is, because if you looked at other spring leagues, they did not compare to what we had in the XFL the first time. And this is different. Philosophies and I think the XFL had much better quarterback play and it always goes back to whether or not it's RPO drop back. Pass the quarterback and can he execute and is it fundamentally sound and the history of spring leagues has shown you our style of offense.
Whether it was How June or myself and these other deals going back to even Mouse Davis in the 80s in June and John Jenkins. Our style of error rate and running shoes has always had success because it's fewer plays and it's rep over and over again. And when you only have a few weeks to put together a team and go out there almost like an All Star Game format, that type of mentality has been successful as opposed to trying to put in NFL playbook in a few weeks and think you're going to get an NFL install in now as we continue on in years down the road.
And even with our offense, stuff will continue to get added in with continuity. But I think less is more in leagues like this and it's just all depending on the coordinator if they believe that or not.
Keith Grabowski:
Coach, you're always innovating. That's how I first met you. I think we're at AFCA and you were showing off our systems and now I know you've been evolving the tempo system as well. We've talked about that on the podcast before. So what's the update you have for us on Tempo?
AJ Smith:
Well, tempo is still rocking. It's how I watch all my games that get sent to me in all 22 that are just 30 minutes long clip. So I would tell anybody that has either a PC or Mac jump on Tempo. You could see a play that you want to export it and just have that clip or save it and be like, oh, it's a minute 22 and at timestamps so when you open it, you have all your data right there. In fact, I have all my seasons, the last five years going back to before the XFL on Tempo where I just open the whole season and then I say, hey, show me choice.
And it shows up, and then I can do whatever with it and break it down. So it is the personal video system for coaches outside of Huddle and other traditional platforms. There's a lot of stuff you can't do with it. And so I would go on over to Tempovideo.com. And you mentioned virtual reality, though that hasn't changed, other than the fact that I have about eight years worth of film now of the same concept. So it's pretty cool that when we train in the XFL, we'll put on the headset and start looking at what we did in Florida NAIA program that went to the playoffs.
We'll start looking at Jackson State with how many. We'll start looking at the Hamilton Tiger Cats, what we did there, XFL and some other spring leagues and what we did at Tyler Junior College this last year. And I have a lot of different concepts and variations, and I always tell people it's the biggest secret. That's not a secret.
If you believe in the drop back pass, you better double your seven on seven and team rates by letting the quarterback be able to slow it down and see it from his perspective. And it's a fraction of the cost. Tempo is like $9 a month. Well, if you go anywhere else, virtual reality is 60, $70,000. I think they maybe got it down to 50. Well, ours is $6,000 one-time fee. And you get to own the computer and the headset and the camera is not rented out. You don't send it back and shears to keep. And it's the deal for anyone who seriously about to drop back past.
Keith Grabowski:
I couldn't agree with you more. And I really do believe that's a huge training tool that people have available to them, of course, until augmented reality really starts kicking in. But that's a conversation for another time. So, AJ, I really appreciate you taking the time. I'm really excited for you about the XFL, the reboot of the XFL and what you guys are going to do there and look forward to having you back afterwards.
AJ Smith:
Awesome. I appreciate it.
---
SUBSCRIBE: