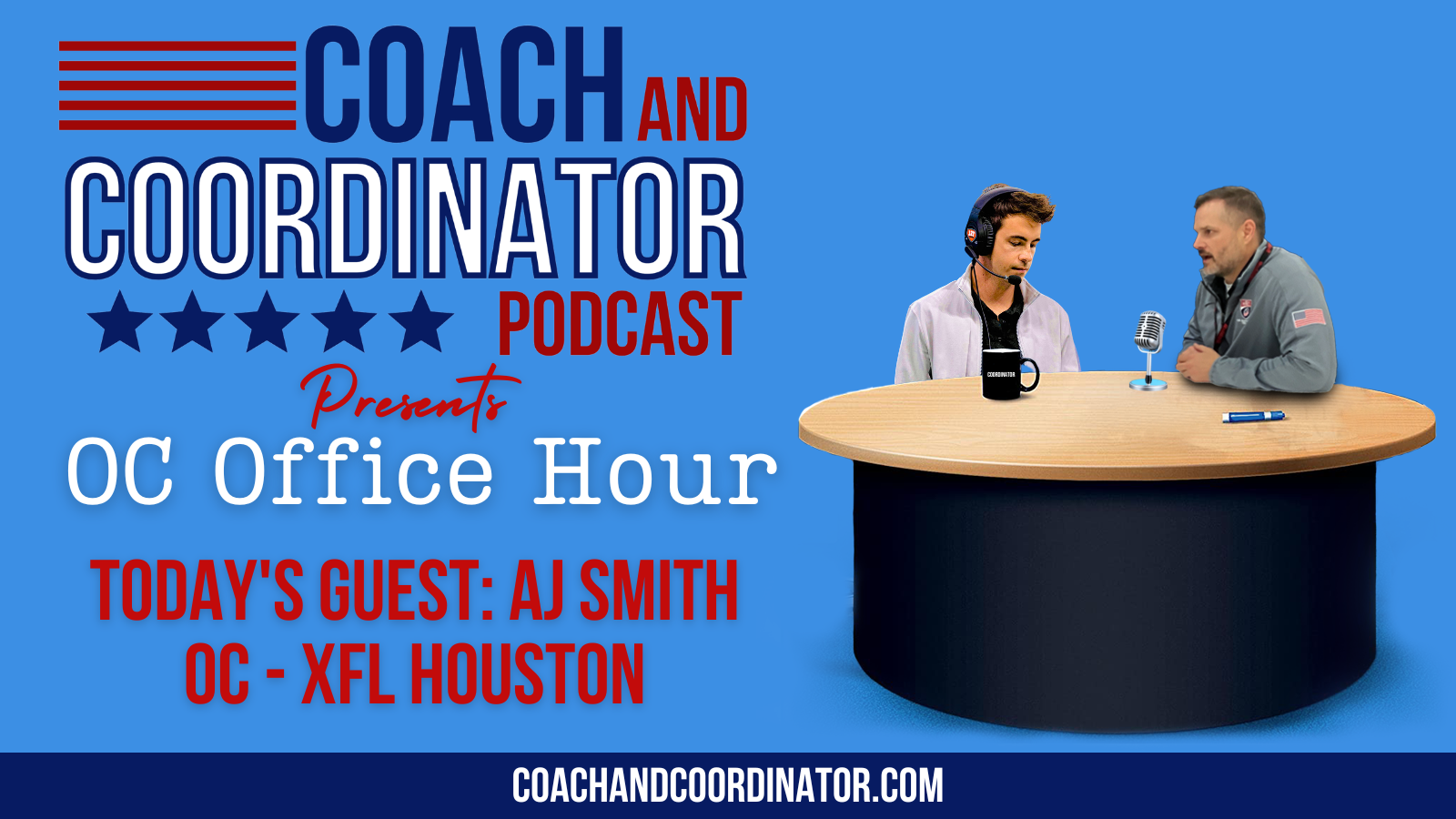 AJ Smith, the Offensive Coordinator of the XFL Houston franchise, reveals the newest wrinkles he's observed on offense in the college and pro games, including the evolution of RPO schematics, condensed formations, and leverage beaters.
AJ Smith is a disciple of Hal Mumme's Air Raid and June Jones' Run-and-Shoot system. His coaching stops include UCLA, SMU, Louisiana-Lafayette, Northwestern State, Jackson State, and the XFL's Houston Roughnecks – the Houston franchise name before the league suspended operations due to the COVID-19 pandemic in 2020.
Follow AJ Smith on Twitter @AustinJamesXFL.
Read the transcription of this episode of OC Office Hour with AJ Smith.
Show Notes:
(1:29) Developing Trends in College Football
>All Offenses Look the Same
>11 Tempo RPO Offense
(4:00) What History Tells Us About Change on Offense
>What You Saw 20 Years Ago Is Extinct Today
>What You See Today You Will Not See 20 Years From Now
(7:00) Trends on Defense
>A Return of Single High Coverages (Cover 3, Cover 1)
(8:07) RPO of the Year
>Three Different Plays in One
>Run Out of 2×2, 11 Personnel
>Inside Zone
>Y Runs Flat Route
>QB Reads the DE
>QB Runs If the Will Covers Y
(10:16) Run and Play Action
>Run to Set Up the Pass
>Fake Split Zone and Boot
>High/Low the Weak Side Flat Defender
>QB Runs If Covered
(13:03) New Trend: Slow Mesh
>Wake Forest and Stanford Case Studies
>Slow RPO to Challenge the Third Level Defenders
>Hold the Mesh for Almost Three Seconds
>Throw a 40-Yard Post
(17:43) Avoid RPG (Run-Pass-Guess)
>QB Makes RPO Go
>QB Must to Have Intuitive Feeling, or He's Just Guessing
>Taller QB's Have an Advantage
(19:42) NFL Trends
>Pass to Set Up the Run
>Challenging Defensive Assignments with Motion and Shifts
>Leverage Beaters
>Condensed Formations
(23:44) Quarters vs Condensed Formations
>Creating Match Problems
>Creating Advantages in the Run Game
>Helping with Protection
>Exploiting Gaps
>QB in the Gun
>Vikings and Dolphins Case Studies
(29:28) Spring League Offense
>Must Have a QB Who Can Execute
>Must Be Fundamentally Sound
>Air Raid and Run-and-Shoot Success
>Fewer Plays Repped Over and Over Again
>Less Is More
(31:21) Tempo Video and VR Training Tools
Coaches Mentioned in This Episode:
Sean McVay
Kyle Shanahan
Wes Phillips
Mike McDaniel
Hal Mumme
June Jones
Bill Walsh
Dave Clawson
Additional OC Office Hour Episodes:
John Tomlinson: Creating a QB-Friendly Offense
Eric Marty: Testing the Discipline of the Defense
---
SUBSCRIBE: