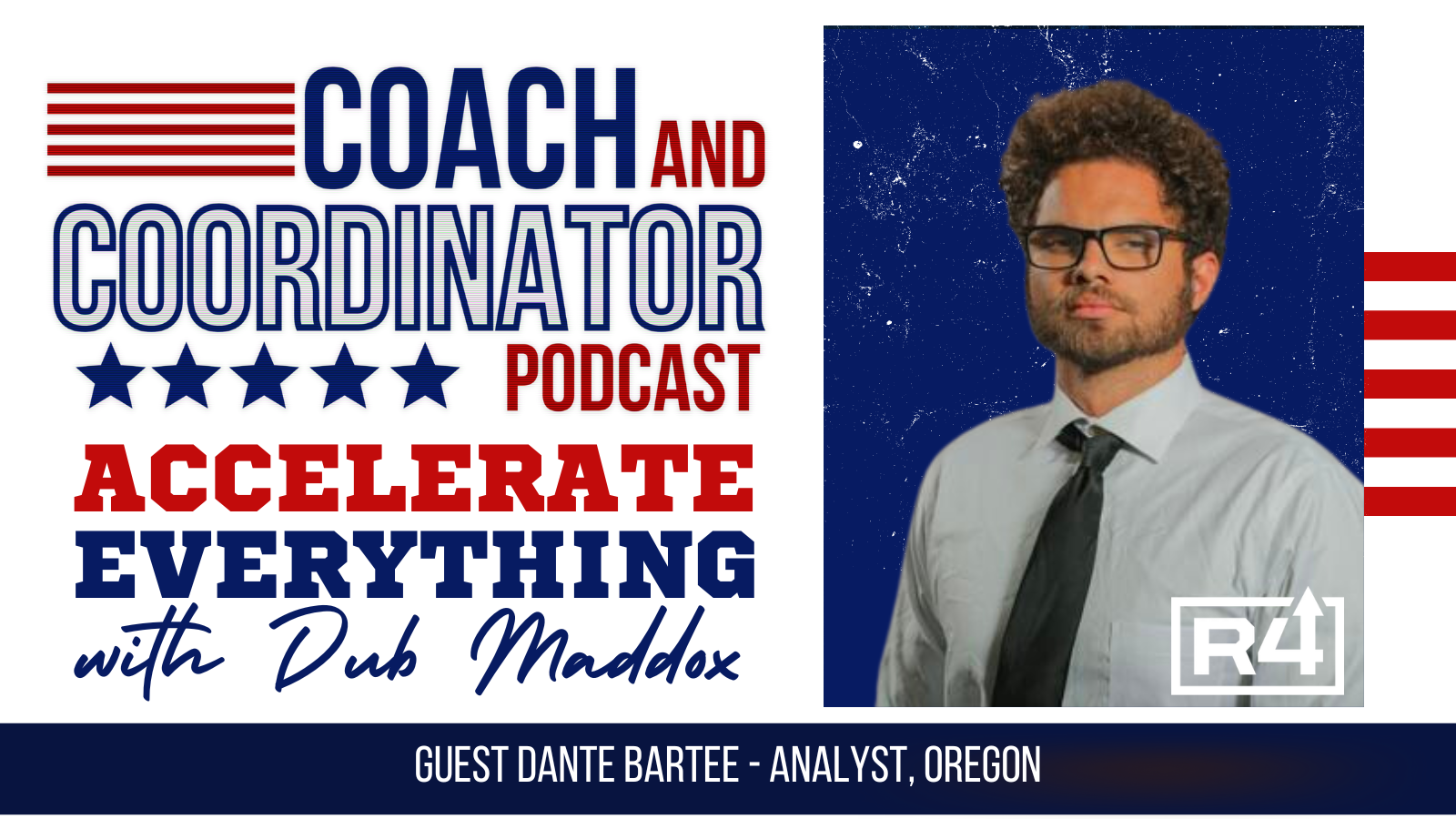 In this "Accelerate Everything" episode, Dante Bartee discusses undressing a defense, why the B gap is the fulcrum, third down strategy, and must-have formations and concepts.
Dante Bartee is a defensive analyst at the University of Oregon. He is a rising star in the coaching profession, who guest host Dub Maddox calls the "Good Will Hunting" of defensive football.
In this episode, Coach Bartee arms you with insights that will help your attack and play calling, as well as give you the upper hand on game day. Get your pencil and notebook out for this one.
Follow Dante Bartee on Twitter @BarteeDante.
Follow guest host Dub Maddox on Twitter @CoachDubMaddox.
In our "Accelerate Everything" series, guest host Dub Maddox, offensive coordinator at Union High School (OK), talks with experts inside and outside of football to illuminate those things that put them at the top of their fields, while considering those lessons within a coaching framework.
Show Notes:
>B-Gap Is the Fulcrum of the Run Box
>Squeezing vs. Widening the B-Gap
>Fill and Fold Techniques with Backers
>Pulling Back the Curtain on Good Defensive Coordinators on 3rd Down
>What's the Break?
>Getting the Defensive Coordinator Out of Exotics
>Getting the Defensive Coordinator Out of Loaded Fronts
>Going Tempo after 2nd Down
>Undressing the Defense
>Back Out to Empty
>Free Release the Back
>Packaging Plays for a 3rd Down Game Plan
>Getting Less Pressure on 3rd Down by Running More Screens and Draws
>Formation Packages That Give Defensive Coaches Nightmares
>Using Any Type of Slot
>Bracket Coverage
For more information on Dub Maddox's R4 System, visit R4FootballSystem.com.
Dante Bartee Video Courses:
Rethinking Defense from Structure to Communication
Split Field Man-Match Quarters Defense
Cover 3 (1 High Zone) Match Principles vs. 2×2 Formations
Game Planning Out of the 4-2-5
Cover 3 (1 High Zone) Match Principles vs. 3×1 Formations
Understanding Position Maintenance in MOF Closed Principles
Related Resource:
Mike Yurcich, Nittany Lion Quick Passing Game
More Accelerate Everything Episodes:
Brian Eayrs, Head Research Analyst, Seattle Seahawks
Will Hewlett, Quarterback Trainer, High School QB Coach
JT O'Sullivan, Former NFL QB, Creator of The QB School
---
SUBSCRIBE: