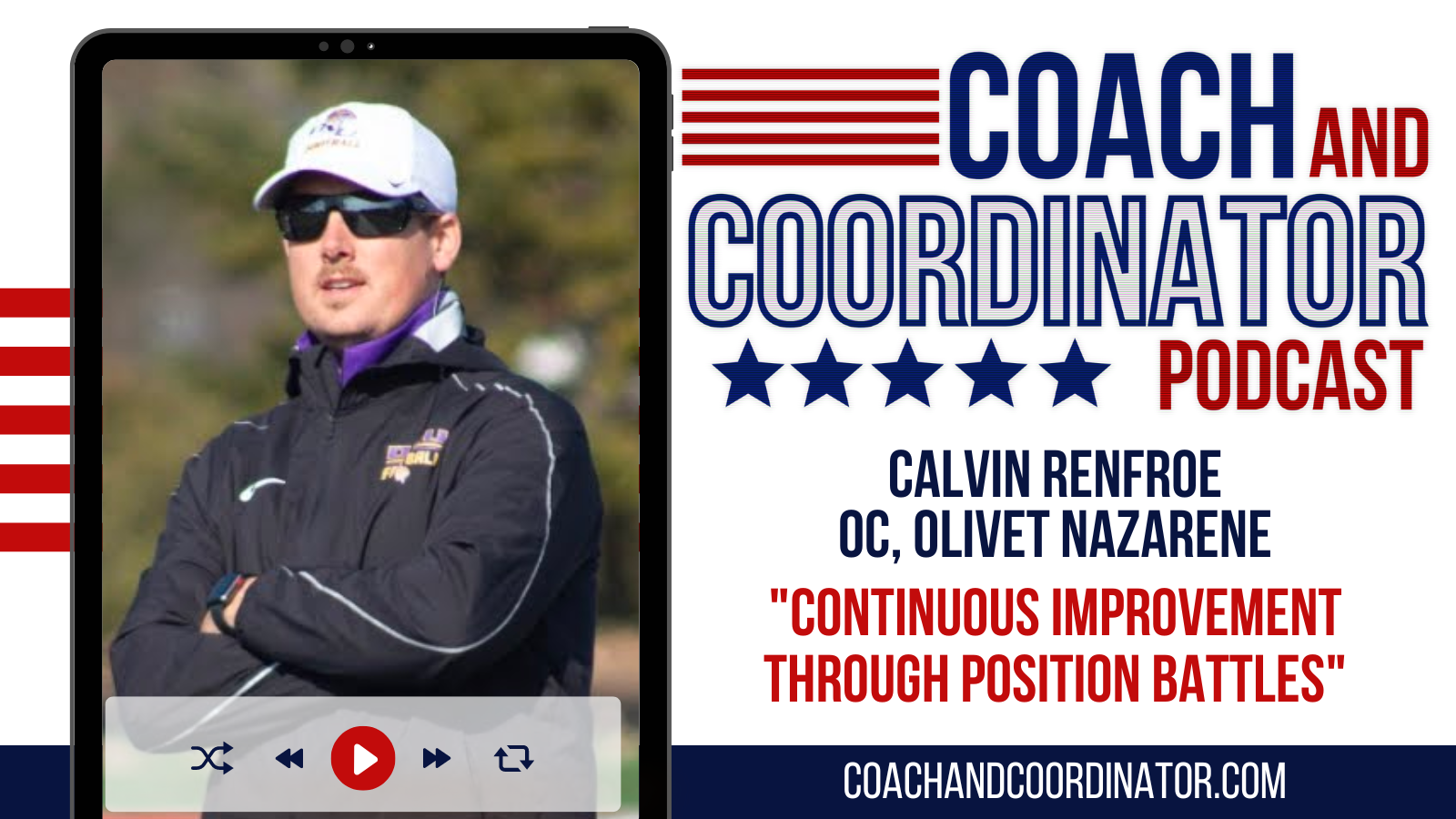 In this episode, Calvin Renfroe details the unique grading system deployed at Olivet Nazarene to constantly evaluate players and provide them active feedback for improvement, while concurrently building competition and culture throughout the program.
Calvin Renfroe is in his seventh year at Olivet Nazarene. He currently is the offensive coordinator, quarterbacks coach, and recruiting coordinator for the Tigers football program. Prior to joining the staff at Olivet Nazarene, Coach Renfroe was the offensive coordinator and quarterbacks coach at Johnson Ferry Christian Academy (GA). During his time at JFCA, Renfroe led an offense that played in three consecutive state championship games, winning the GICAA State Championship in 2015.
In this episode, Calvin Renfroe discusses details for what the Olivet staff calls "position battles." He shares the process used to continuously evaluate players and give them feedback. These position battles have proven to improve performance on the field, practice intensity, mental reps, as well as culture at Olivet.
Follow Calvin Renfroe on Twitter @CoachRenfroe.
Show Notes:
>Defining Position Battles
>We Don't Choose Starters. The Players Choose.
>Where This Idea Stems From
>How Evaluation Builds the Culture
>Being Efficient with Grading
>Case Study: Quarterbacks and Adjusted Completion Percentage
>Aggressive Adjusters
>Grading Decision Making
>Playmaker Points
>Transparency Is Key
>Method for Sharing Grades
>How Grades Work into the Practice Plan
>Make It, Take It Tuesday
>Using Grades to Improve Concepts or Techniques and Highlight Strengths
>Creating an Environment for Learning and Coaching
>Adding a Grading Component to Emphasize Something
>A Living Breathing Document
>Using the Data to Improve Your Own Coaching
>Overview of How It Works for Other Positions
Calvin Renfroe Video Course:
Olivet RPO Reads & Progressions
---
SUBSCRIBE: