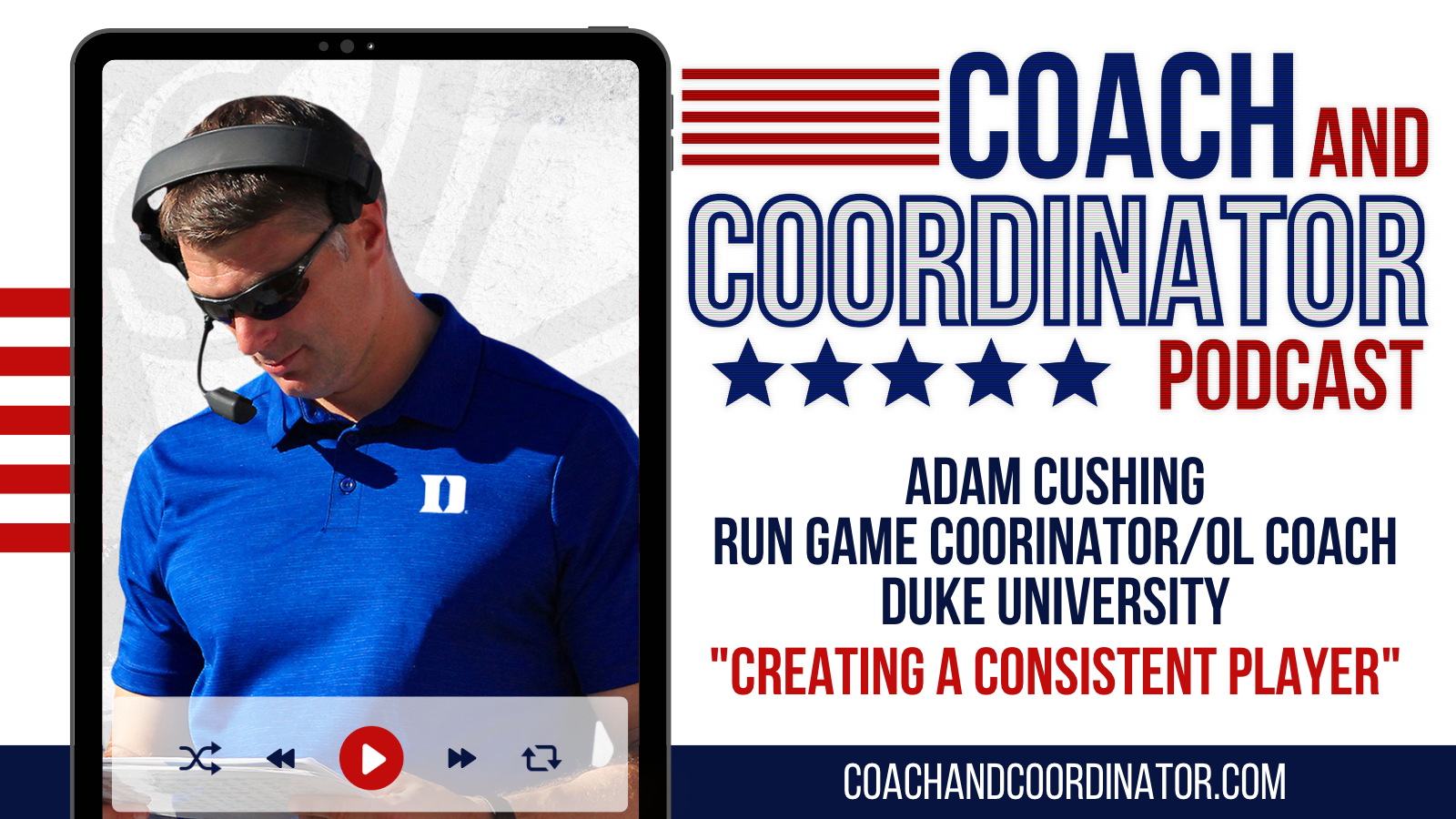 In this segment from the 3rd Annual Lauren's First and Goal Clinic, Adam Cushing focuses on what it takes to create a consistent player. While he gives examples with the offensive line, his descriptions apply to all position groups, units, and teams.
Adam Cushing is the run game coordinator and offensive line coach at Duke. Prior to serving on the Blue Devils staff, he spent three years as the head coach at Eastern Illinois University.
In previous experience, Coach Cushing spent 15 seasons in a variety of roles at Northwestern University, including ten seasons as the offensive line coach. He also coached the superbacks, tight ends, and H-backs, after starting as a graduate assistant working with the offensive line. Cushing had recruiting coordinator responsibilities as well, twice earning national recognition as one of the Big Ten's top recruiters.
Coach Cushing got his start in coaching as an assistant coach at the University of La Verne.
In this episode, Adam Cushing establishes consistency as the hallmark of greatness. His discussion includes points on mental consistency in training players' minds, especially related to game plans, player-owned cultures, and cultural messages.
Follow Adam Cushing on Twitter @CoachCushing.
Show Notes:
>Consistency Is the Hallmark of Greatness
>Mental Preparation
>Beginning of a Meeting
>Homework
---
Additional Adam Cushing Video Course:
Related Episode:
---
The Winning Edge – Takeaways and Ideas for Implementation:
1) Be Consistent With Your Messages
The saying "when the student is ready, the teacher will appear" is an important point for coaches. Some players come to us more prepared to learn than others. Then either suddenly or over time, the others will be ready. By having a consistent message and sharing it with your players over and over, it will take hold. So be intentional with your messages. There's enough noise in the world without us being a source of it. Consistency in the messages we deliver will cut through that noise.
2) Encourage Players to Work Together on Homework
I love the idea of homework. It gives the players ownership of the game plan and mental preparation that goes into it every week. Coach Cushing allows his players to divide up and work on that homework together. This approach builds team chemistry. We heard longtime New England Patriots OL Coach Dante Scarnecchia share a similar idea, in which he allows his players to take an open book test at the end of the week.
3) Put a Focus on Player Film Study
Giving a large playlist to players may overwhelm them. We work in a world of information given in small doses, so having players pick out two clips of run technique and two clips of pass rush technique for the opponent again serves to give them ownership in the process. It also puts together a meaningful playlist that gets them right to the important aspects that we want them to view. And more importantly, they can enhance their chances for success on game day.
---
SUBSCRIBE: