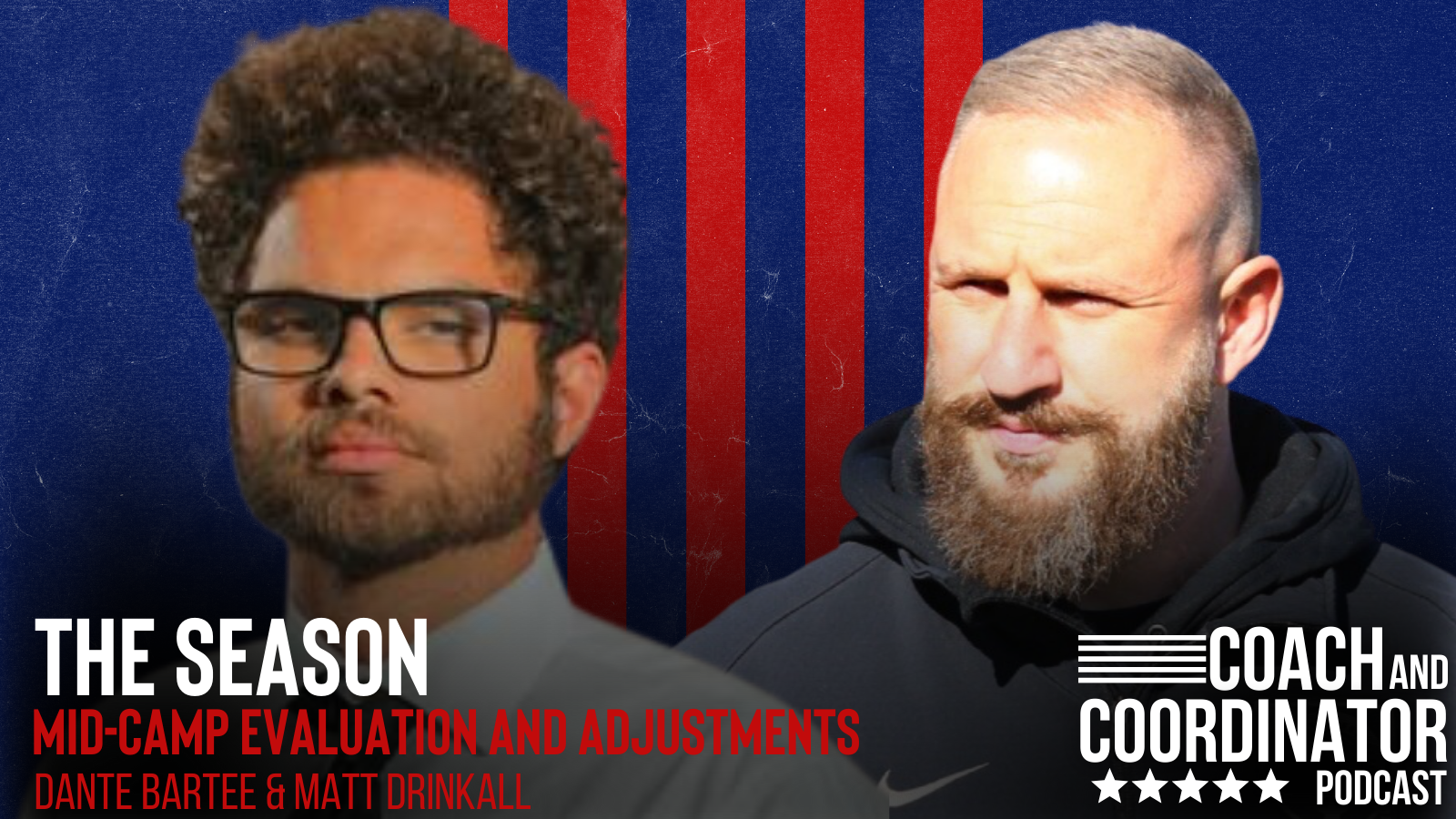 Dante Bartee and Matt Drinkall express thoughts on evaluating players and deciding who is most ready, while developing down-roster depth. They also share ideas on what schemes should be getting repetitions heading towards the season's first kickoff.
Listen On:
All coaches start with a plan for how we want things to look and how we expect things to go. Occasionally, those plans are spot on, and we continue with our progress.
But most of the time in this dynamic game, we need to evaluate the progress we expected against what we actually see as we begin to implement that plan. We have to adjust for a number of factors involving both player performance and how we can make our schemes effective and ready for game day.
In this episode, Dante Bartee and Matt Drinkall provide practical advice for how to objectively evaluate players, schemes, and game readiness.
Coaches Appearing in This Episode:
Dante Bartee (@BarteeDante) is a defensive analyst at the University of Oregon. He is a repeat performer on the podcast, most recently as a guest on our Accelerate Everything series with Dub Maddox, where Coach Maddox called Coach Bartee the "Good Will Hunting" of defensive football.
Matt Drinkall (@DrinkallCoach) is the co-offensive coordinator and offensive line coach at Army. Coach Drinkall is a long-time guest on the show, dating back to 2017 when he was the head coach of Kansas Wesleyan.
This Episode's Best Ideas:
>How to Evaluate the Calls You Are Installing
>Assessing the Distribution of Reps and the Value of Those Reps
>A Three-Step Process for Self-Scouting in Camp
>Breaking Down Players into Two Groupings
>Determining What Plays Are Working Better Now
>Determining What Plays Will Be a Focus Later
Related Episodes:
Dante Bartee
>Accelerate Everything
>Communicating to Make a Difference
Matt Drinkall
>Create the Best Experience for Staff and Players
>Defeating the Tite Front
Related Resources:
Dante Bartee
>Thoughts from a First-Time College DC
>Rethinking Defense from Structure to Communication
Matt Drinkall
>Sprint Out Passing: Moving the Pocket for Success
>RPOs Explained – Defined – Packaging – Implementation
---
SUBSCRIBE: