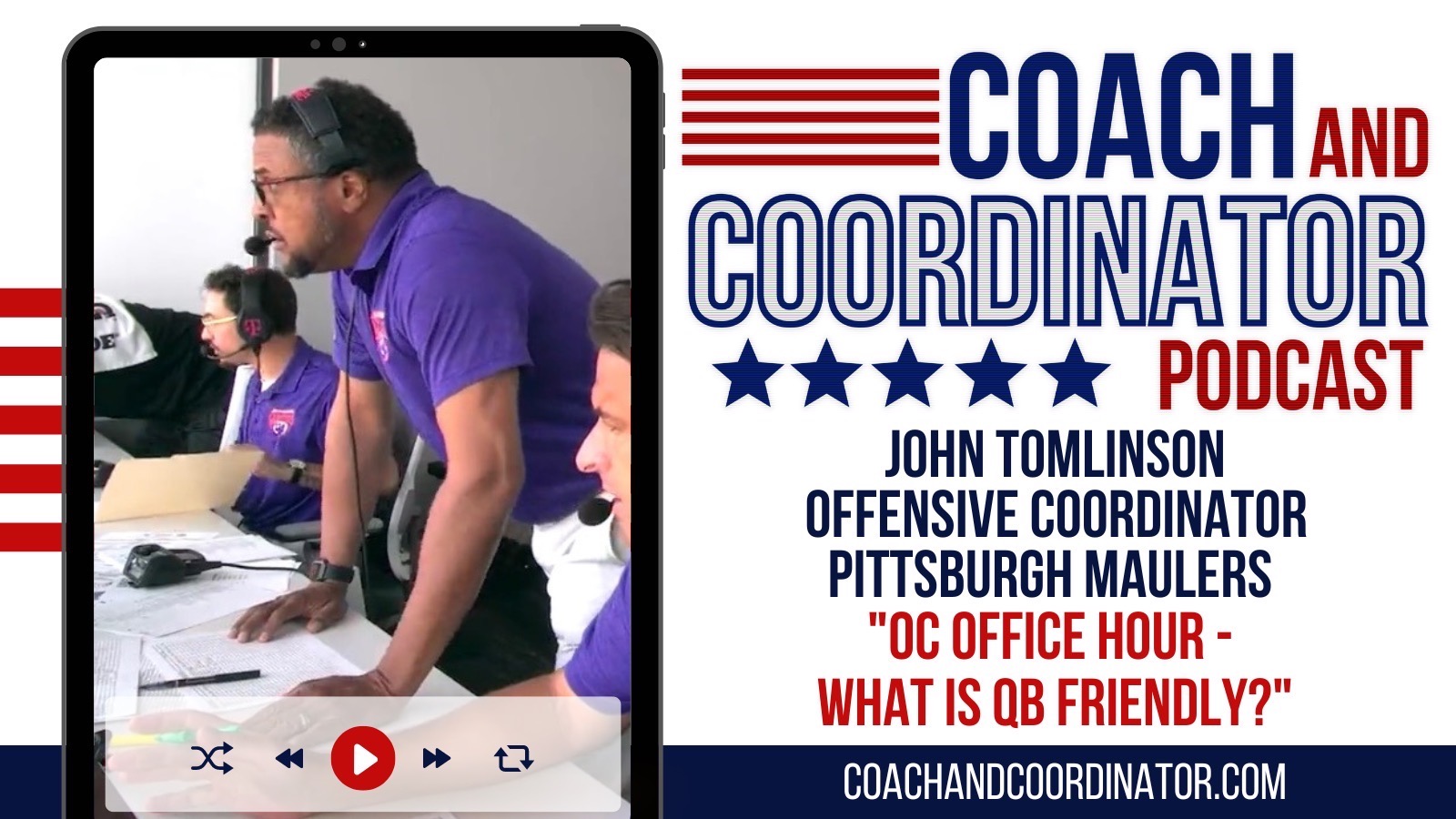 On this week's installment of OC Office Hour, John Tomlinson, Offensive Coordinator for the USFL's Pittsburgh Maulers, discusses all the ingredients required for a quarterback-friendly offense, the development of the number two, impactful meetings, self-scouting, and when to break tendencies.
John Tomlinson brings 26 years of coaching experience to the podcast, from high school to the NFL. Notable stops on his résumé include the Las Vegas Raiders, Cleveland Browns, Indianapolis Colts, and North Carolina Central University. His inventory of experiences has created a roadmap and a language for communicating with quarterbacks and elevating their performances. Coach Tomlinson currently coordinates the offense and coaches the quarterbacks for the Pittsburgh Maulers of the USFL.
Follow John Tomlinson on Twitter @TomlinsonCoach.
Read the transcription of this episode of OC Office Hour with John Tomlinson.
Show Notes:
(2:24) Defining a QB-Friendly Offense
(6:50)Understanding What the QB Can Do Well
>Have the QB's Call Practice Periods
>Generate a Like It/Love It/Hot Love List
>Communicate Openly and Invite Feedback Both Ways
(10:02) Preparing the Next Man Up: You Are Only as Good as Your #2
>Put Your #2 in Situations During Practice
>Give Your #2 Enough Reps
>Let Your QB's Call the Plays
>Conduct Post-Practice Conversations
(18:40) Learning the Things that Get Your QB in Rhythm
>Quick Game
>RPO
>Case Study: Peyton Manning and Marvin Harrison
(23:22) Having the QB Run a Player-Only Meeting
>Does He Really Know It?
>If He Can Teach It, He's Mastered It
(25:52) Keeping Shifts and Motions Static (at first) for #2
>Layer in All the Same Shifts and Motions for #2 (after some time)
(27:30) Case Study: USC Offense
(30:09) Having Receivers on the Same Page
>Make It Visual – They Have to See It
>Adjustments for Compressed Formations
(32:28) Understanding Why, Where, and Pass Protection
(36:13) Self-Scouting
>Trust the Analytics
>Listen to your DC
>Go Good on Good in Practice – That's Your Laboratory
(39:38) Breaking Tendencies
>Prepare with the End in Mind
>Commit Weekly – The Timing Depends on the Opponent
Additional Coach and Coordinator Episodes:
OC Office Hour with Eric Marty: Testing the Discipline of the Defense
Tom Lombardo, Lakewood St. Edwards High School (Ohio)
Andrew Coverdale, Cincinnati St. Xavier High School (Ohio)
Additional John Tomlinson Resource:
Building a Passing Attack for a Young Quarterback
---
SUBSCRIBE: