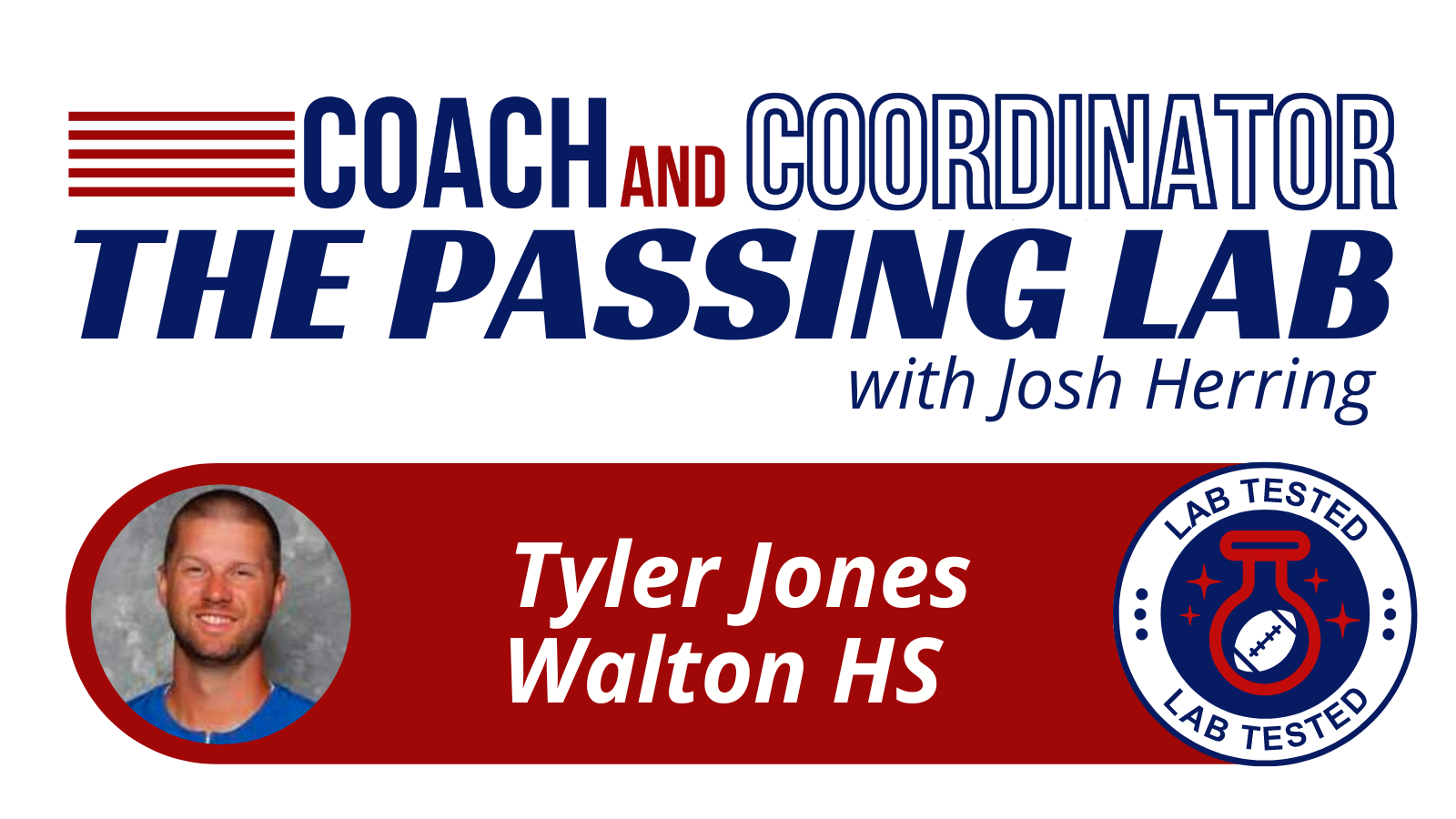 In this installment of "The Passing Lab", Tyler Jones shares ideas on sprint-out passing, how the curl concept is a natural throw and rhythm for quarterbacks, wide bunch sets, and getting back-up quarterbacks more reps.
Tyler Jones is the offensive coordinator and quarterbacks coach at Walton High School in Marietta, Georgia. In the 2022 campaign, the Raiders eclipsed multiple school records en route to a ten-win season and deep playoff run. The 2022 Raiders broke school records for yards per game (452), passing yards in a season (3,732), and passing touchdowns (37).
In this episode, Coach Jones delves into his playbook to discuss sprint-out passing concepts, curl concepts, wide bunch sets, and his philosophy for designing an effective passing game.
Follow Tyler Jones on Twitter @CoachTylerJones.
Follow guest host Josh Herring on Twitter @joshherring1.
In our "Passing Lab" series, guest host Josh Herring, QB Coach at Lassiter High School (GA), sits down with passing game experts on the leading edge of offensive strategy.
Show Notes:
>Influences
>Efficient Sprint-Out Concepts
>Teaching the Curl
>Window One and Window Two
>Curl Assignments: Not Traditional "Hank"
>Receiver Splits on Curl Concepts
>Why Curl Is QB-Friendly
>Receiver Technique
>Protecting the Base Curl Concept
>Philosophy of Designing a Passing Game
>Mark Richt's "Reverse Hank" Concept
>Shallow as a Built-In Hot
>Wide Bunch Sets
>Getting Multiple Quarterbacks Reps
Related Episodes:
Adapt or Die – Dub Maddox, Offensive Coordinator, Union High School (OK)
Accelerate Everything – Will Hewlett, Quarterback Trainer, High School QB Coach
The Passing Lab – Jay Wilkinson, Offensive Coordinator/QB Coach, Fayetteville High School (AR)
The Passing Lab – Dan Gonzalez, Consultant
Josh Herring's Crossers Courses:
---
SUBSCRIBE: