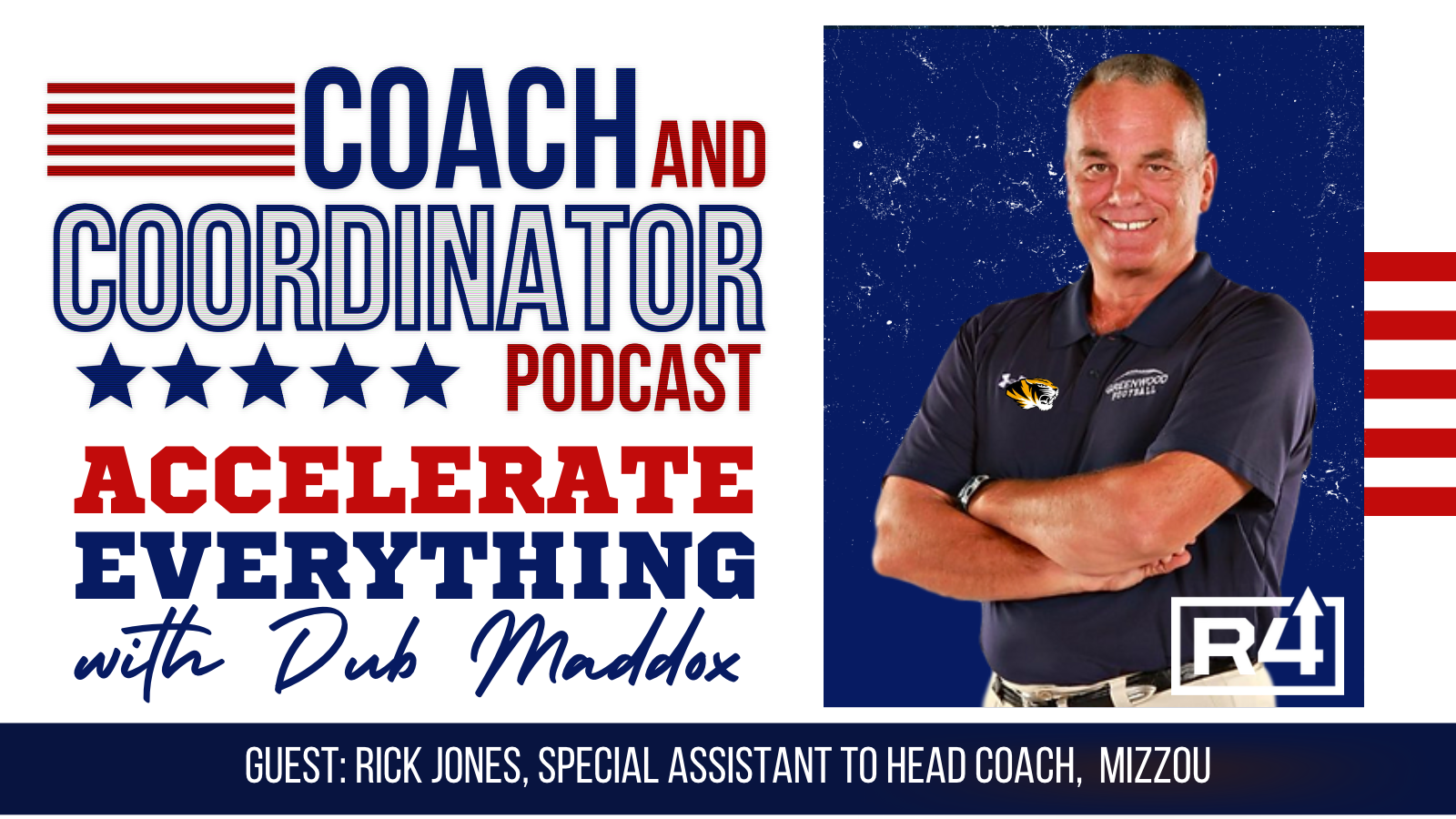 In this "Accelerate Everything" episode, Rick Jones shares pearls of wisdom from 31 years as a high school head coach, questions and tactics used to profile candidates in the hiring process, and advice for young coaches striving to build a successful career.
Listen On:
Rick Jones is a special assistant to head coach Eliah Drinkwitz at the University of Missouri. Previously, he was a head coach at the high school level for 31 years, accumulating a record of 317-74 and nine state championships.
His many career achievements include being an 18-time Coach of the Year honoree. He was named the 2012 National Federation of High Schools National Football Coach of the Year, the 2018 AFCA Power of Influence National Coach of the Year, and was inducted into the Oklahoma High School Coaches Association Hall of Fame in 2013, as well as the Harding University Athletic Hall of Fame in 2016.
In this episode, Coach Jones displays his passion for helping coaches grow and develop, the power of positive thinking and language, and the appreciation of lifeline learning required to build a successful career in the coaching profession.
Follow Rick Jones on Twitter @MZFBcoach.
Follow guest host Dub Maddox on Twitter @CoachDubMaddox.
In our "Accelerate Everything" series, guest host Dub Maddox, offensive coordinator at Union High School (OK), talks with experts inside and outside of football to illuminate those things that put them at the top of their fields, while considering those lessons within a coaching framework.
Show Notes:
>Teaching Coaches How to Coach
>End-of-the-Year Exit Meetings
>Coaching Titles and Fast Tracking May Cause You to Miss the Mark
>Work for the Best Head Coach You Possibly Can
>Hiring Coaches
>Building a Bridge with the Other Side of the Ball
>Preparing the High School Athlete for College
>What Makes the Best Quarterbacks
For more information on Dub Maddox's R4 System, visit R4FootballSystem.com.
More Accelerate Everything Episodes:
John Wolford, Quarterback, Tampa Bay Buccaneers
Dante Bartee, Analyst, University of Oregon
Brian Eayrs, Head Research Analyst, Seattle Seahawks
---
SUBSCRIBE: